There's a an Op-Ed, or maybe a Pre-Op-Ed at the WaPoo about how to address people who refuse to use the gender norms human languages have had literally forever.
I think I was 13 the first time I was called "ma'am" on the phone. I didn't bother correcting the business because I understood as a young male youth my voice could be mistaken. It didn't break my emotional well-being, and I lived through the experience.
The entire article is drivel, and...well, here: https://www.washingtonpost.com/outlook/please-stop-making-jokes-about-gender-pronouns-when-people-tell-you-theirs/2019/12/11/
First of all, fuck you, I'll make any fucking jokes I like about any fucking thing I want, any time I fucking feel like it. Don't like it? Fuck off.
In a serious note, I will address you as you present. If you're at an historical re-enactment wearing 10th Century Norse female garb, I'll assume you are "miss," "damen," "my lady," or "ma'am," accordingly.  If for some reason you want to dress and present as a female, but not be called one...then you need deeper therapy.
If I am not sure (and this applies to status, rank, sex presentation, class, etc), and it's relevant, I may ask, "How should I address you?"
And then we will get on with our lives.
If you have to start with, "My pronouns are she and hers," I'm going to tell you, Our pronoun is "The Shitlord," and We are only addressed in the third person. Also, you will have to do it in this language I just made up that changes every week. Or in my native Gaelic. Or you can just fuck off.
What you don't get to do is dictate how other people talk.  Here's a relevant excerpt:
The backlash was instantaneous. By the end of the night, Cuomo had apologized on Twitter, noting his sorrow as "an ally of the LGBTQ community" — but still not managing to state his pronouns. And I wondered, not for the first time: Why can't cisgender people be semi-normal about this?
~~~
Why does he have to play your game and "State his pronouns"?
Why do you display the bigotry of accusing him and us of being abnormal? "Cisgender" is an external, false euphemism you have assigned to NORMAL PEOPLE, identified as the 99.995% of the population who are male or female (whether or not they accept that is another issue). One can be straight, gay, bi, asexual. One is male, female, or has a chromosome or physiological mismatch (rare). Those latter are the only non-"cis" people. Claiming you're with them actually denigrates them.
Why do you assign us the identity "cisgender" over OUR protests, but expect us to kowtow to your preferences?
This is the fascism of a minority culture, full of hatred, intolerance, and refusal to accept the norms of the majority.
The first big step toward terrorism.
And anyone who doesn't believe it borders on terrorism is invited to "misgender" some high-profile freak on TWITter and wait for the screaming backlash and attempts to dox you.

There was even wailing about someone being called "it," except there IS a high profile freak of some sort who has publicly stated their pronoun is "it."  

You see how this game is played?  Worthless failures who can't get attention any other way are demanding that everyone address them in a clever, unique fashion known only to them, changing at whim, with no set rules.  There was also another article that people who DO use these terms are "patronizing."
So, no, Kat, you're a fucking freak, and an obnoxious one, and you need to grow the fuck up and grow some balls, or boobs, or something, or else take some tequila and sleeping-pill therapy. You not only have issues, you have entire subscriptions that make Publisher's Clearinghouse look sedate. But they are not my subscriptions and I'm not buying any.
Our story so far:
Virginia's legislature got taken over by the Dems since the GOP failed to run quite a few candidates, and due to some gerrymandering and population density issues that are apparently only a problem when they work against the Dems.
As often happens, when one party gets a significant majority, they want to go all-in on achieving their dreams of molding society to their image.
The Dems proposed some very heinous gun control, without any pretense of care about the Constitution either federal or state, morality, or reality.
A whole bunch of counties and towns pre-emptively declared themselves "Sanctuaries," which is apparently A-OK if you're refusing to arrest, jail, and deport illegal alien child rapists, but "treason" if you're refusing to steal people's property under color of law. At least according to the Dems.
So, one US Rep Donald McEachin (D-Deep State)(that's sarcasm, okay?) has proposed having the governor "Nationalize the National Guard" to deal with the problem. (Give him credit. At least he didn't threaten to use nukes, like a certain former presidential candidate. OTOH, if VA actually had nukes, he might have.)
Let me explain this:
The governor can't "nationalize" the National Guard. He can call them to state active duty.

Per Posse Commitatus, they can't engage in law enforcement on Federal orders anyway.  On state orders, yes, but, keep reading.

It would also still require a search warrant for every single domicile if they could.

Other than a handful of MPs, none have training for this process. Even if you squint hard at qualifications and add a few others, the actual number of troops qualified to do this is a few HUNDRED at most. The entire VA Army National Guard is about 7500, mostly support.

The National Guard does not keep ammo on hand in any relevant quantities.  A small amount for training is it.

Per US Constitution and federal law, the governor CANNOT arm the NATIONAL Guard with federally owned weapons and ammo. He'd have to provide that.

Nor can he arm them without consent of the feds anyway.  There are reasons for this. This is one of those reasons.

And the threat to do so is LITERALLY WHY WE HAVE THE SECOND AMENDMENT.  Congrats, jerkwad! You've actually threatened to have the military repress people, and you're surprised that they're going to oppose you? EVERYONE should be opposing you. It's outrageous of itself, and and outrageous precedent if allowed.

Not to put too fine a point on it, but there should be politicians hanging from lampposts over this.
Our society started to fail when we stopped tarring and feathering.
But if despite all that, you make the attempt:

First, if they haven't already (US Army NORTHCOM hasn't said anything), I guarantee the Adjutant General and his staff will ask National Guard Bureau for an opinion on any orders, and likely DoD proper, as well as their own legal staff, for opinions on exactly what the orders mean, and their scope and limits.  Because with a dual state/federal mission, every one of those officers is putting their career on the line in such an instance.  The wrong use or misuse of any federal money or equipment is court martial offense.  Low end enlisted can "just follow orders" for the most part, but leadership is expected to know or ask.
On State Active Duty, the troops get paid the same to sit at the armory eating catered meals (because federal funds can't be used and armories don't have huge pantries), and wait for specific orders, or to draw up "plans," as they would to drive around in Hummers looking mean. Which is all they could do because of all the above.
So what will happen is a bunch will call in sick, or "out of state," or "employer really needs me."  Volunteers will be few (and not too bright to want to get into the Boogaloo).  If you try to issue orders, state level orders don't carry the obligations or penalties of the UCMJ, and the reality that the Guard is part time means they do in fact have a lot of leeway on how fast they report, and what you can actually do if they don't (HINT: very little).
Once they get there, They can't be issued federal weapons or ammo. And of course, if the supply sergeant, armorer, and a couple of others aren't present, the Arms Room can't even be opened. Unless the CO personally wants to issue the order and unlock it. (He doesn't want to do this.  The Feds would end his career.)
And then they make "plans" and wait for "guidance," because no one is putting their name on the dotted line without someone they can point a finger at. They'll be playing phone games, posting memes on Farcebook and TWITter, and generally kicking back and enjoying their SAD pay, which is usually tax exempt at the state level.  I haven't looked up what that rate is for VA, but it's probably better than $100/day.
If it gets that far, they then drive around and look mean, as I noted, because they literally can't go door to door without police leading the way with a warrant.
If you try to make them do so, most are going to refuse. Good. Because the last time some states took this direction, they got put down hard. This isn't an earthquake, a foreign attack, or even an out of control football riot. You're asking to use military force to attack US citizens for code violations.  You thought using SWAT for warrant service was bad? (It is.)
If by some freak of circumstances you get some small number to do so, people are going to die. Given how many veterans are among the population, and there's an entire network of retired special operators and CIA types in that area, the mayhem might even be BIBLICAL. You know:  Earthquakes, volcanoes!  The dead rising from the grave! Human sacrifice, dogs and cats living together, mass hysteria!
Yeah, I mean it might be a bunch of young, naive Guardsmen who die in three way crossfires by tired old vets who've spent a lot of time in Asia.
I spent 19 of my 25 service years in the Guard. I don't want to see EITHER side of this.
This is why more and more counties are deciding to be "sanctuary" and totally sit this one out. Good for them.
If you're willing to use military force and murder people over ownership of anything, we're back to tar, feather, and lampposts.
Frankly, since McEachin is theoretically a lawyer, he should already know this.  That he doesn't, or couldn't take 10 seconds with Google to find it, speaks poorly of his intellect. I wonder how much actual legal work he did before running for public office.
There were also some idiots on our side railing against the Virginia Adjutant General not "refusing," but merely noting he has no orders and legally has no opinion.  Hey, geniouses (sic)! He can't comment on orders he has not received about events that have not taken place or been ordered.  The complete non-response was the only legal thing he could do.
WHAT VA RESIDENTS NEED TO DO NOW:  Watch for "Compromise."  It's standard for the Dems to demand the confiscation of all firearms, and then "Settle" for any number of smaller intrusions--"Assault weapon" bans, "universal" background checks, purchase limits, etc.  Don't fall for any rhetoric about how a lesser proposal is "Reasonable." None of it is reasonable, and this is a good opportunity for a peaceful resistance to an outrageous movement.
WHAT EVERYONE ELSE NEEDS TO DO NOW:  Keep calm. Spread the word.  Agitate against such outrages. Buy more guns.  Buy them legally. Buy them privately if you can.  Buy more, more, and yet more. There's always the risk we'll reach the point where America tips over. But that's a chance we'll have to take.
Because if it's impossible for the government to seize 300 million weapons (the lowball estimate), it's way more than four times as impossible for them to seize 1.2 billion.
I remember when Usama bin Laden (his preferred spelling) was Man of the Year, and they had to remind people the criterion was "generates most news," not an endorsement. That Hitler had once been their Man of the Year, for example.
This year, the most news was either:
The Hong Kong protestors, or
President Donald J. Trump, since the fucking Demorrhoids in and out of the media literally cannot shut the fuck up about him for 10 seconds, and obviously crave the dopamine response from reading his laser-pointer tweets every morning, and all day long.
But they are such morally corrupt, intellectual dishonest cocksuckers, they refuse to acknowledge their own deranged creepy stalker obsession. So they went with the retarded meat puppet with Soros' hand up her ass, wailing about "Climate catastrophe" that her dropout brain can barely spell, and about how her dreams and childhood have been stolen to the point where she has to sail around the world in a multimillion dollar "sailboat" using diesel engines and expensive artificial, carbon-dense material for its construction.
So if you had any delusion that Time was anything other than cat shitbox liner, this should disabuse you of it.
As I told her, I have 35 years professional experience with weapons, 25 of it in the military. I don't need pussyplained to.
Let's unpack some of her Shitter bullshit here (assuming she doesn't dump the post from the well-deserved ratio she's getting).
https://mobile.twitter.com/designmom/status/1198580238533439488?
"There are far better ways to protect your family than a gun. Get a life insurance policy."

Do you even understand how life insurance works, bitchtard? You have to fucking DIE. The whole point of self defense is NOT TO DIE.
"Yes, an intruder shot my husband and raped us all, but hey, I got $100K, so there's that. It almost paid for the funeral, the medical treatment, the therapy, the replacement door and jewelry, and my wheelchair and ramp."
"I know you truly believe that you'll need to defend your family at gunpoint. You need to let that go. Statistically it's just not going to happen. I know it's boring, but if you want to protect your family, things like seatbelts, fire alarms, and life insurance are your best bet."

I have those, too.  And I HAVE defended my family at gunpoint, so fuck your "Statistics." Which you must have shit out of your fat, liberal mom ass.  But even if that were true, you'd be making the case that GUNS AREN'T A PROBLEM as far as crime.  Are you retarded? Or just a fucking moron?
The reality is, you're probably going to die of heart disease or diabetes, or just old age and natural causes. I know it's not as cool-sounding as an armed-standoff, but it's still true.

Well, actually, statistically I'm not going to die of any of those, because I carefully chose ancestors with superior genetics. Well, old age, yes. Everyone dies of that if nothing else.  And there's nothing "cool" about an armed standoff, speaking from experience.

I'm probably not going to die in a house fire either. Even though that's really cool-sounding, I guess.  I still have extinguishers.  Which you didn't mention. Just "alarms."  Typical fat liberal bitch expects a man to come rescue her. (Conservative and libertarian women don't seem to have this problem.  My wife is pretty handy with a shotgun and pistol, as several predators who went after livestock can no longer attest).
If the topic of protecting your family comes up, a gun extremist will immediately imagine an armed intruder who has come to murder. That's not going to happen. It's rare enough that it's not something people need to worry about or make decisions based on.
You repeat it, hoping it will catch on.  But if so, then why does it matter if people have guns? You've just stated they're not going to be used for murder.  So what's the problem?
Other than the fact you have no fucking clue what you're talking about, about anything. Including about being a mom. (I was a single parent for several years, have been the primary parent for 22 years, and the solo parent for lots of time the other parent was professionally absent.  I'm a better mom than you, too.)

Also, at least 50% of households have firearms.  If that's "Extremist" to you, you need to take a long, hard, look in a mirror.
If the topic of protecting your family comes up among people who actually interact and care for children each day, they think of things like using car seats, preventing hormones and dangerous chemicals in food, child-proofing the cleaning supplies, and schoolyard bullying.
I actually interact and care for children, and apparently a lot more than you, who's too busy lecturing the internet.  The "Dangerous chemicals in food" suggests you're a GMOtard, which means you're ignorant of yet another subject, and a racist (Which we already knew from your pollyanning that home invasion doesn't happen. You have to be white privileged as fuck to hold that belief).
Hundreds and hundreds of you have explained to me that a life insurance policy won't protect against an armed intruder. I never said it would. The thing you don't understand: There isn't going to be an armed intruder. That's just your paranoia.
Hundreds and hundreds of people are smarter than you, you ignorant cockholster.
There were 2.5 million burglaries in 2017, per DoJ.
A gun in the home is FAR more likely to kill or maim a household member than it is to protect them. Enjoy your daydreams about armed stand-offs. But that's all they are. Daydreams.
That stupid claim has been debunked more often and more thoroughly than "Vaccines cause autism" (which I'm going to assume this bloviating narcissist believes also).  Repeating that one just proves you're a completely ignorant shithead in this subject.
And no one "daydreams" about armed stand-offs. Except, apparently, you.
Update: A shocking number of you are CONVINCED that armed intruders will enter your home at 2 AM. And specially at 2 AM. Is there like an NRA ad about a 2 AM break in? Some meme I missed? Don't answer. I don't actually want to know. Muting this thread now.
You don't actually want any information that will crush your racist white privilege worldview? That was obvious.
Ask any cop when the most calls for burglary are.  Do you even know what number to call for the police?  Or do you have the maid do that, too?
You are a complete fucking waste of a human being, and pretty fucking smug about your ignorance, weakness and privilege.
You know, the one accused of planting drugs on over 1000 black men, that's been going viral again four years later.
Well, it turns out that wasn't exactly the case. And by "not exactly," I mean "complete bullshit."
https://www.dothaneagle.com/news/crime_court/fbi-no-evidence-of-systematic-drug-planting-by-dothan-pd/article_8d1e3796-ab18-11e9-a36f-67a971db69de.html 
So I contacted the below newsgroups to see how they respond:
Debunked before the below publication date. The FBI found nothing of "1000" cases, and all of about 5 complaints, all fraudulent. 
Even the professional race-baiters at SPLC couldn't corroborate it.
As was Reason, as often but not always:
As you are all no doubt utterly honest reporters, you will obviously update your articles and note the correction on your sites, yes?
Or am I going to uncover evidence that the media has published thousands of fake stories about police?
Because what we have here seems to be one of the rare, completely above board, earnest about the regs and propriety, police departments, being slimed as one of the worst, with what looks like fabricated evidence, or as we technically call it in the biz, "bullshit."
The current attempt at impeaching President Trump revolves around a claim of a "quid pro quo" of government aid to the Ukraine, in exchange for them pursuing legitimate law enforcement investigations of your typical Demorrhoid corruption.
First, it is the JOB of the Executive Branch, via State and Commerce Departments among others, to quid pro quo other governments. THAT'S WHAT THEY'RE SUPPOSED TO DO.  "You want X? We want Y. Deal?"
Literally. Their fucking. Job.
In 1948, President Truman's administration approved the creation of ARAMCO for the purpose of acquiring oil from Saudi Arabia, while having a means of putting political pressure on them. That's in the actual statements in the authorization.
So the whole trial is a farce to start with. There are legitimate complaints about some of Trump's actions.  This isn't one of them. Of course, most that are questionable were exactly what the Demorrhoids wanted, so they're silent on that.
Second, even worse than ascribing the SNL quote of "I can see Russia from my house" that Sarah Palin never actually said, but is now considered "Fake, but accurate," they're basing this on what some Demorrhoid shithead in Congress paraphrased from hearsay from some source he isn't really sure about.
But, even if we assume this might actually result in any credible, pursuable charges from the Fascist Wing of the DNC, what then?  First they have to prove the charge, which is non-existent.
Then, it goes to the Republican controlled Senate for follow up. I'm sure they'll give it all the attention it deserves.
But even if they do something: you may remember when this happened to Bill Clinton over actual perjury charges.  The result was "Censure."  IOW, a letter saying, "We find you to be quite naughty."  Nothing substantive.
But even if they actually remove the sitting president from their own party (I dunno, maybe they think it'll be useful later for removing a Demorrhoid for the easily provable charge of being anti-American), it means, by the time they get to that, Trump is gone for the last 5 months of his term.
Which would mean PRESIDENT MIKE PENCE. Now, that asshole was my governor. If you do not like Trump, you will not like Pence even more, who demonstrably IS a Christo-fascist, anti-choice, anti-gay crusader. Seriously?  Are you fucking retarded? Apparently.
AND, that still doesn't stop Trump from campaigning to run for office again, and still winning because his followers and most of the mainstream are pretty fucking sick of "liberal" fascist cocksuckers trying to subvert the legal processes for some strange sexual worship and obsession with Trump.  Hell, I might even vote for him to just to watch four more years of complete meltdown.
But worst case, it just means PRESIDENT MIKE PENCE.  Jesus tittyfucking Christ in a pink tutu on a pogo stick, are you...well, yes, obviously you ARE that fucking stupid.
What we really need is to quid pro quo some foreign government's intelligence service into assassinating the entire DNC membership. But Trump is too soft and liberal for that.
Hi Mike Williamson,
Important changes that may impact your monetization and content discoverability are coming.  
HAVE YOU COCKSUCKERS EVER PAID ANYONE ANYTHING?
Starting today, all creators are required to tell us if their content is made for kids in order to comply with the Children's Online Privacy Protection Act (COPPA) and/or other applicable laws. To help you comply, we are introducing a new audience setting in YouTube Studio.  

OR WHAT?
Depending on the amount of made for kids content on your channel, you can set your audience at either the channel level or the video level. For those who are setting at the channel level, it is just one click.

I H

AVE NO FUCKING IDEA WHAT MY LEVEL OR SETTINGS ARE. I UPLOAD SHIT FROM TIME TO TIME. PEOPLE LOOK AT IT FROM TIME TO TIME.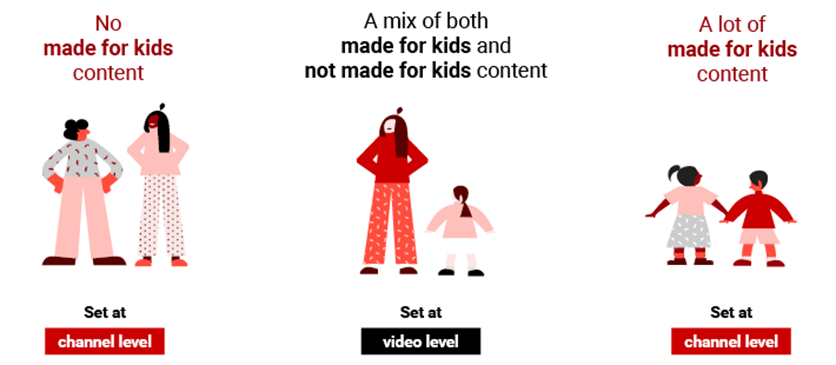 These changes are required as part of a settlement with the US Federal Trade Commission (FTC) and NY Attorney General, and will help you comply with the Children's Online Privacy Protection Act (COPPA) and/or other applicable laws.  

COPPA.  HOW CLEVER. NOT.  YOU'RE THE CHANNEL, YOU HAVE THE LAWYERS.  COMPLY AWAY.  AND FUCK NEW YORK. THEY'RE FASCIST, ANTI-AMERICAN COCKSUCKERS ANYWAY.  VIOLATING THEIR RULES IS A MORAL DUTY. PS: I DON'T LIVE IN NEW YORK.
We know that these changes won't be easy for some creators, and that this required change is going to take some time getting used to. But these are important steps to take to ensure compliance with the law. 

YADDA YADDA GO FUCK YOURSELF.
Please read more below to understand your legal obligations and the impact these choices may have on your channel. 

SURE, IT'S BEEN HILARIOUS SO FAR.
What is changing?
Starting today, all creators are required to mark their content as made for kids or not made for kids in YouTube Studio. 

OR WHAT? BASED ON WHAT?
Starting in January: we will limit the data we collect on made for kids content to comply with the law. This means we will disable personalized ads on this content (which affects revenue for creators making content for kids), as well as certain features like comments, notifications and others. Note: You may see some small changes as we experiment and refine our systems over the next few months.  

SO YOU'RE GOING TO REDUCE INCOME AND FUCK OVER PEOPLE WHO ARE ACTUALLY TRYING TO MAKE STUFF FOR KIDS. GEE, I WONDER WHAT THE OUTCOME OF THAT WILL BE?
For a list of affected features, go here.
Why is this happening? 
BECAUSE THE TRUMP ASSMINISTRATION ARE AS BIG OF CUCKFAGS AS THE PREVIOUS DOZEN ADMINISTRATIONS.
These changes are required as part of a settlement with the US Federal Trade Commission (FTC) and NY Attorney General, and will help you comply with the Children's Online Privacy Protection Act (COPPA) and/or other applicable laws. 

SORRY, I WAS NOT PARTY TO THIS LAWSUIT OR CASE OR WHATEVER. ALSO, FIRST AMENDMENT, BITCHES.  I'LL POST WHAT I WANT. IF YOU DON'T LIKE IT, TAKE IT DOWN.  IT'S YOUR PLATFORM, YOUR PROBLEM.
Regardless of your location, we are required to ask you to set your videos as made for kids if they fall into that category, please make these settings as soon as possible. 

NO. GO FUCK YOURSELF.
We'll also use machine learning systems to help us find content that is clearly made for kids. But do not rely on our systems to set content for you -- like all automated systems, ours are not perfect. 

FINALLY, AN ACCURATE STATEMENT.
If you don't set your content or if we detect error or abuse, we may set your audience for you. If you fail to set your content accurately you may face compliance issues with the FTC or other authorities, and we may take action on your YouTube account. 

THEN THERE'S NO ADVANTAGE FOR ME TO DO ANYTHING, IS THERE? I'LL LET YOU JUMP ON THAT GRENADE.
What is "made for kids" content?
We cannot provide specific legal advice, but according to the FTC's guidance on COPPA, a video is child directed (which we call "made for kids") if:
•
It is directed to children as the primary audience (e.g. videos for preschoolers).  

MY PRESCHOOLERS WATCHED "BLAZING SADDLES," "THE MATRIX" AND "DEADPOOL." SO I MAY HAVE DIFFERENT CRITERIA AND A DIFFERENT BASELINE THAN YOU.

•
It is directed to children but children are a secondary audience (e.g. cartoon video that primarily targets teenagers but is also intended for younger kids).  

UM, HAVE YOU ACTUALLY SEEN WHAT IS ON SOME KIDS' TV SHOWS?  ALSO, IF WE GO BACK TO 1967, "CAPTAIN SCARLET" SHOWED ASSASSINATIONS AND SUICIDE BOMBINGS ON A KIDS SHOW.  BUT THEN, MY GENERATION WEREN'T RAISED AS PUSSYFAGS.
Learn more about the factors that determine if your content is considered as made for kids here.  

NAH.
We know this won't be easy for some creators, and that this required change is going to take some getting used to. While we cannot provide legal advice, we are committed to helping you through this transition.  

IF YOU CAN'T PROVIDE LEGAL ADVICE, YOU'RE JUST SOME HELPFUL FRIEND ON THE INTERNET. THAT NEVER WORKS OUT WELL.
You can learn more about your own obligations under The Children's Online Privacy Protection Act (COPPA) and the tools we are building to support you here. 

GO SUCK START A SHOTGUN.
The YouTube Team
I only knew Butch by his first time.  He was a regular dealer here at the Indy 1500 Gun and Knife show. He looked 65 when I met him in 1995. He looked 65 in June of this year. He was in hospice for the August show, and the cancer reached his brain and killed him in September.
Butch sold gun parts, and knew every part of every gun ever made. You'd hold up a gun.  "I need this."
He'd say, "Middle screw for the sideplate of a Smith Model 57." Turn around, open an old wooden drawer on his rack, and pull one out.  
You'd hold up a piece you found and ask, "What is this?"
"That's the fore end latch spring for a Stevens Model 94. From the bend, I'm guessing it was 20 gauge."
There's at least a dozen guns here that work because he had parts I needed, and a half dozen shotguns I put together from stripped receivers and parts from his tables.
RIP, Butch. You can never be replaced.
His daughter has taken over the business. I hope she's as successful as he was.
Partly because they've created a society where they have most of it by their flawed definition.

Privilege comes from the Latin meaning "Private Law." So in a literal sense, unless there are laws to some effect, favoring or harming others, there is no privilege. For example, if there was a dedicated driving lane for those of a certain class, that would be privilege. I'd also be part of it and sneer at you inferior drivers, because honestly, that really should be a thing.
Actor, Action, Patient, Agent:

The ACTOR acts out.  The ACTION affects the PATIENT, for positive or negative. An AGENT is anyone capable of acting.  In a hypothetical extreme privilege society, the PATIENT has no AGENCY and cannot fight the ACTION.  Slavery in the antebellum South is a good example of this. Slaves had very little agency whatsoever, and when they did, it was usually through their owner by proxy with no personal say in the matter.

But that's not the world we live in now.  The law officially applies to everyone equally. Now, enforcement varies, and it usually works to the advantage of the wealthy and celebrities of ANY DEMOGRAPHIC.

But if, let's say, a cop and a judge decide to charge and sentence two people differently, based on race, religion, political affiliation.  The PATIENTS of these ACTIONS don't have much AGENCY to change the ACTORS' intentions. Possibly a better lawyer or publicity can change things, but there's no official strata, no, "Hey, you can't do that to me, I have this card that says ___" (Well, sometimes politicians and cops have such a card. Foreign diplomats do to an extent.  But it's exceptionally rare for anyone else.)

"They treated you better, YOU HAVE PRIVILEGE!"

No, I fucking don't. And by claiming so, YOU have just diverted the ACT from the ACTOR to me, one of the PATIENTS.  "You got treated better! You are evil!" Wrong. The ACTORS did the wrongdoing. You and I are both PATIENTS.  You are literally arguing that if you get punched in the face and I don't, that it's because I'm the bad guy, not the asshole who's punching people.

Stop with the bullshit claims of PRIVILEGE for the patients of the action, and go after the fucking ACTORS. Because every time you accuse someone else of "privilege" for actions totally beyond their control, you piss them off and make it even harder to go after the ACTORS who cause the problems.
Well, both.
God, what a dumpster fire.
Greta is home-schooled, so the BS claim that "she turned her parents around on the climate" is BS.  They had to allow it, feed it, and encourage it. Though of course, they taught her a lot of propaganda. No actual science like the chemistry of carbon sequestration, thermodynamics, electromagnetic frequency absorption, etc.
They claim she's Asperger's, but apparently that's her younger sister. Greta looks more like a victim of Fetal Alcohol Syndrome.  Just how many wild parties did her "opera singer" mother go to?
Then, she's vegan, which in children is provably damaging to brain development and drops your IQ. Add that to the above, and this teenager is credibly an idiot studying to be a moron.
And what is her message?
"You have to do something."
Sure, kid. This is important to you. You're smart, right? So I assume you've studied something useful and have a proposal on how to reduce consumption? Or increase efficiency? Or reduce waste? Even a fraction of a percent will matter. So, whatchya got?  Nothing?  Well, then shut the fuck up, the adults are talking.
You see, lots of teenagers HAVE done credible research, into decay processes, efficiencies, even curves and trends. All you've done is whine.  And as far as your "stolen childhood," you can go back to it any time you choose.  Unlike children who are sex slaves in the third world, forced to fight in tribal conflicts, or work grueling hours in sweatshops to help feed their family. You're just about the single most white-privileged little bitch on the planet. Shut the fuck up, and go to your room. You're not getting dinner.
Of course, that would be a vegan dinner, so there's not much to miss.
I'll point out here that that attitude is TEXTBOOK "liberal."  "X is a problem, do something!" "We're doing Y." "Y is all wrong! YOU RUINED MY LIFE!" "Okay, we're doing Z." "CAN'T YOU EVER GET IT RIGHT? DO SOMETHING ELSE!"
And the predictable response is:
"Shame on you for attacking a child."
Well, were people attacking a child, it is true that would be wrong.   But that's not what is happening here.
First, if you stick yourself into an adult conversation, as a young adult, you should be expected to be treated like an adult. This means you should have education, presentation, a description of a problem, and a proposed solution. Otherwise, yes, you may get treated like a child.
If a child kicks my leg, they get disciplined. This is not an "attack." It is a response.
The things subhuman "liberal" shitbags did to comedian Mini-AOC, complete to death threats, is shameful.  Fabricating an attack on a teenage boy at an abortion protest (And I'm on the opposite side from him), and trying to claim he was the aggressor, and to destroy his future is shameful. 
Pointing and laughing at an ignorant, underage troll, who was so carefully imported, scripted, and propped in front of cameras is just normal politics.
Now, Greta and her whole presentation are carefully crafted. I want you to consider this parallel:
There is a short video that shows an Israeli man revving his engine through a group of presumably Palestinian teenagers. What a monster!
Of course, if you view the five seconds before the "Attack," it turns out they were throwing really big rocks at his car and trying to jam the undercarriage with a bigger rock.
If you find the two minutes of video before THAT, you see where they're being coached by an adult, provided with a pile of rocks, and cameras set up to capture this "hate crime."
You can find the same in the former Irish Troubles, in Iraq, Afghanistan, other places.  Behind the "hate crime," you find manipulated terrorism, using children as the actors because they're more easily manipulated, and you get to play victim cards for them.
Greta's parents, her handlers, indeed the entire liberal apparatus are terrorists. They are willing to use a child to do their dirty work, attack you for responding to the child, and insist you're the bad guy for not giving them what they want. (And in that latter way, liberals are pretty much like children themselves. "But I waaaaant it! It's not faaiiir! Give it to meeee!")
A smart polity does not deal with terrorists. It exterminates them. It is far past time that civilized society stops tolerating liberal terrorism and ends it.
And it starts by telling Greta Goebbels to shut her face, and her abusive parents to be the ones who are ashamed, and then take her away for her own safety. She deserves better than to be the puppet of terrorists.
And we're going to need a bigger helicopter.