The current attempt at impeaching President Trump revolves around a claim of a "quid pro quo" of government aid to the Ukraine, in exchange for them pursuing legitimate law enforcement investigations of your typical Demorrhoid corruption.
First, it is the JOB of the Executive Branch, via State and Commerce Departments among others, to quid pro quo other governments. THAT'S WHAT THEY'RE SUPPOSED TO DO.  "You want X? We want Y. Deal?"
Literally. Their fucking. Job.
In 1948, President Truman's administration approved the creation of ARAMCO for the purpose of acquiring oil from Saudi Arabia, while having a means of putting political pressure on them. That's in the actual statements in the authorization.
So the whole trial is a farce to start with. There are legitimate complaints about some of Trump's actions.  This isn't one of them. Of course, most that are questionable were exactly what the Demorrhoids wanted, so they're silent on that.
Second, even worse than ascribing the SNL quote of "I can see Russia from my house" that Sarah Palin never actually said, but is now considered "Fake, but accurate," they're basing this on what some Demorrhoid shithead in Congress paraphrased from hearsay from some source he isn't really sure about.
But, even if we assume this might actually result in any credible, pursuable charges from the Fascist Wing of the DNC, what then?  First they have to prove the charge, which is non-existent.
Then, it goes to the Republican controlled Senate for follow up. I'm sure they'll give it all the attention it deserves.
But even if they do something: you may remember when this happened to Bill Clinton over actual perjury charges.  The result was "Censure."  IOW, a letter saying, "We find you to be quite naughty."  Nothing substantive.
But even if they actually remove the sitting president from their own party (I dunno, maybe they think it'll be useful later for removing a Demorrhoid for the easily provable charge of being anti-American), it means, by the time they get to that, Trump is gone for the last 5 months of his term.
Which would mean PRESIDENT MIKE PENCE. Now, that asshole was my governor. If you do not like Trump, you will not like Pence even more, who demonstrably IS a Christo-fascist, anti-choice, anti-gay crusader. Seriously?  Are you fucking retarded? Apparently.
AND, that still doesn't stop Trump from campaigning to run for office again, and still winning because his followers and most of the mainstream are pretty fucking sick of "liberal" fascist cocksuckers trying to subvert the legal processes for some strange sexual worship and obsession with Trump.  Hell, I might even vote for him to just to watch four more years of complete meltdown.
But worst case, it just means PRESIDENT MIKE PENCE.  Jesus tittyfucking Christ in a pink tutu on a pogo stick, are you...well, yes, obviously you ARE that fucking stupid.
What we really need is to quid pro quo some foreign government's intelligence service into assassinating the entire DNC membership. But Trump is too soft and liberal for that.
Hi Mike Williamson,
Important changes that may impact your monetization and content discoverability are coming.  
HAVE YOU COCKSUCKERS EVER PAID ANYONE ANYTHING?
Starting today, all creators are required to tell us if their content is made for kids in order to comply with the Children's Online Privacy Protection Act (COPPA) and/or other applicable laws. To help you comply, we are introducing a new audience setting in YouTube Studio.  

OR WHAT?
Depending on the amount of made for kids content on your channel, you can set your audience at either the channel level or the video level. For those who are setting at the channel level, it is just one click.

I H

AVE NO FUCKING IDEA WHAT MY LEVEL OR SETTINGS ARE. I UPLOAD SHIT FROM TIME TO TIME. PEOPLE LOOK AT IT FROM TIME TO TIME.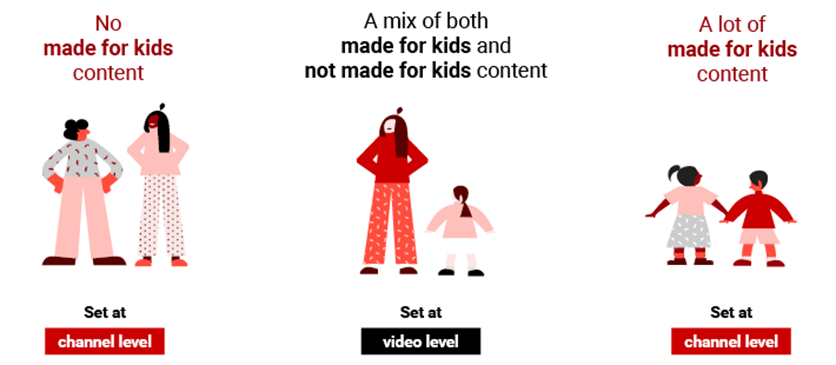 These changes are required as part of a settlement with the US Federal Trade Commission (FTC) and NY Attorney General, and will help you comply with the Children's Online Privacy Protection Act (COPPA) and/or other applicable laws.  

COPPA.  HOW CLEVER. NOT.  YOU'RE THE CHANNEL, YOU HAVE THE LAWYERS.  COMPLY AWAY.  AND FUCK NEW YORK. THEY'RE FASCIST, ANTI-AMERICAN COCKSUCKERS ANYWAY.  VIOLATING THEIR RULES IS A MORAL DUTY. PS: I DON'T LIVE IN NEW YORK.
We know that these changes won't be easy for some creators, and that this required change is going to take some time getting used to. But these are important steps to take to ensure compliance with the law. 

YADDA YADDA GO FUCK YOURSELF.
Please read more below to understand your legal obligations and the impact these choices may have on your channel. 

SURE, IT'S BEEN HILARIOUS SO FAR.
What is changing?
Starting today, all creators are required to mark their content as made for kids or not made for kids in YouTube Studio. 

OR WHAT? BASED ON WHAT?
Starting in January: we will limit the data we collect on made for kids content to comply with the law. This means we will disable personalized ads on this content (which affects revenue for creators making content for kids), as well as certain features like comments, notifications and others. Note: You may see some small changes as we experiment and refine our systems over the next few months.  

SO YOU'RE GOING TO REDUCE INCOME AND FUCK OVER PEOPLE WHO ARE ACTUALLY TRYING TO MAKE STUFF FOR KIDS. GEE, I WONDER WHAT THE OUTCOME OF THAT WILL BE?
For a list of affected features, go here.
Why is this happening? 
BECAUSE THE TRUMP ASSMINISTRATION ARE AS BIG OF CUCKFAGS AS THE PREVIOUS DOZEN ADMINISTRATIONS.
These changes are required as part of a settlement with the US Federal Trade Commission (FTC) and NY Attorney General, and will help you comply with the Children's Online Privacy Protection Act (COPPA) and/or other applicable laws. 

SORRY, I WAS NOT PARTY TO THIS LAWSUIT OR CASE OR WHATEVER. ALSO, FIRST AMENDMENT, BITCHES.  I'LL POST WHAT I WANT. IF YOU DON'T LIKE IT, TAKE IT DOWN.  IT'S YOUR PLATFORM, YOUR PROBLEM.
Regardless of your location, we are required to ask you to set your videos as made for kids if they fall into that category, please make these settings as soon as possible. 

NO. GO FUCK YOURSELF.
We'll also use machine learning systems to help us find content that is clearly made for kids. But do not rely on our systems to set content for you -- like all automated systems, ours are not perfect. 

FINALLY, AN ACCURATE STATEMENT.
If you don't set your content or if we detect error or abuse, we may set your audience for you. If you fail to set your content accurately you may face compliance issues with the FTC or other authorities, and we may take action on your YouTube account. 

THEN THERE'S NO ADVANTAGE FOR ME TO DO ANYTHING, IS THERE? I'LL LET YOU JUMP ON THAT GRENADE.
What is "made for kids" content?
We cannot provide specific legal advice, but according to the FTC's guidance on COPPA, a video is child directed (which we call "made for kids") if:
•
It is directed to children as the primary audience (e.g. videos for preschoolers).  

MY PRESCHOOLERS WATCHED "BLAZING SADDLES," "THE MATRIX" AND "DEADPOOL." SO I MAY HAVE DIFFERENT CRITERIA AND A DIFFERENT BASELINE THAN YOU.

•
It is directed to children but children are a secondary audience (e.g. cartoon video that primarily targets teenagers but is also intended for younger kids).  

UM, HAVE YOU ACTUALLY SEEN WHAT IS ON SOME KIDS' TV SHOWS?  ALSO, IF WE GO BACK TO 1967, "CAPTAIN SCARLET" SHOWED ASSASSINATIONS AND SUICIDE BOMBINGS ON A KIDS SHOW.  BUT THEN, MY GENERATION WEREN'T RAISED AS PUSSYFAGS.
Learn more about the factors that determine if your content is considered as made for kids here.  

NAH.
We know this won't be easy for some creators, and that this required change is going to take some getting used to. While we cannot provide legal advice, we are committed to helping you through this transition.  

IF YOU CAN'T PROVIDE LEGAL ADVICE, YOU'RE JUST SOME HELPFUL FRIEND ON THE INTERNET. THAT NEVER WORKS OUT WELL.
You can learn more about your own obligations under The Children's Online Privacy Protection Act (COPPA) and the tools we are building to support you here. 

GO SUCK START A SHOTGUN.
The YouTube Team
I only knew Butch by his first time.  He was a regular dealer here at the Indy 1500 Gun and Knife show. He looked 65 when I met him in 1995. He looked 65 in June of this year. He was in hospice for the August show, and the cancer reached his brain and killed him in September.
Butch sold gun parts, and knew every part of every gun ever made. You'd hold up a gun.  "I need this."
He'd say, "Middle screw for the sideplate of a Smith Model 57." Turn around, open an old wooden drawer on his rack, and pull one out.  
You'd hold up a piece you found and ask, "What is this?"
"That's the fore end latch spring for a Stevens Model 94. From the bend, I'm guessing it was 20 gauge."
There's at least a dozen guns here that work because he had parts I needed, and a half dozen shotguns I put together from stripped receivers and parts from his tables.
RIP, Butch. You can never be replaced.
His daughter has taken over the business. I hope she's as successful as he was.
Partly because they've created a society where they have most of it by their flawed definition.

Privilege comes from the Latin meaning "Private Law." So in a literal sense, unless there are laws to some effect, favoring or harming others, there is no privilege. For example, if there was a dedicated driving lane for those of a certain class, that would be privilege. I'd also be part of it and sneer at you inferior drivers, because honestly, that really should be a thing.
Actor, Action, Patient, Agent:

The ACTOR acts out.  The ACTION affects the PATIENT, for positive or negative. An AGENT is anyone capable of acting.  In a hypothetical extreme privilege society, the PATIENT has no AGENCY and cannot fight the ACTION.  Slavery in the antebellum South is a good example of this. Slaves had very little agency whatsoever, and when they did, it was usually through their owner by proxy with no personal say in the matter.

But that's not the world we live in now.  The law officially applies to everyone equally. Now, enforcement varies, and it usually works to the advantage of the wealthy and celebrities of ANY DEMOGRAPHIC.

But if, let's say, a cop and a judge decide to charge and sentence two people differently, based on race, religion, political affiliation.  The PATIENTS of these ACTIONS don't have much AGENCY to change the ACTORS' intentions. Possibly a better lawyer or publicity can change things, but there's no official strata, no, "Hey, you can't do that to me, I have this card that says ___" (Well, sometimes politicians and cops have such a card. Foreign diplomats do to an extent.  But it's exceptionally rare for anyone else.)

"They treated you better, YOU HAVE PRIVILEGE!"

No, I fucking don't. And by claiming so, YOU have just diverted the ACT from the ACTOR to me, one of the PATIENTS.  "You got treated better! You are evil!" Wrong. The ACTORS did the wrongdoing. You and I are both PATIENTS.  You are literally arguing that if you get punched in the face and I don't, that it's because I'm the bad guy, not the asshole who's punching people.

Stop with the bullshit claims of PRIVILEGE for the patients of the action, and go after the fucking ACTORS. Because every time you accuse someone else of "privilege" for actions totally beyond their control, you piss them off and make it even harder to go after the ACTORS who cause the problems.
Well, both.
God, what a dumpster fire.
Greta is home-schooled, so the BS claim that "she turned her parents around on the climate" is BS.  They had to allow it, feed it, and encourage it. Though of course, they taught her a lot of propaganda. No actual science like the chemistry of carbon sequestration, thermodynamics, electromagnetic frequency absorption, etc.
They claim she's Asperger's, but apparently that's her younger sister. Greta looks more like a victim of Fetal Alcohol Syndrome.  Just how many wild parties did her "opera singer" mother go to?
Then, she's vegan, which in children is provably damaging to brain development and drops your IQ. Add that to the above, and this teenager is credibly an idiot studying to be a moron.
And what is her message?
"You have to do something."
Sure, kid. This is important to you. You're smart, right? So I assume you've studied something useful and have a proposal on how to reduce consumption? Or increase efficiency? Or reduce waste? Even a fraction of a percent will matter. So, whatchya got?  Nothing?  Well, then shut the fuck up, the adults are talking.
You see, lots of teenagers HAVE done credible research, into decay processes, efficiencies, even curves and trends. All you've done is whine.  And as far as your "stolen childhood," you can go back to it any time you choose.  Unlike children who are sex slaves in the third world, forced to fight in tribal conflicts, or work grueling hours in sweatshops to help feed their family. You're just about the single most white-privileged little bitch on the planet. Shut the fuck up, and go to your room. You're not getting dinner.
Of course, that would be a vegan dinner, so there's not much to miss.
I'll point out here that that attitude is TEXTBOOK "liberal."  "X is a problem, do something!" "We're doing Y." "Y is all wrong! YOU RUINED MY LIFE!" "Okay, we're doing Z." "CAN'T YOU EVER GET IT RIGHT? DO SOMETHING ELSE!"
And the predictable response is:
"Shame on you for attacking a child."
Well, were people attacking a child, it is true that would be wrong.   But that's not what is happening here.
First, if you stick yourself into an adult conversation, as a young adult, you should be expected to be treated like an adult. This means you should have education, presentation, a description of a problem, and a proposed solution. Otherwise, yes, you may get treated like a child.
If a child kicks my leg, they get disciplined. This is not an "attack." It is a response.
The things subhuman "liberal" shitbags did to comedian Mini-AOC, complete to death threats, is shameful.  Fabricating an attack on a teenage boy at an abortion protest (And I'm on the opposite side from him), and trying to claim he was the aggressor, and to destroy his future is shameful. 
Pointing and laughing at an ignorant, underage troll, who was so carefully imported, scripted, and propped in front of cameras is just normal politics.
Now, Greta and her whole presentation are carefully crafted. I want you to consider this parallel:
There is a short video that shows an Israeli man revving his engine through a group of presumably Palestinian teenagers. What a monster!
Of course, if you view the five seconds before the "Attack," it turns out they were throwing really big rocks at his car and trying to jam the undercarriage with a bigger rock.
If you find the two minutes of video before THAT, you see where they're being coached by an adult, provided with a pile of rocks, and cameras set up to capture this "hate crime."
You can find the same in the former Irish Troubles, in Iraq, Afghanistan, other places.  Behind the "hate crime," you find manipulated terrorism, using children as the actors because they're more easily manipulated, and you get to play victim cards for them.
Greta's parents, her handlers, indeed the entire liberal apparatus are terrorists. They are willing to use a child to do their dirty work, attack you for responding to the child, and insist you're the bad guy for not giving them what they want. (And in that latter way, liberals are pretty much like children themselves. "But I waaaaant it! It's not faaiiir! Give it to meeee!")
A smart polity does not deal with terrorists. It exterminates them. It is far past time that civilized society stops tolerating liberal terrorism and ends it.
And it starts by telling Greta Goebbels to shut her face, and her abusive parents to be the ones who are ashamed, and then take her away for her own safety. She deserves better than to be the puppet of terrorists.
And we're going to need a bigger helicopter.
On Medium (so called because its contents are neither rare nor well done) last year, some clown bleats that Paw Patrol, the kids' show, is an authoritarian metaphor for the Trump administration!
It was created by a CANADIAN in 2013.  And in fact, the authoritarian statism and eco-fascism within are more typical of the so-called "left."
This type of Demorrhoid is a hypocritical shithead.
~~~
Back in early 2002, with a war on, I get told, "Oh, yes, it's hard with gas prices so high. Crazy Republicans. What can you do?"
Me: "Um, gas doubled in 1998, when Clinton was president."
Demorrhoid: "I don't remember that. All I know it, gas is expensive because Bush has oil interests."

Bush doesn't control OPEC, nor did he pass hindering legislation on the refineries. That was Clinton and the Demorrhoids.  No memory whatsoever that they did this. Just blame the other party three years later.
This type of Demorrhoid is an ignorant shithead.
~~~
"ZOMG! Trump's restrictions on illegal aliens are LITERALLY HITLER!"
They are the same restrictions the 0bama administration had for 8 years, that you had no issues with at all.
This type of Demorrhoid is a hypocritical shithead, and a racist, because they refuse to hold 0bama to the same standard as the white presidents before and after.  They don't really expect him to be up to speed, because he's black.  You have to treat races differently in order to be fair, or so they say.
~~~
"I want medical pot! And medicine is too expensive! And Europe can get stuff we can't! Fix it!
Trump proposes to reduce the scope of the FDA, which has created the miasma of regulations that hinder approval of medicine, and drive up costs.
"ZOMG! He wants people to die! The bureaucracy is the only thing that keeps us free!"
This type of liberal is a pagan shithead, who worships the government as god. The only way to be free is to have more government! Bigger government! Taking care of everything! But only the way I want it!
These are the shitheads who promote "The government's legitimate authority to tax" and then complain when Eric Garner gets chokeholded to death selling untaxed cigarettes.
~~~
"Real socialism has never been tried! And socialism works great in Sweden!"
It does? I thought it had never been tried?  And the Swedes have a whole bunch of private corporations for an alleged socialist nation.
This type of Demorrhoid is a hypocritical shithead.
~~~
"Muh roads! Roads are socialism! If you don't like socialism, GET OFF MUH ROAD!"
Well, so in your opinion, only those who endorse and pay for the road can use it? That's not how socialism "Works," sweetie. Further, paved roads were invented during the Palace Economy of the Bronze Age, in order to bring TAXES to the GOVERNMENT. That commoners benefited was a plus, because it meant MORE WEALTH TO TAX.  Also, a single collective endeavor would not necessarily justify all others. Or you wouldn't be complaining about all the things you hate about the government.
This type of Demorrhoid is by definition a shithead, because they think they're socialist. They're also a fucking thief who thinks they're entitled to any amount of your productivity they deem reasonable, because of the magic of roads...which predate socialism.  Once again, shitheads claim credit for something they didn't do, and attempt to pass the blame for their own failure onto others.
Socially, and possibly evolutionarily, the typical Demorrhoid ranks somewhere between a dung beetle and a leech. They survive off the waste of actual productivity, and complain about how much effort it takes, so if you could just pull them out of the muck and attach them to a vein, that would be great.  They're literally incapable of comprehending they'd be sucking productivity out of a healthy economy, while poisoning it with their filth.
~~~
"You red staters consume more than you pay in taxes!  You are scum!"
I see. So why did you BLUE STATERS vote for the tax?  You insist on a government agency to run things, force us under it, then complain about the cost.  If you had just gone fucked yourself to start with, you wouldn't be paying for it (actually, you're wrong on a per capita basis), we wouldn't be stuck with it, and you'd have to find something else to bitch about.
"If it weren't for we urbanites on our VALUABLE REAL ESTATE IN NYC, you'd be starving! We don't need you.  Your votes shouldn't count. Your land is worthless and you are contemptible."
Excuse me, but MY LAND PRODUCES FOOD. Yours merely houses morally degenerate, ignorant, stupid, failures of human evolution. When the power goes out for a few hours in your area, people riot and die. When the power goes out for a few days around here, we just shrug and work around it.
This type of Demorrhoid is a conceited, elitist, urban shithead, and piece of subhuman garbage.  
~~~
If you can find an ACTUAL socialist, you can sometimes have a reasonable philosophical discussion with them.  They might even admit they're dealing with a guiding principle that can't succeed alone in the real world. If you find an OLD SCHOOL LIBERAL, you'll find they support civil freedom, and a mutually supportive state. You will probably disagree with them on how much state intrusion is beneficial. History shows they tend to be a bit idealistic, but idealism tempered with caution yields a healthy society.
The modern Demorrhoid is just an ignorant, stupid, whining, greedy failure seeking to leech off civilization while professing their hatred for it.
More will be added later.  And the question:
Are there any Demorrhoids left who are NOT complete government cocksucking shitheads?  I ask rhetorically. 
Because the answer is no.
https://quillette.com/2019/08/22/why-white-privilege-is-wrong-part-1/ 
From the article:
"As it relates to economics, the oft-used median household income seems like a good place to start. According to the U.S. Census Bureau, the median household income of non-Hispanic whites in 2017 was $68,145. While this is higher than the national median of $59,039, it is considerably lower than the incomes of several ethnic groups. Indian Americans, Pakistani Americans, Filipino Americans, and Taiwanese Americans each out-earned whites in 2017, boasting median household incomes of $110,716, $83,956, $83,256, and $81,903, respectively. Lebanese Americans ($76,805), Sri Lankan Americans ($73,856), Chinese Americans ($72,927), and Iranian Americans ($72,733) also out-earned whites.
In general, the U.S. Census Bureau reports that Asians have had a higher median household income than whites since the mid-1980s. In fact, figures from the Bureau of Labor Statistics indicate that white men earned 80 percent of what Asian men earned in 2017.
In 2000, data from the U.S. Commission on Civil Rights showed that 44.6 percent of black applicants were turned down for mortgage loans. In comparison, 22.3 percent of white applicants were turned down. In spite of data indicating that black-owned banks had turned down black applicants at rates higher than white-owned banks, accusations of discrimination within the banking sector were widespread. However, the same report from the U.S. Commission on Civil Rights revealed another interesting statistic: the mortgage rejection rate for Asian Americans was 12.4 percent. In other words, Asian Americans were approved at a higher rate than whites. This data point never saw the light of day in most newspapers or television news programs.
For neo-Nazis and alt-righters, their supposed superiority lies in their genetics. For those on the far-left, the unjust supremacy of whites is based on systemic discrimination."~~~
Incorrect. For racist liberals (statistically all of them), white privilege is a code word for white supremacy. They believe white people are superior in all ways and need to be taxed to provide equality to those lesser beings who can't possibly hope to compete, not being white.
It allows them to be smug in their perceived racial superiority, explain away their own bigotry as some magical innateness that isn't genetic, while still being inheritable, and of course, "the rich" should pay for it, thus conveniently absolving any non-rich liberal (Which is none of them, in their POV) from guilt, as long as they virtue signal about how horrible it is.
The textbook example is the bleat that voter ID is racist because "black people" might have trouble getting ID.
There are more white people living in poverty than black people, but somehow, liberals forget to mention them, because of their "privilege."
TRANSLATION: They think white people are smart enough to handle this mythical problem, but black people aren't.
Your average liberal is so fucking racist he can't see his own racism through his virtue signal.
Customer Review
July 9, 2019
This turned out to be just a collection of short stories & rants. I briefly scanned the story titles and the first one I read dealt with the M1 Garand rifle, which Williamson considers junk -- he loves AR's, which I consider junk. So far just a difference of opinion BUT: My bullshit meter hit max when MZ claimed that the sights on an M1 only go out to 460 yards. Now that's just a lie, he knows better. As a Marine officer I shot quite a bit of military rifle competition back in the early 1970's, with both the M1 Garand in 30.06 and the M-14 in 7.62, using the mil-spec standard iron sights. The course used was a national match course fired at 200, 300, and 600 METERS. That's 660 yards for the math-challenged Williamson. Both match-conditioned rifles shot quite accurately at that range and I would not have hesitated to fire the M1 on the 1000-yard range. Silly rants are OK but don't lie to support a questionable case.
Comment
 Permalink
First, there is a difference between a "lie" and an "Error."

Second, per FM 23-5, the stated maximum effective range is given as 500 yards. Now, what I saw was 460 METERS, but in publications using both Imperial and Metric. I transposed. BFD. AND, the newer M16s exceed that range.

Also, just because a weapon is mechanically limited to a given range, does not mean it's impossible to shoot further. It's entirely possible. It's just that accuracy lacks.

The M1 was accepted for service at 3 MOA accuracy. That's 18" at 600 yards plus wind drift, plus rotation of the earth (And yes, that is a factor). Then, flight time is approximately 1 second, so sure, hitting paper at that range is doable, but inaccurate, and hitting a moving enemy...only by sheer luck.

Also, I own and shoot an original, complete, M1-D.

So it's your math that's challenged, as well as your reading comprehension. And if you're such an over-sensitive snowflake that a single questionable error removes 4 stars from the book and causes a meltdown of "LIAR LIAR PANTS ON FIRE!" it doesn't speak well for Marine officers. Luckily, I'm aware you're not typical.

Also, the AR platforms have been demolishing the archaic platforms at National Match for about 30 years now. 1970 was a long time ago. About the time I was 5. Technology has advanced in a half century. Witness this computer we're using.

You should probably look up an article entitled, "The M14, Not Much For Fighting ( A Case Against The M14 Legend)"

If you're that upset about my comments on the Garand, this one will cause apoplexy. But facts remain facts.
---
---
I just don't see much point in most of them.  I've been nominated for several, won a couple, and few of them pay anything or are anything other than a nice bit of bling.  I'd much rather have big royalty checks.
I don't turn awards down if I receive them, but I've never really agitated to win or even be nominated, and apparently missed the deadline on several I would have been well-eligible for.  Shrug.
I get money. I get positive feedback from fellow veterans who understood my language and had some of the tension, stress and boredom of deployment dulled for a few hours. That's worth something.
And occasionally I get fanmail like this:

~~~
...In A Long Time Until Now, you have a character with hypothyroidism. I didn't really connect the dots until months after I read the book. I have a lot of health problems. I have had them for years. Never went to the doctor. Part of it was I couldn't afford it. Part of it was I figured any doctor would tell me to lose weight, so I kept saying "Oh, I'll lose some weight first." Needless to say, I never lost weight, even when I tried and then other stuff would distract me.
...
It's been a stressful couple of years, topped off with my Dad dying very suddenly in February. So, I got distracted a lot. But then the light bulb finally turned on and I figured that I had hypothyroidism. I managed to find a doctors office with a sliding scale and got an appointment. I've worked with dogs and it's a common disease in dogs. I figured it's easy enough to manage and the meds are cheap, get to a doctor and Voila! Problems solved.  
...
So, while I don't have hypothyroidism, which would have made this little story poetically perfect, I do have Cushing's Syndrome, most likely caused by a tumor on an adrenal gland. I have a CT scan scheduled for later this month and the endocrinologist has already sent in a referral to a surgeon to expedite the whole thing.

If I hadn't read that book, I'd probably still would be doing the stupid "Oh, I'll get to it." thing. Or maybe I finally would have gone to every specialist in town for the next million years while I continued to decline.  
Either way, if it wasn't for that one character that you wrote, I don't think it would have ever been figured out. Or at least, certainly not so quickly. From going to the doctor (Nurse Practitioner, whatever) for the first time in over ten years to a Cushing's diagnosis in less than two months is probably record.
So, yeah, you saved my life. Literally. I owe you. Thank you.
~~~

You are most very welcome, and I'm thrilled I could help.
And that's why I write hard SF.  It's not for the plaques and trophies.
With a typical exchange with one, that mirrors thousands I've had:
Tony Alexander: red states are receiving assistance, not paying taxes. Moscow Mitch has 9 out of 10 of the counties that receive the most assistance in the country.
Hide or report this
Like
· Reply · 3d
Mike Williamson: Tony Alexander But as a good liberal, you should enjoy helping poor people with the taxes you voted for. 

If you're opposed to the government's legitimate authority to tax, maybe you should go live in Somalia.
And even her pet boy Mueller couldn't prove ANYTHING about Russia, and is in fact being countersued for the slander.
What was that about "investigated and found no wrondoing?"
:-*
They're all in favor of helping "The poor" until they're expected to pay for it from their urban petri dishes of "culture."