This K-11 arrived with a shattered stock. It appears there was a twig pin burl halfway through the wrist, and eventually, it let go, in a splintered mess.
My friend's cabinetmaker friend told him it was unrepairable, so he slapped on some epoxy, aluminum bar, and bandage.
Well, with all due respect to his friend, he's a cabinetmaker, not a graduate of WECSOG!

I had not repaired something like this before.
First, I just cut out all the bad wood.  No reason to attempt to glue shreds together.
Then I made a template from a good stock, and had to cut a shim to fit in three dimensions. I could have chopped more wood out, but I wanted to replace as little as possible. The stock is numbered to the gun, so a repair is better than a replacement, from a collectible point of view.
Once the shim was shaped, I drilled through both ways to insert a 1" dowel for reinforcement inside the wrist.
Then dremeled and chiseled new inlets for the tangs, drilled the tang screw hole, sanded and assembled. Vaseline and Break Free are close enough in color to match cosmoline.
It's ugly, but should be functional, it's less ugly than it was, and it saves as much original wood as possible.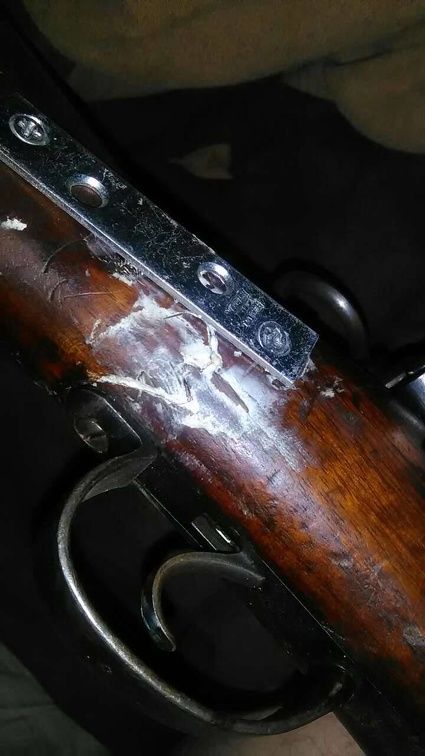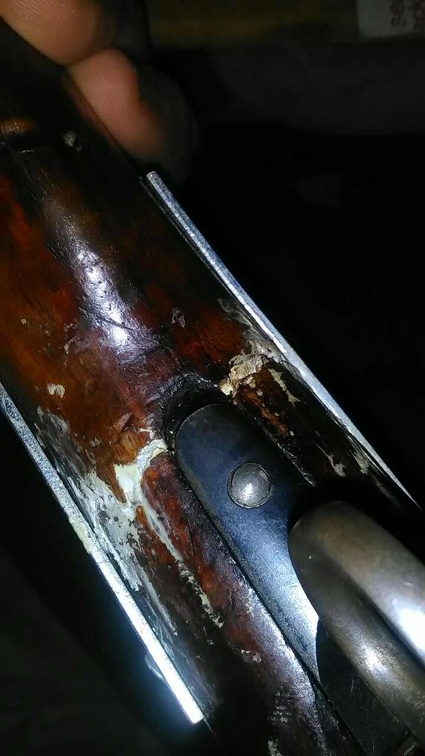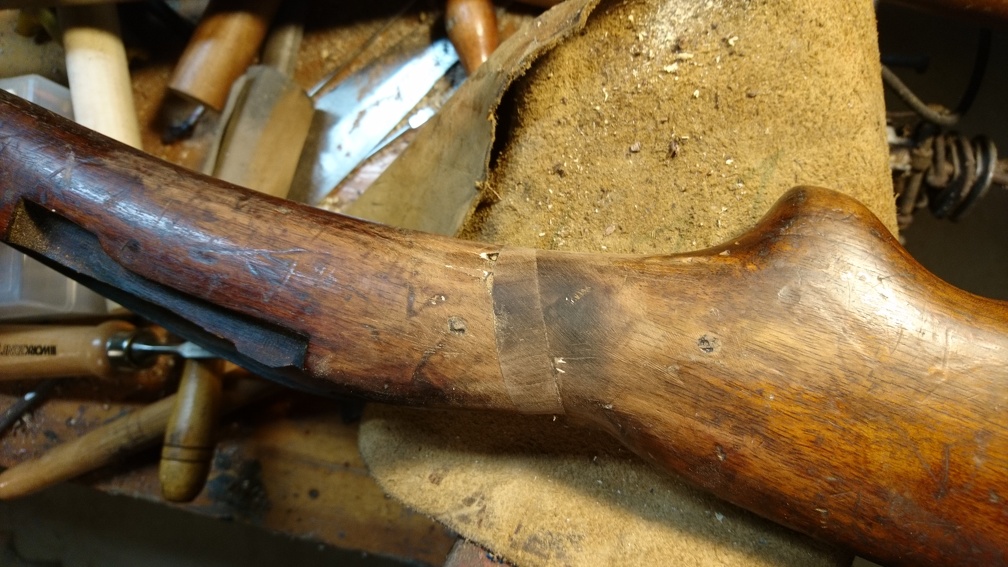 Mexico has national health care, just like Canada.
Mexico has even stricter gun control than Canada.
Mexico has easier access to abortion than Canada.
Mexico has readily available pot.
Mexico has a low cost of living.
Mexico has an economy that would benefit from their financial input (Assuming any.  Canada's better if you're a welfare leech, IF you can persuade them to take you. They're not as lenient as the US).
But, no.  Liberals who whine about elections always threaten they'll move to Canada because they're fucking racists.
Liberals are innately more logical and sciencey than conservatives, as liberals inform me all the time. So it's wonder they can't see the logical flaws in this claim:
"The US is very right wing. If you compare it to Europe, the most left wing American politician is still only center right."
A: This assumes Europe is the baseline, not the US.  Looked at the other way, every nation* in Europe is extremely left wing, which is obviously a far more reasonable conclusion (Because I say it is).
2: This confuses mean and median.  Do you even statistic, bro?
c} Why do you assume the US and Europe are even on the same scale? You're comparing apples and rutabagas here, given the cultural backgrounds of most of Europe--civic minded subjects of monarchies, vs the background of the history of the US--rebels, refugees, transportees, slaves and their descendents, and adventurers.
IV) Europe is a continent of smaller nations, with actually quite a variety of political orientations. Are you claiming Russia is left wing these days? Do you even know what Poland's politics are? Or are you focusing on Scandinavia--several very small nations, France, Germany and the UK to the exclusion of the rest?  Using that logic, California, New York and Illinois prove the US is actually quite a bit further left than your own claims.
E] What about all the other nations in the world? Why aren't they counted?  You're choosing majority-white Europe out of deep-seated, inherent racism.
A liberal can ALWAYS choose the postulates he wants to prove he's correct, even when he's talking out of his ass.
And will usually be racist in the process.





*The nations the liberal deems relevant, not those inconvenient non-liberal nations.
Way back in the early 1990s at a sci fi con I attended regularly, on a circuit I attended regularly, I was hanging out with a bunch of friends. One was a woman who we could call a friend with benefits.  Another would be later.  Three guys who also threw themed parties, a DJ and his assistant, two other women, and one who is the person in question.
She was mutual friends with my FwB, the guy she was with, and another. We'd interacted, hung out, been at convention parties.
That evening, it became obvious she was interested.  A couple of hours later, we were back in my room. Making out, chatting, making out some more.  I lost my shirt. 
A few minutes later, she was sitting astride my hips, and peeled her dress over her head.  No bra--she had the youth and stature that didn't need one, and she did not have small breasts, either.  She was quite well built in all dimensions.
We both finished undressing, and had sex in several positions. Oral each way, she astride me, missionary, from behind, missionary again.  A good time was had by all.
We lay there for a while, talking some more, quick rinse in the shower together, clothes back on, and back out to socialize with the rest.
She disappeared.
Two hours later, my FwB shows up with her current date.
"What happened tonight, Mike?"
"What, with ___?"

"Yes."

"What do you think happened?" (I generally try not to share specifics with others unless cleared to.)
"How did her dress come off, Mike?"
At this point I had a massive adrenaline surge. I mean, you saw the list, it was obvious to me it was all consensual...I thought. Did I miss a signal? No, she asked for several things specifically.
"Um....she took it off...while astride me."
There was silence, and I asked, "Is this going to be a problem?"
FwB says, sigh, "No, she's done this before."
Get that? She'd done this BEFORE.
I ascribe some of this to hangover societal puritannical bullshit (though the Puritans demanded sex be an active part of marriage both ways), compounded by Victorian bullshit.
You see, Nice Girls don't do things like that.  So if a woman has absorbed this belief, but actually likes a load of cum in her face, or being fucked in the ass, or shoved against a wall and her skirt yanked up, or two cocks at once, then she's a slut. 

But, if she wasn't really into it, and she was just going along with it, then she wasn't really a slut, so it's okay.
But there's a line between misplaced puritanical guilt over enjoying yourself and A FALSE ACCUSATION OF RAPE.
PART TWO:
An acquaintance is an EEO officer for a large military installation. Divorce is sadly common in the military due to relocations, duty cycles, separations for deployment, and occasionally for things like infidelity (less than you might expect. There's a half-joke about "Are you married?" "No, I'm temporary duty." And a lot of couples tolerate or enjoy that just to take some of the stress off, with the understanding that once those months or years of separation are done, they're a couple)(they're not asking for your moral judgment, so stuff it).
He reports that several times a MONTH, a woman (spouse) filing for divorce would come in, and accuse the service member of abuse, violations, etc.
He could immediately tell which ones were fake. They were literally word for word from a popular TV show episode about this.
But, every one of these cases must be "investigated," which pulls someone off duty for questioning, and impedes anything in their mission that involves a security clearance, and costs YOU, the taxpayer, tens of thousands of dollars.
Because some lying whore wants a bigger cut of a pension, or to fuck someone's career over and hurt them for life because they're angry at how their life isn't a fairy tale.
You know who else suffers from this?
ACTUAL VICTIMS AND SURVIVORS of abuse and sexual assault, who try to speak, and get a response of (eyeroll), oh, god, not this shit again.
So when Christine Ford can't remember if it was 2, 4, or 6 people present at a party where she admits she was drinking underage, or where it was, or how she got there, or how she got home, and didn't tell anyone, and 6 of the 4 witnesses say it never happened, and she couldn't get to Congress on Monday because she's terrified of flying, but has 100,000 frequent flyer miles from vacationing in the Pacific...
It's reasonable to assume she's LYING about remembering absolutely that it was a candidate she opposes politically, who belongs to a party she's publicly vowed to hinder in any way possible.
And stop with the bullshit that she has "nothing to gain," because she's already gained $500,000 from a gofundme, notoriety, headlines, and may even get a book deal. And most importantly, might fuck with our constitutional process to make it easier for her Nazi fucking Demorrhoid Party to control the government.

She's a lying whore, and anyone with any analytical sense has known that from the beginning.
This is a working hypothesis of mine and it's well supported by my research.
Recently:

Liberal: Trump is anti-semitic, and his son makes secret anti-semitic signs on TV!

Me: Wait, how do you know about these secret signs?
Liberal: We have a list!
Me: 70% of Trump's cabinet are Jews, so is one son in law.  He recognized Israel's right to exist, to have Jerusalem as their capital. How is he anti-Semitic?
Liberal: He's just using those Jews for his advantage.
Me: What advantage?  Why have a cabinet full of people you allegedly hate?
Liberal: He's only got Jews on the cabinet because they're good at banking strategies and money handling. They're making him rich.
Me: Wait, what? Did you just stereotype an entire religion and culture? And imply they're corrupt?
Liberal: No, not all Jews, just those Jews.
Me: Then why bother with Jews if he hates Jews? Are you saying he can't find other bankers?
Liberal: FUCK YOU!
~~~

Then there's the liberal claim that they're not anti-semitic, just anti-zionist.
Me: So, you don't oppose Jews, just a Jewish national state.
Liberal: Yes.
Me: But a Palestinian national state is okay?
Liberal: Yes, because they were there first.
Me: The Jews have been there for 3000 years.
Liberal: Yeah, but they left and came back.
Me: No, some of them left. There have definitely been Jews there for 3000 years.
Liberal: Well, they need to stop being terrorists.
Me: How many suicide bombs has each side set off?
Liberal: FUCK YOU!
~~~

Please help test my hypothesis.
FACT:  Kavanaugh and Christine Blowme Ford were minors.
FACT:  The crime of "sexual assault" did not cover groping in that place and time.  "Simple assault" or "battery" are the only credible legal claims.
FACT:  As they were minors, any such charge would have vacated by now.
FACT: Even if he was 18, statute of limitations is DECADES past.*
FACT: Per her own reports, they were both intoxicated.  We have no evidence to support her claim he was, but she has confessed to a criminal act.
FACT: 6 of her 4 witnesses call bullshit.
FACT: Without something more substantial than "somewhere, sometime, and I have no idea how I got there," no charges are possible.
FACT: She admits she went to a "party" with two or four, she's not sure, males and no females, to get intoxicated and...do what?  At a place with no chaperonage.
FACT: The FBI only investigates federal or interstate crime, and this would have been neither. They cannot investigate it.
FACT: Regardless of what may have happened, the claim is unsupportable bullshit.
FACT: We've now reached a point only seen in bad satirical movies of the 1990s (The Running Man: "She had sex with three, sometimes FOUR men in the same YEAR!") for condemnation of men.
FACT: If you believe any of her bullshit, you cannot possibly claim to be logical or deductive.
FACT: If you're "literally made ill" by this lying drunken slut's bullshit, you better be petitioning for Keith Ellison to be deposed on the ACTUAL POLICE REPORTS and ACTUAL HOSPITAL RECORDS of his ex girlfriend, and of the several women who have accused Bill Clinton of not groping, but FORCIBLE RAPE, and open the records on Teddy Kennedy's "forgetting" there was a woman drowning in his car when he crashed it in a river while intoxicated, and somehow was never punished, and ask your party WHY they re-elected Klansman Robert Byrd for life, and tolerated his utter racism to the end (he voted against EVERY black judiciary candidate, even when his party endorsed them).  Because if not, you're a vile, rape-endorsing, domestic violence-endorsing, fucking RACIST.
You are not logical, you are not deductive, you are not even human fucking beings.  You are utter fucking filth, and we really do need to invest in Caterpillar D9 bulldozers.
*FACT: In America, we don't retcon crimes to suit the modern day. Ex Post Facto.  It's covered in the Constitution, and you subhuman, anti-American, anti-intellectual, worm-ridden pieces of cholera-infected maggot shit need to read it. Ask an educated 12 year old (HINT: their parents didn't vote for the D) explain the big words to you.
1 January, 1991, 0130
That's a very close approximation of time I fought off sexual assault.
I'd been raped previously, but that's not this discussion.
About 1900 on the 31st, an acquaintance from the mixed group of gamers, SCAdians, SF fans and others called me at my Rantoul, IL apartment, asked if I was doing anything for New Years'. He was having a small party, he said. He asked if I wanted to come over.
I'm not naming the party because it's a common enough name I don't want anyone getting harassed or mistaken, and as far as I know he's never amounted to anything.
I drove down to Champaign, to an apartment I'd have to find on a map, if it's still there, but is easy enough to find. I arrived about 2000. He let me in, we talked for a bit, I had a beer that I opened myself.  I asked where the others were, he said they were coming later. He brought out some sandwiches and other snacks.
Looking around, he had Kodak pictures of a couple of the teenagers (I was 23ish.  I don't give out my exact birthday) in the youth fighting group he helped sponsor. It seemed a bit odd to have photos of a single teen standing in a field, with no context or activity.
There was the usual TV New Year's entertainment, and about 2200 I opened another beer.  I asked when the rest were showing up, and he said they were going to be last minute, doing stuff.
About 2300 he brought through a drink for me.  I don't recall what it was supposed to be, but it was liquor and mixer.  It tasted slightly strong, but not out of line.
Then I started feeling completely plastered drunk.
I remember asking when the others were arriving, and him saying, "I guess they're not coming."
Midnight, the ball dropped, and I was half asleep.
He sounded so supportive as he said, "Look, if you're that tired, you should just sleep here."
He suggested I undress, but I'm actually quite comfortable sleeping in a field jacket--years of military experience.  I lay down on the only bed and passed out.
I have no idea what he did until 0130 to amuse himself.  I'm afraid to speculate.
I remember being rolled onto my back, a fat, sweaty, half-bald-half-stringy haired thing I wouldn't touch intimately even if I swung that way, shorts halfway down the crack of his ass, sitting astride my chest and unbuckling my pants.
I woke up very, very fast.
I said "No. Stop." Rather loudly, in fact.
"I'm not going to stop, Mike, so you may as well enjoy it."
In nine seconds, I was able to express the point that even if he outweighed me two to one, I was going to put his face through the wall in five seconds, and he'd already used up three.
He sighed dramatically, flounced off the bed, and shouted, "FINE!" 
Then he turned on what he apparently thought was the guilt trip.  "It's not fair. I invite you over, feed you, then you come to bed in a field jacket, for Christ's sake. Do me a favor and lose my number!"
Yeah, we have to remember who the real victim is here, right?
I drove home, half asleep or intoxicated, I'm not sure which, very carefully because I'd be the one in jail, through very quiet streets, in subzero temps.
I did not file a police report because what would be the point? There wasn't a mark on me, and no witnesses.
I did tell a close friend the next day. I told the boss I contracted to (now deceased), who, being in the same circle, called the guy who ran that youth combat group (still alive). I told him.  Mr X was then told he was no longer affiliated with the group. The next convention, I told another friend of mine.  The next year I had a long-term girlfriend, eventually a wife. She knows. (Though she may not remember due to memory loss from a medical condition.)  My current wife knows (and has known for some time).
Several years later, (this is slightly hazy because I did a LOT of conventions professionally then, but I can certainly date it from their records if need be) I was in the dealer room of a Midwest convention and I heard, "Hey, Mike!"
I turned around and it was the vile fat fuck who tried to molest me, apparently having forgotten the "Lose my number!" bit, or maybe he'd been hoping it would cause me to beg to come back to his greasy hands, or maybe he was just desperate at that point.
He was selling gaming supplies and sounded very cheerful and just thrilled to see me.
I unassed the area, found friends on staff, and informed them, "That asshole drugged me and tried to rape me. Now, I don't expect you to remove him based on my say-so, but I would recommend watching him very carefully around teenage boys and young men."
They took the advice seriously. He was watched.
So if there's ever another incident, not only can I testify to his (lack of) character, a dozen other people can testify that I told them.
Which is why when a certain professor says, "Oh, yes, by the way, sometime between 1978 and 1982, I'm not sure, but I was 15, I was drunk at a party somewhere with 2 or 4 guys, but I don't remember where, or how I got there or home afterward, but anyway, one of them tried to force himself on me, and I don't know why none of the several witnesses say it never happened, but it didn't matter until 2012 when some 'therapist' recovered the memories, but then she wrote them down wrong, but I don't care that this guy's a federal judge, my only concern is that he not get to SCOTUS because I say he was a drunken ass in high school,"
I say, "Bullshit, you politically-motivated whore.  There are REAL victims out there, and you're degrading all their credibility with your narcissistic ploy for attention and money."
Because I guarantee there'll be money, even beyond the $350K gofundme she has.
And socialists, their passive aggressive cousins.

The most retarded thing I saw recently was a Pious with a bumper sticker, "If you don't like socialism get off my public road."
Um, shit for brains...roads date from the Palace Economy of the Bronze Age and were invented for the purpose of bringing TAXES into the palace. They happened to increase trade and wealth, which also increased TAXES. They weren't done for your benefit.
These days we build them to increase COMMERCE which also increases wealth and taxes. Still not done for "the people." In fact, around here, we're trying to GET them to widen a road that's needed it for 70 years and they're holding off because they're hoping for federal money...for a road that starts and ends in town. If it was being done for THE PEOPLE it would have been done 70 years ago.
Also, it wouldn't be YOUR road, it would be OUR road, and you're admitting that if I refuse to play your game, you'll cut me out of your society until I starve. Thus confessing you don't care about people, you only care about the state.
And this is why we should still talk about killing Communists. Because human lives are more important than Communist lives.
The more educated among you may recall that a "faggot" is a bundle of sticks.
In early English boarding schools, the term "faggot" (later shortened to "fag") became applied to the person who gathered the faggots for the fire. This young man also performed numerous other menial tasks. Laundry, boot blacking, even occasionally toilet seat warming.
Eventually, the meniality of these tasks (deemed to be "women's work" in an historically sexist society), and this position, was the source of the term applied to effeminate men believed to be homosexual.  But that is a recent invention, and certainly not the only definition of the term.  Fagging continued in British boarding schools as recently as the 1970s, and I would suspect persists clandestinely.
Now, you can assume that the faggot would be a lower classman, typically also small, and definitely not from a family with money or status.  If you're warming someone else's toilet seat, you're pretty much the low man on the scrotum pole, and certainly not the kind who's going to mount any kind of effective resistance.
And thus, most modern young liberal protesters, regardless of their sexual orientation, are complete faggots.
PART 2:
When I remind them of this fact, it is in no way homophobic.  Nor is that term at all credible. "Phobia" is Greek for "fear."  Few people actually fear gays.  Certainly there's a token number of idiots who are afraid their children will catch teh ghey, but vanishingly few.  There are definitely a larger number who are homoechthra--gay hating. But that is not the same as fearing.
Nor can anyone who's spent any time around me credibly claim I'm anti-gay in any fashion. No such evidence exists, even when certain subhuman failed editors from publishing houses run by Nazis cherry pick quotes from my books to attempt to prove so, while ignoring the LGBT characters occupying the worlds described therein.
Thus I will refer to anyone making such a claim as a complete faggot, and then block them on all social media.
~~~~

Let's discuss some recent liberal faggotry:

https://www.nbcnews.com/news/us-news/coast-guard-member-flashes-white-power-hand-signal-tv-n909856
Coast Guard member flashes white power hand signal on TV

~~~

Well, that would be awful if it were actually a "white power" sign:
https://www.adl.org/blog/how-the-ok-symbol-became-a-popular-trolling-gesture
ADL knows more about racism than you do.
But let me be perfectly clear:


At this point, what difference does it make?


It really is okay.
And possibly with free education you might learn it.  Though likely not.
Maybe you should take a knee to protest it.
Now, possibly all these people are racists (actually, since they're Democrats, there's a 90% probability they're racist, but the sign isn't related to that).  Or, possibly it's just a sign. As it always was.
But instead, you shit your pants on Twitter, had your Two Minute Hate, and a probable good man has had his career harmed, possibly destroyed, because he scratched his ear.
Because you're nothing but a bunch of faggots.
So here's the text of the petition, interspersed with my comments:
Our names are Amanda and Sophia. One day in science class, we came upon an article on plastic straws. The article stated that Americans use more than 500 million straws a day- and throw them away. That is equivalent to 125 school buses filled with plastic straws. We also learned that by 2050, there will be more plastic in the ocean than fish.
Well, Amanda and Sophia, one of the first things you should learn is that most of these so-called "articles" are bullshit. If it's on youtube, assume it's bullshit.  On a petition site, assume it's bullshit. Twitter: Bullshit. Any kind of pop-news site: bullshit. The latter are especially bad.  They only want ad dollars. In fact, the "article" you read was written by a 9 year old girl.  As far as studies done by 9 year old girls go, it's probably an A for effort, C for results. As far as an actual science article, F-. About like listening to a Kindergarten choir and thinking you heard music.  When people start believing 9 year old girls are experts on thermodepolymerization and marine biology, we as a society are fucked.
You probably saw that touching picture of a turtle with a straw in his nose, right?  And assumed that had to be pollution.  Well, you'd be wrong.
I also read a science article, and it gave a number of alternative reasons that turtle might have a straw up his nose:
The turtle may be a coke head, and used that straw to snort cocaine.
The turtle may be mentally retarded and attempted to snort the straw directly.
The turtle may be a domestic abuser and the straw was the only way his spouse had of defending herself, since liberals have already made it illegal for turtles to own firearms for self defense.
In all these cases, he should not pass his defective genes onto his species.
Being serious, however, it's one picture of one turtle (who probably is retarded, even by turtle standards) (which are even lower than the standards we use for people who believe "science" "Articles" written by 9 year old girls) (Though just barely).
Those numbers concern us. So when we joined the Earth Club at our school, the leader suggested using change.org, which is how we came upon this website. All 500 million of these plastic straws end up in a landfill or worse, the ocean. When plastic straws get into the ocean, the fish mistake it for food, eat it, and get sick or die. In fact, science shows that when you eat fish, you might as well be eating plastic!
In fact, science shows nothing of the kind, and your club leader is a fucking communist.  I recommend studying the aerodynamics of falling leftists for a far more productive science project.
We both think that Dunkin Donuts is a very tasty and an influential company. By choosing this business, we hope to make them take this issue very seriously. These shops have a lot of people coming in every day, almost all of them getting cold beverages containing plastic straws. However, those straws add up to landfill and get into the ocean. Dunkin' Donuts is a very successful company, so if they start banning straws, won't others follow their lead?
Ah, I see you know as much about business as you do about science.  No, in fact there's a good chance that by jumping on some bullshit tree-hugging hippie-crap trend they'll lose a bunch of customers. Then, next week when you find some cool new "science" to follow, that says a boiled egg and pepper diet is the best way to lose weight, you'll be all over that, and demanding McDonald's sell boiled eggs with extra sized pepper packets.
In fact, here's an actual (pop, meaning dumbed down for normal people) science article about how eco-communists are in fact fucking the ecosystem with their bullshit:
https://newatlas.com/shade-balls-water-usage/55499/?utm_medium=email&utm_campaign=2018-07-18%20142600%20USA%20Daily%20Basic%202018-07-18%20143340%20Could%20water-saving%20shade%20balls%20have%20a%20shady%20side&utm_content=2018-07-18%20142600%20USA%20Daily%20Basic%202018-07-18%20143340%20Could%20water-saving%20shade%20balls%20have%20a%20shady%20side+CID_9fc4b4906c100b3b934b24a32834bd2c&utm_source=Campaign%20Monitor&utm_term=Read%20more It 
So please sign this petition and share it with your friends to help the environent, and the world we all live in. Remember, #StrawsSuck! Thank you!
No, I will not sign your bullshit petition. This will be one of your first lessons in the disappointment of life.
Seriously, it's great that you're concerned, but the first thing you need to learn is that documented facts, properly interpreted are science, and "Trends" on the internet are bullshit.
Please write that 1000 times and then get back to your homework.  Also, ask your parents to find a better school, that also knows this difference.
Oh, and I'm making sure Dunkin knows I like plastic straws and they shouldn't bow to stupidity.