I just acquired a wall thickness gauge to assist with my addiction to classic shotguns.  Before you shoot something a hundred years old (or even fifty), you want to ensure it met proof, hasn't been reamed, compare chamber specs to the proof marks, if any, determine chamber length, load, and wall thickness. For example, 12 gauge shotguns might be spec'ed for anything from 2" all the way to 3.75" long shells, and while the longer chambers can take the shorter shells, the inverse is most definitely not true. Then, have the barrels been filed and refinished?  The bore polished?
And given the investment some of these represent--we're talking guns that come in their own custom fitted luggage with their own monogrammed accessories, and a label that notes the maker was "By Appointment to Her Majesty" (Queen Victoria) and about a dozen princes and dukes, you damned sure either pay someone to check the gun over for you, or get the tools to do it.  So I dropped $600 without thinking twice.
I had some problems learning to calibrate it, because I was way overthinking things. A call to the manufacturer cleared that up, and I was good to go.
What you need to know is that shotguns have most of their propellant impulse inside the chamber, and don't need barrels as heavy as rifles do.  So the recommended minimum wall thickness for a shotgun is .020".  Below that you really shouldn't shoot it, and should consider replacement of the barrels, having them relined, or sleeved.
The conversation with the guns went like this:
Stoeger, Brazil: I am a tactical shotgun! .020" doesn't allow for extra heavy loads or crashing through doors.  .035" is much better.
Williams and Powell, Liverpool: These barrels were replaced in 1954 after 70 years of honorable service. The new ordnance steel barrels are proofed at 3 tons pressure and have a minimum thickness of .028".
Luciano Rota, Italy: Pfah.  Leeway is good.  .030" will remain reliable, and it's easy enough for anyone with muscle.
Westley Richards, London:  I am 141 years old, and after being refinished, my double twist Persian damascus bores are right at .027, with one eroded ring at .020." I am a fine gentleman's gun and have the balance to show for it. Not to mention better lines than you'll find in most Soho nightclubs. They will probably still proof for nitro as well. (Leans back in chair and puffs fine cigar with sherry.)
Robert Faller, Freiburg: (Drags off cigarette.) Ze English are wimps! A gun is a tool for MENSCHEN!  There's that one thin spot from wear, down around .028", but otherwise these tubes are .035" to take hunting loads worthy of the Black Forest.


Mortimer, Edinburgh:  (Sips single malt.) Damned right they are. Old school percussion guns with laminated barrels are .040", in case the whisky causes you to lose track of the charge.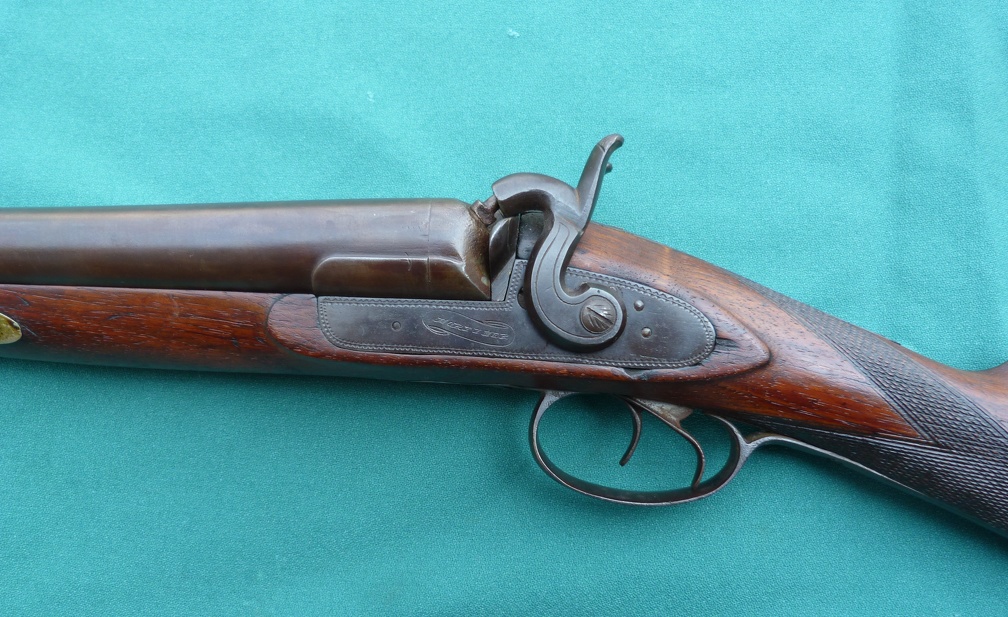 W&C Scott & Sons, Birmingham: (Leans back on cane.) You kids are all wankers.  Not only am I 10 gauge and laminated, I'm walled at .045". Do you want to dance? Or do you want to bloody shoot?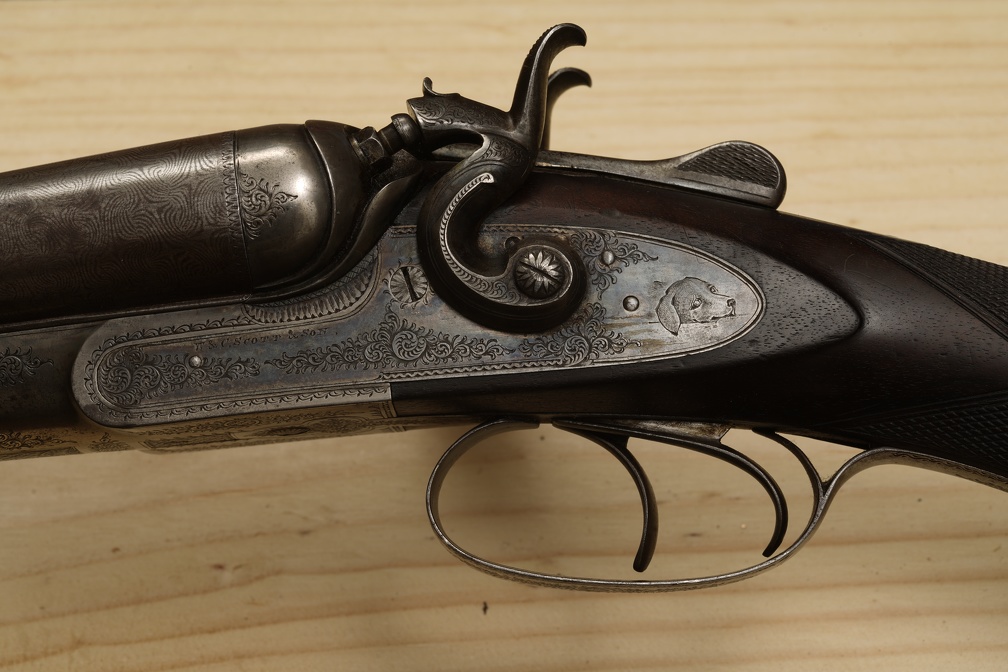 Henri Pieper, Liege: (Pulls out pipe, blows huge cloud of smoke.)  Va te faire foutre! I am a professional and there are no chances here!  Three bar twist laminate barrels.  Walls are .050" up to .070" and threaded into a solid steel monobloc, which I patented. You have improved the pressure curve of your modern propellants, you say?  DO YOUR WORST! Phallicly stuff your nitrocellulose shells into my 137 year old chambers, and pull the trigger.  PULL THE TRIGGER! Pull it, ta chatte! BE A MAN!


So, yeah, some of these old guns are fucking tanks. The myth that you can't possibly shoot old guns at all, and if you can, you have to use half loads, is BS.
Our story so far:
Virginia's legislature got taken over by the Dems since the GOP failed to run quite a few candidates, and due to some gerrymandering and population density issues that are apparently only a problem when they work against the Dems.
As often happens, when one party gets a significant majority, they want to go all-in on achieving their dreams of molding society to their image.
The Dems proposed some very heinous gun control, without any pretense of care about the Constitution either federal or state, morality, or reality.
A whole bunch of counties and towns pre-emptively declared themselves "Sanctuaries," which is apparently A-OK if you're refusing to arrest, jail, and deport illegal alien child rapists, but "treason" if you're refusing to steal people's property under color of law. At least according to the Dems.
So, one US Rep Donald McEachin (D-Deep State)(that's sarcasm, okay?) has proposed having the governor "Nationalize the National Guard" to deal with the problem. (Give him credit. At least he didn't threaten to use nukes, like a certain former presidential candidate. OTOH, if VA actually had nukes, he might have.)
Let me explain this:
The governor can't "nationalize" the National Guard. He can call them to state active duty.

Per Posse Commitatus, they can't engage in law enforcement on Federal orders anyway.  On state orders, yes, but, keep reading.

It would also still require a search warrant for every single domicile if they could.

Other than a handful of MPs, none have training for this process. Even if you squint hard at qualifications and add a few others, the actual number of troops qualified to do this is a few HUNDRED at most. The entire VA Army National Guard is about 7500, mostly support.

The National Guard does not keep ammo on hand in any relevant quantities.  A small amount for training is it.

Per US Constitution and federal law, the governor CANNOT arm the NATIONAL Guard with federally owned weapons and ammo. He'd have to provide that. 

Nor can he arm them without consent of the feds anyway.  There are reasons for this. This is one of those reasons. It is not a bona fide emergency that does not permit of delay.

And the threat to do so is LITERALLY WHY WE HAVE THE SECOND AMENDMENT.  Congrats, jerkwad! You've actually threatened to have the military repress people, and you're surprised that they're going to oppose you? EVERYONE should be opposing you. It's outrageous of itself, and outrageous precedent if allowed.

Not to put too fine a point on it, but there should be politicians hanging from lampposts over this.
Our society started to fail when we stopped tarring and feathering.
But if despite all that, you make the attempt:

First, if they haven't already (US Army NORTHCOM hasn't said anything), I guarantee the Adjutant General and his staff will ask National Guard Bureau for an opinion on any orders, and likely DoD proper, as well as their own legal staff, for opinions on exactly what the orders mean, and their scope and limits.  Because with a dual state/federal mission, every one of those officers is putting their career on the line in such an instance.  The wrong use or misuse of any federal money or equipment is court martial offense.  Low end enlisted can "just follow orders" for the most part, but leadership is expected to know or ask.
On State Active Duty, the troops get paid the same to sit at the armory eating catered meals (because federal funds can't be used and armories don't have huge pantries), and wait for specific orders, or to draw up "plans," as they would to drive around in Hummers looking mean. Which is all they could do because of all the above.
So what will happen is a bunch will call in sick, or "out of state," or "employer really needs me."  Volunteers will be few (and not too bright to want to get into the Boogaloo).  If you try to issue orders, state level orders don't carry the obligations or penalties of the UCMJ, and the reality that the Guard is part time means they do in fact have a lot of leeway on how fast they report, and what you can actually do if they don't (HINT: very little).
Once they get there, They can't be issued federal weapons or ammo. And of course, if the supply sergeant, armorer, and a couple of others aren't present, the Arms Room can't even be opened. Unless the CO personally wants to issue the order and unlock it. (He doesn't want to do this.  The Feds would end his career.)

I suspect the Adjutant General and his staff have already had a lengthy discussion with their own lawyers, the National Guard Bureau, and any relevant active duty installations regarding what equipment they can use. The Feds certainly don't want dragged into this, and while the Guard can use equipment for an "emergency" with compensation afterward, enforcing a badly thought out and contested law almost certainly doesn't meet the standard. So any activated Guardsmen may not even be able to use body armor, web gear, or vehicles.  And there are probably zero officers willing to risk their Federal commission over a State matter.
And then they make "plans" and wait for "guidance," because no one is putting their name on the dotted line without someone they can point a finger at. They'll be playing phone games, posting memes on Farcebook and TWITter, and generally kicking back and enjoying their SAD pay, which is usually tax exempt at the state level.  I haven't looked up what that rate is for VA, but it's probably better than $100/day. (EDIT: Very generously, it's the same as active duty pay. Far better than the $75/day flate rate IL paid us for the 1993 flood.)
If it gets that far, they then drive around and look mean, as I noted, because they literally can't go door to door without police leading the way with a warrant.
If you try to make them do so, most are going to refuse. Good. Because the last time some states took this direction, they got put down hard. This isn't an earthquake, a foreign attack, or even an out of control football riot. You're asking to use military force to attack US citizens for code violations.  You thought using SWAT for warrant service was bad? (It is.)
If by some freak of circumstances you get some small number to do so, people are going to die. Given how many veterans are among the population, and there's an entire network of retired special operators and CIA types in that area, the mayhem might even be BIBLICAL. You know:  Earthquakes, volcanoes!  The dead rising from the grave! Human sacrifice, dogs and cats living together, mass hysteria!
Yeah, I mean it might be a bunch of young, naive Guardsmen who die in three way crossfires by tired old vets who've spent a lot of time in Asia.
I spent 19 of my 25 service years in the Guard. I don't want to see EITHER side of this.
This is why more and more counties are deciding to be "sanctuary" and totally sit this one out. Good for them.
If you're willing to use military force and murder people over ownership of anything, we're back to tar, feather, and lampposts.
Frankly, since McEachin is theoretically a lawyer, he should already know this.  That he doesn't, or couldn't take 10 seconds with Google to find it, speaks poorly of his intellect. I wonder how much actual legal work he did before running for public office.
There were also some idiots on our side railing against the Virginia Adjutant General not "refusing," but merely noting he has no orders and legally has no opinion.  Hey, geniouses (sic)! He can't comment on orders he has not received about events that have not taken place or been ordered.  The complete non-response was the only legal thing he could do.
WHAT VA RESIDENTS NEED TO DO NOW:  Watch for "Compromise."  It's standard for the Dems to demand the confiscation of all firearms, and then "Settle" for any number of smaller intrusions--"Assault weapon" bans, "universal" background checks, purchase limits, etc.  Don't fall for any rhetoric about how a lesser proposal is "Reasonable." None of it is reasonable, and this is a good opportunity for a peaceful resistance to an outrageous movement.
WHAT EVERYONE ELSE NEEDS TO DO NOW:  Keep calm. Spread the word.  Agitate against such outrages. Buy more guns.  Buy them legally. Buy them privately if you can.  Buy more, more, and yet more. There's always the risk we'll reach the point where America tips over. But that's a chance we'll have to take.
Because if it's impossible for the government to seize 300 million weapons (the lowball estimate), it's way more than four times as impossible for them to seize 1.2 billion.

BTW, if you are not familiar with my work, this recent anthology is actually quite relevant to staging a resistance/rebellion, is a National Bestseller, and has excellent reviews. https://amzn.to/2ZO0Og0 
This K-11 arrived with a shattered stock. It appears there was a twig pin burl halfway through the wrist, and eventually, it let go, in a splintered mess.
My friend's cabinetmaker friend told him it was unrepairable, so he slapped on some epoxy, aluminum bar, and bandage.
Well, with all due respect to his friend, he's a cabinetmaker, not a graduate of WECSOG!

I had not repaired something like this before.
First, I just cut out all the bad wood.  No reason to attempt to glue shreds together.
Then I made a template from a good stock, and had to cut a shim to fit in three dimensions. I could have chopped more wood out, but I wanted to replace as little as possible. The stock is numbered to the gun, so a repair is better than a replacement, from a collectible point of view.
Once the shim was shaped, I drilled through both ways to insert a 1" dowel for reinforcement inside the wrist.
Then dremeled and chiseled new inlets for the tangs, drilled the tang screw hole, sanded and assembled. Vaseline and Break Free are close enough in color to match cosmoline.
It's ugly, but should be functional, it's less ugly than it was, and it saves as much original wood as possible.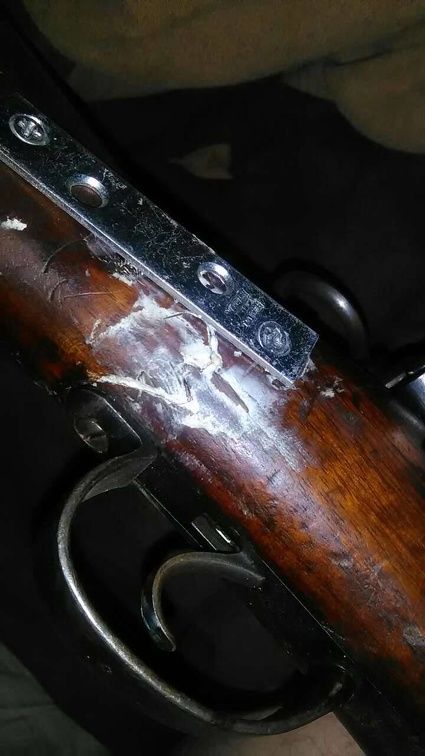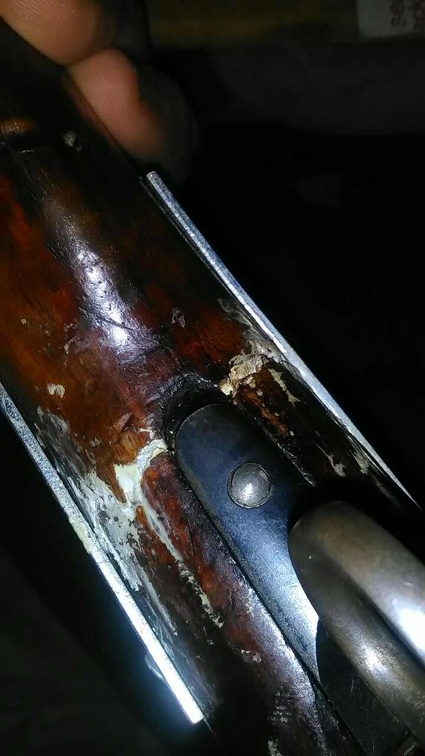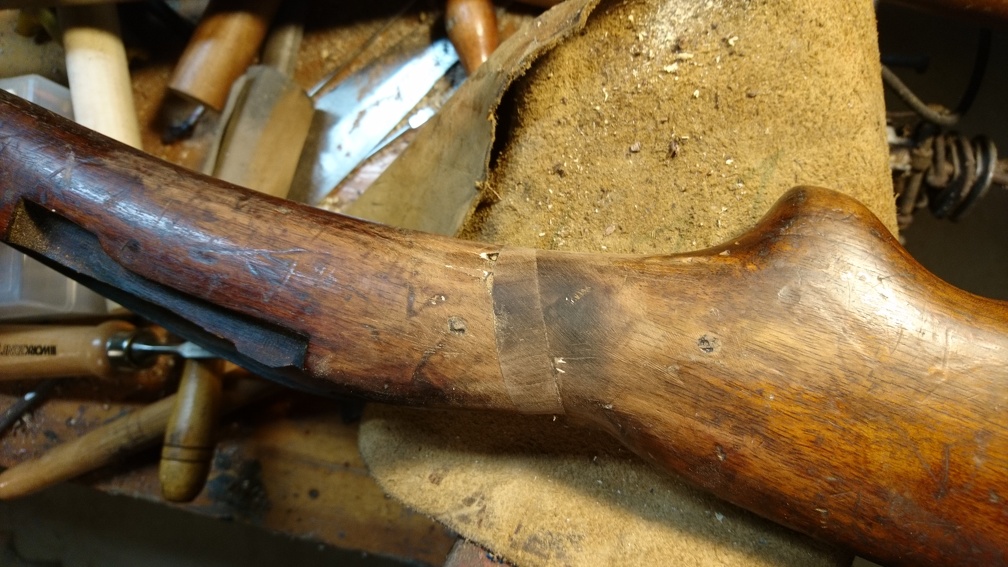 Since it's in the news, and since they're not capable of facts, I thought I'd provide some.
There are videos on youtube, btw.
At one point, someone tried to springload a stock to increase rate of fire.  ATF ruled (correctly, given the law we have, which I disagree with the existence of), that it became a recoil operated machine gun.
So, the spring was removed, and some redesign made.
The stock slides on the rear extension of the rifle, back and forth.
You push the weapon forward with your off hand, and pull the trigger with the right.  The recoil slides the gun backward, and the trigger goes inside the stock, disengaging.
Then, when recoil energy diminishes, the pressure of your off hand moves the weapon back forward, the trigger emerges from its shroud, and your finger activates it again.
Because it requires constant repeat physical effort, just as a Gatling gun would, it's a manual trigger. It requires a separate motion for each shot, unlike holding down a trigger.
BUT
It does require practice to use without failing, or even jamming.
The weapon is in constant motion apart from its own mechanical cycle, which just destroys any accuracy you might have.
So, when all is said and done, you waste ammo with less accuracy than actual full auto.
"How would it be different if he hadn't had one?"
In reality, he might actually have killed MORE people if he had to aim.
There's some alleged veteran's group of socialists on Fecesbook who claims this gimmick turns an AR into and M249.
No, it does not turn a closed bolt self-loading rifle into a belt fed, open bolt support weapon.  That's just complete bullshit.
But then, socialists have never been capable of honesty or integrity, and should be ignored.
Pinochet did nothing wrong.
A total of 42 guns were found in the suspected Las Vegas shooter's hotel room and house, police said Monday night.
So what?  Only the ones that were used are relevant. Stop trying to create a witch hunt against collectors.
Las Vegas Police Department Assistant Sheriff Todd R. Fasulo said that 23 guns were found in the Mandalay Bay Hotel and Casino room where suspected shooter Stephen Paddock fired into a crowd, and 19 were discovered out of his Mesquite, Nevada home.
Multiple loaded high-capacity magazines were found in the hotel room, law enforcement sources said earlier on Monday.
Worthless statement, depending on what you mean by "multiple" (more than one) and "high capacity" (the standard capacity for many rifles is 30, but pussies like to claim anything over 20, or 15, or 10, or 7 is "High").
Among the guns and ammunition police found the in the room being used by Paddock were some high-powered rifles considered capable of penetrating police armor.
Sooo...they were rifles. Because pretty much any rifle will penetrate police armor.
There were also some handguns in the room.
At that range, they'd have been worthless, and there's no indication that they were used. Not relevant.
The additional ammunition indicates that the shooting, which left 59 people dead and injured over 500, could have been worse, had police not intervened when they did.
Most of the casualties were from trampling. Stop making the guy look like he's some sort of score to beat, as you've done with every fucking shooting ever.
Police believe that Paddock took his own life.
Pity the sick fuck didn't start there.
A modified bump stock rifle was also found, which allows a gun to simulate rapid automatic gunfire. Law enforcement officials are still in the process of examining firearms to determine if they were capable of firing automatically.
Finally! An actual relevant fact I can use.
One official said Paddock had a camera mounted in the room, apparently to record himself.
In a separate location searched by authorities, tannerite, an explosive used in target practice, was found, sources said.
What "location"? It couldn't have done anything on site, and isn't powerful enough to matter in quantities less than crate sized.
Earlier, Clark County Sheriff Joseph Lombardo said there were at least 10 rifles in the room but noted that the investigation was still underway.
Nevada's gun laws like 'the wild, wild West': Law enforcement expert
I'm not sure who this "expert" is but he's full of shit.  Most towns in the "wild" west prohibited carrying of guns.
The Bureau of Alcohol, Tobacco, Firearms and Explosives released a statement announcing that it is "currently conducting an urgent trace on firearms recovered from the scene in Las Vegas."
The shooting is the deadliest in modern U.S. history.
Ah, so the government's extermination of people at Waco isn't a thing anymore?  and again, why are you establishing a goal for the next guy?  Oh, right--those sweet, sweet ad dollars pumping up your erections right now.
Someone just proved that yet another "smart" gun is crap:
https://www.wired.com/story/smart-gun-fire-magnets/
Look, let's go over this again:
When I need a gun, a half second to unlock it is three seconds too long.
I've watched a clerk take 15 tries to authenticate a fingerprint on a cash register, inside in dry conditions. Emergencies are less forgiving.
For liability reasons, the mfr wants this to fail into "lock" mode. For my safety, I want it to fail into "fire" mode. Because I know when I need a gun, the mfr does not.
If there is a lock on the very simple mechanism, it can be removed mechanically.
And this has zero effect on over a third of a billion weapons currently in existence.
The entire concept is crap, and if believe otherwise, you don't know enough about the subject. Do not argue. You're just wrong.
~~~
Here's an example with another piece of equipment: A fire alarm pull box.
You know, the kind where you yank a lever to activate a fire alarm.  This type had a small glass bar with a score mark to hold the lever in place.
At the training base I supported, some recruit managed to "Accidentally" pull the alarm. He was identified by the UV dye from the lever on his fingers.  It was an "accident," he insisted.
The pull station was replaced with another one with a striker you hit to break the glass, then you'd pull the lever.
A few weeks later, another recruit "accidentally" broke the glass. He didn't pull the box, so no one knows who it was.
You see where this is going.
By the time a few months had passed, every pull station in that barracks required you to:
Pull off a plastic cover that sounded an audible alarm at the box.
Open a wire mesh door that sounded a different tone and flashed a light.
Break the glass.
Pull the lever.
To actually send a call to the fire department.
To avoid "accidents."
Training and discipline avoid accidents.  Gadgets do not.
If you can't comprehend this, you have no business expressing an opinion in a technical field you're not trained in.
A cape gun is a combination gun with one smooth and one rifle barrel side by side.  IIRC, they're named after the Cape of Africa, where they're popular for simplifying carry--one gun, two purposes. They're also found in Europe more than the US.
This example is German, from about 1800.  It was some family's beloved hunting arm for close to a century, judging from the wear.
Probably in the 1970s, some jackass JB Welded a veneer over the cheek rest, but didn't prevent worm infestation.  I removed it.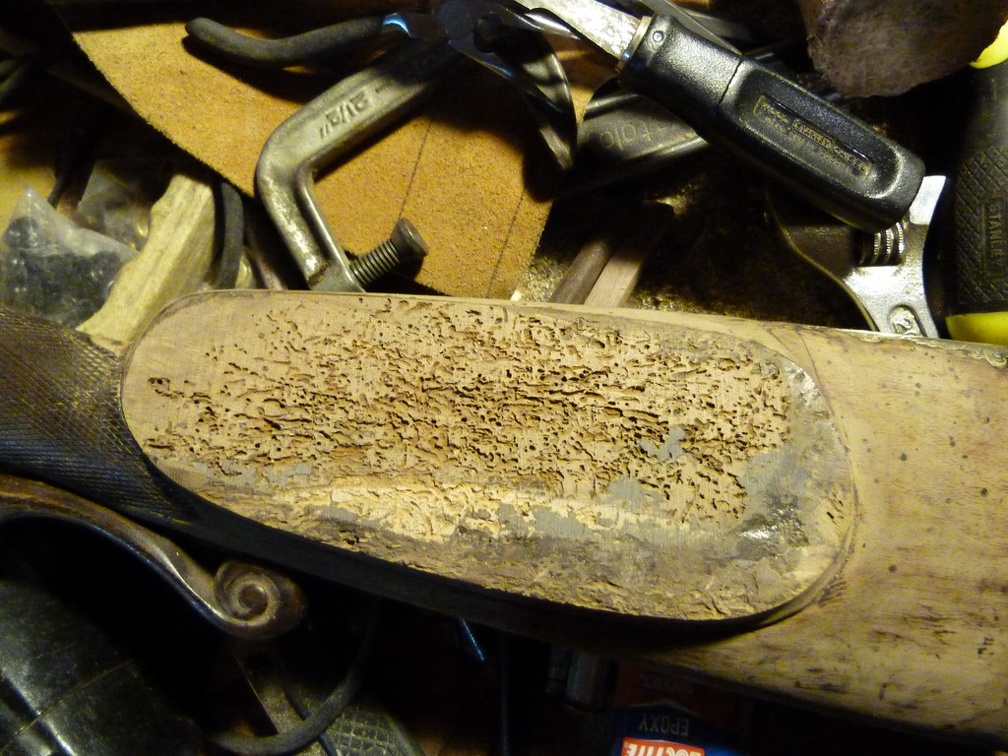 There are seven repairs to the stock, and it was converted from flintlock to percussion, probably about 1840. Let's look at it and the work I did.
I scaled and rebrowned the barrels. I didn't try to make them look new, only to make the finish functional.  Once browned, I glazed them in linseed oil and baked it.
I replaced a missing piece of wood below, and filled/fixed two cracks on the right side.
Which matches with a much larger repair and repair to the repair previously done on the left side.
I did three minor repairs to the wood underneath. I am unable to dismount the trigger mechanism, and ultimately that will mean a replacement stock.
A bit of cleaning revealed the inlay in the breech.  It should be noted throughout I did minimum cleaning and sanding.  I see guns sanded down untill all wear is gone, by which point they're a quarter inch smaller. Don't do that.  Steam dents, use mineral spirits to clean varnish (who put that on?) and sand as little as necessary.
I dressed and reinstalled the rear sight. The barrels were cleaned and rebrowned, but not "restored." This is maintenance. Notice the previous repair to the rib between barrels.
You can see silver pins where the cheek piece was a later add on, and a repair to the heel of the stock.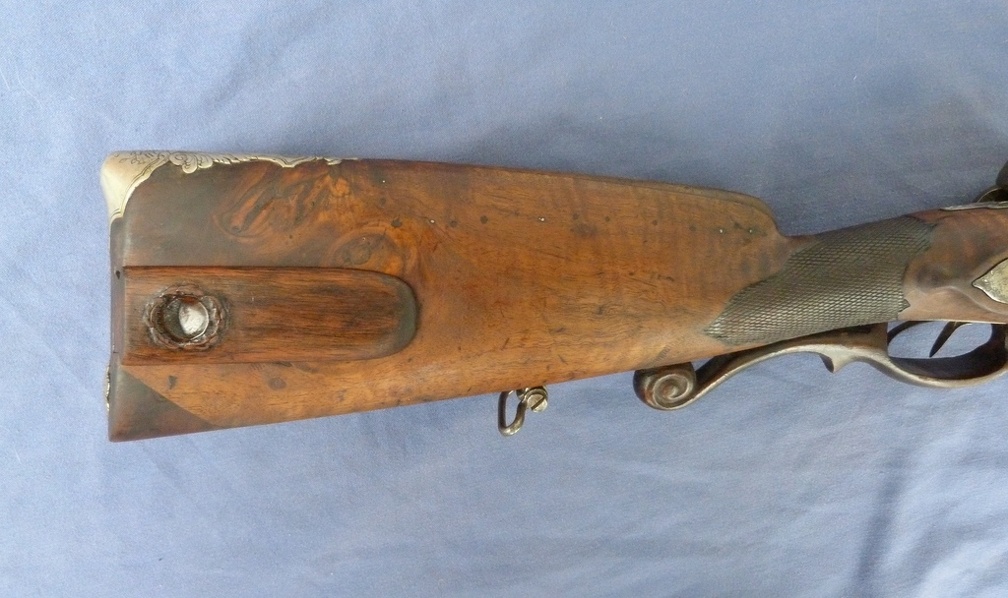 I made a complete replacement for the delaminated cheekpiece, and fit it as best I can.
Ultimately, though, that worm damage means this stock will have to be duplicated in new wood.
Still, it's a .61 caliber hunting arm, and I have located powder and balls. It's still sound and shootable and will be back in action shortly.
Vern Lougee
Vern Lougee Drop a glock in a camp fire, let it burn and try to fire it the next day
Like · Reply · 7 mins
Vern Lougee
Vern Lougee I bet the 1911 would fire.
Like · Reply · 6 mins
Michael Z. Williamson
Michael Z. Williamson Vern Lougee I bet the 1911 won't. Apparently you've never done any blacksmithing.
Like · Reply · 6 mins
Vern Lougee
Vern Lougee Or run over it with an M1 Abrams
Like · Reply · 6 mins
Michael Z. Williamson
Michael Z. Williamson And I guess my question is, why are you leaving your gun in a campfire?
Like · Reply · 6 mins
Michael Z. Williamson
Michael Z. Williamson An Abrams will smash any gun flat, or into the surface underneath, or both. Don't be ridiculous.
Like · Reply · 5 mins
Vern Lougee
Vern Lougee Let's see, you need a gun and take one from a burned out tank.
Like · Reply · 5 mins
Michael Z. Williamson
Michael Z. Williamson Vern Lougee Right. Well, when the game is over and you're back in the real world, we'll talk.
Like · Reply · 5 mins
Vern Lougee
Vern Lougee I know an AK will fire under those conditions
Like · Reply · 4 mins
Vern Lougee
Vern Lougee My 1911 is solid steel. Tracks of a tank would simply smoosh it into the dirt. Wipe it off and it will fire. If it were torched in a fire, a minimal amount of cleaning and it would fire.
Like · Reply · 2 mins
Brian Corbino
Brian Corbino Just.... No.
Like · Reply · 1 min
Vern Lougee
Vern Lougee as long as the spring components were not destroyed it would. The thermoplastics of a glock would be destroyed much faster
Like · Reply · Just now
Brian Corbino
Brian Corbino I've watched the frames for a 1911 be born. They only drop 5 ton on a red hot bar to get one. Driving a 20+ ton tank over it is going to snap it like a twig.
Like · Reply · Just now
Michael Z. Williamson
Michael Z. Williamson Vern Lougee Are you 16? Because if you're not, you deserve all kinds of scorn for your compelete ignorance.
Like · Reply · Just now
Vern Lougee
Vern Lougee 20 tons spread out over the track width and length. pounds per square inch
Like · Reply · Just now
Michael Z. Williamson
Michael Z. Williamson A decently hot campfire will distort a 1911, and will destroy the temper on everything, especially the springs. It will not fire again, ever.
Like · Reply · Just now
Vern Lougee
Vern Lougee I will concede the fire
Like · Reply · Just now
Michael Z. Williamson
Michael Z. Williamson I'm going to immortalize this conversation for posterity.
Like · Reply · Just now
I will try once again to explain to the ignorant why this will NEVER, EVER work, no matter how much you want it to.
It will do nothing about firearms already in existence, which, depending on whose numbers you use, are between 350 million and 1.2 billion. Yes, that's in the US.
Lawsuits will kill it. The first time an authorized shooter, cop or citizen, pulls the trigger, nothing happens, and the bad guy's gun works, they or their family will sue. I need it to FAIL TO THE UNLOCK STATE.
The first time an unauthorized shooter is able to access it, the victims will sue. The mfr needs it to FAIL TO THE LOCK STATE. It cannot do both.

Any disclaimer that the mfr is not responsible for failure of the lock means no one will buy.

There's no guarantee said gun will fit the ergonomics and tastes of existing shooters. People who don't shoot seem to think all guns are the same. Every brand, model, and even individual guns are different. I don't care how safe it is, if it feels like, say a Beretta 92, I will never buy one. Others don't like Glocks.
Guns are increasingly mechanically very simple. It needs repeated to you, no matter what the electronic component is, there will be a simple way to bypass it. If not bypassed, it can be jailbroken.
Your spouse/partner/buddy/trained kids/companion needs to be able to use it if you're down or not available.

Now, does this thing use batteries?  Do I need to comment on that?

Also, this will increase the cost of firearms. That's fine for white people of privilege. Poor minorities need to defend themselves, too. Every "safety" measure passed by people who know nothing about guns (Which is all of them) only adds to the expense. Gun control is fundamentally racist, and about disarming those who most need to defend themselves.
Technology is irrelevant. The idea is crap.

So then I got commentary below an article about this.

"Well, that's just your OPINION! Those aren't facts."
Actually, yes, what I stated were facts. You could possibly come to a different conclusion, but I'd question your logical chain in doing so.
"The military manages to make missiles work on the battlefield will all kinds of electronics." They do. A missile works ONCE. And to do so, requires a large team of technicians performing regular maintenance, and spends a percentage of its time not ready for deployment. They cost thousands to millions of dollars.  Most of them are transported in secure, padded, isolated, electrically grounded containers against damage while in transit.
"My car has ABS and airbags! And they work!" How well does your ABS work after 1000 impacts? Or even 1000 panic stops? How many cars does your local dealer have in the shop for ABS failure? Airbags are DESIGNED to fail. That's what they do. Yet the last time I was hit, my airbag failed to deploy.
"Ever hear of a grandfather clause?"
21 of the revolvers in this image were made in the 19th century and still shoot. My daughter's favorite is a century old this year.  
Even if you sell a million smart guns (you won't), that's .35% of those in existence. Actual effect on guns used in contact crime cannot exceed .0175% (because a lot of gun crime is non-violent (license violations, carrying where not allowed, etc), and criminals will simply use other guns. You will spend billions, and have zero effect for generations.
If by "grandfather clause" you mean those valuable antiques will become contraband at some point, it's a shame about that 5th Amendment, isn't it?
Stop trying to be smarter than me about a subject you know nothing about.
Simple question: Once you've installed this mythical "smart" circuitry in the gun, let's say, a common Glock, where will it interface? What component will your smart circuit block to prevent the weapon from firing?
When you can answer that question, I'll then tell you why that won't last three minutes against someone with hand tools.
Until you can answer even that, stop pretending you have any knowledge of the subject whatsoever.
EDIT:  It's still going.  Some idiot invoked airbags again.  IIRC, there are 34 million of them awaiting recall.
One of my cars is on recall for an ignition switch that suddenly go from run to accessory. That's like a "smart" gun where pulling the trigger ejects the magazine.
ATF has guidelines for what constitutes "Engaging in the business" of selling firearms, though has no concrete definitions on how many guns one may sell.  The new "advisory" they just published as part of President 0's new "gun control" push simply reiterates exactly what they already say.
Official link is here: https://www.atf.gov/file/100871/download
Here is a layman's summary of the matter:
To buy new guns at wholesale, one must have an FFL--Federal Firearm's License, which come in several flavors for selling, smithing, manufacturing, ammunition, explosives, and with addenda for import or restricted National Firearms Act weapons--silencers, machine guns, short barrels, destructive devices and certain oddities.
If one plans to "Engage in the business" of selling firearms, new or used, an FFL is required.
A PRIVATE CITIZEN not "engaged in business" may buy and sell guns for purposes of collecting or using.  If you get tired of your old XDm and want a Glock, you can sell your XDm to anyone who is not a prohibited person (felon, domestic abuser, drug or alcohol abuser, and not under 18, etc).  If you decide you want to sell off your old revolvers and upgrade to newer pistols, you can do so.  If you decide you're 80, have done all the shooting you're going to, you can unload your collection without a license.
If you sell online, you can either meet a resident of your own state face to face and see ID, or, you can send it to an FFL who will log it in, transfer it to them, and conduct the background check, for a small fee. If they are not a resident of your state, you MUST follow this method. If it is a longarm, they may, as long as their state allows, receive it from an FFL in your state.  If it is a handgun, it MUST be shipped to an FFL in their state.  You can't even hand it to said FFL in your state at a gun show for him to take back to his state.  He must receive it via common carrier.  Don't ask why this is the law. It just is.  THERE IS NO "LOOPHOLE" FOR SELLING GUNS ON THE INTERNET. FEDERAL LAW APPLIES. Enforcing it is another issue, but the law is the law.
Every major online firearm site is even set up to tag "FFL Required?" with YES for firearms and NO for accessories.  They patrol their listings regularly, and very few people will risk selling a gun without it going to an FFL in case of a sting. Trust me on this, there are sellers who won't even sell to collectors, or demand an FFL for non-firearm items out of paranoid fear.  I'm sure there's a seller on Arms America somewhere who'll agree that for an unmarked MO or Western Union, he'll ship to your apartment.  Good luck finding him. And if you do: He's willing to violate the law to do this. You're willing to violate the law to do this. He probably has a PMB box somewhere under a false name, and may just keep your money and not ship the gun. It's not as if you can complain to the cops that he wouldn't ship your gun illegally.  FFLs actually offer protection to the buyer as well as the seller, to ensure both parties are legit.  If it wasn't necessary, few sellers would bother, though depending on the value of the gun, they might. But, since it's the law, there are benefits with the hindrances, and you make use of them.
Yes, some such deals go through, and always did, and always will, and no law is going to stop them. There are too many USPS, UPS, FedEx and DHL packages to ever search even 1% of them, and there's no guarantee the shipper's name and address is real.  Online funds and barter work as well as Western Union and gas station money orders always did. Just because we've had these laws for almost 50 years doesn't mean people comply with them, just as they don't comply with bans on selling pot or coke.
Exempt from the "only through a dealer" or "only via common carrier for handgun" are certain collectibles known as Curios and Relics, which ATF keeps a list of, or, are 50 years old an IN THEIR ORIGINAL CONFIGURATION (not with a different stock, shorter barrel, etc).  Any mods reset the 50 year clock for purpose of being a C&R only. There is an FFL, the Type 03, for C&R collectors. If you don't have a C&R FFL and receive one, you can do as you wish within the law. If you have a C&R FFL, you can receive such items directly by mail or carrier to your home of record, and must keep a log.  If you have logged the weapon as a C&R you MAY NOT modify it with aftermarket stocks, etc, that change its format.
A C&R weapon may go to any FFL anywhere at any time. So, the seller WOULD be able to transfer it to an out of state buyer who was in state, who had a C&R FFL, without having it shipped to a receiving FFL.
Clear? I hope so.
Now, a C&R holder is a collector, and may, for example, buy a crate of 20 Mosin Nagants, Russian surplus, look through the crate, keep 5 with arsenal marks they need for their collection, and sell the other 15. That the 15 sell individually for more than the buyer paid is not of itself "engaging in business."  Their purpose is to build a collection, and their documentation will show it. Most such collectors will then plow the sale money back into more guns for the collection.
An important but not widely known exception to all of this are weapons made before 1899, or using black powder, or not using fixed cartridges (such as pinfire).  When the Gun Control Act of 1968 was passed, those were exempted due to their age and function. A firearm is legally defined as firing a fixed cartridge, and manufactured on or after Jan 1, 1899.  There is a regular trade in antiques among both collectors, and shooters who prefer anonymity. Pre-99 and non-fixed guns may be modified within the limits of the National Firearms Act (you may not cut them short, silence them, or convert them to full auto), because they are not firearms under the GCA. They can be shipped without transfer papers.  It is important to note this is a federal law only, and most states still make felons ineligible to own them, and some states require dealer transfer on all items that shoot. THIS LAW APPLIES OUTSIDE AND INSIDE A GUN SHOW. There is no "loophole."
It is probable that the value of paperwork exempt antiques just increased with the greater scrutiny that will be placed on private sellers, since ATF officially may not, and does not want to, take notice of them.
So let us consider several sellers at a gun show.
First is a dealer with an FFL from that state. He can buy and sell, and transfer to anyone in state, and to long gun buyers from out of state (as long as their state permits). THIS IS EXACTLY THE SAME AS IS REQUIRED OUTSIDE THE SHOW AT HIS PLACE OF BUSINESS.  There is no "gun show loophole."
Next is a dealer from out of state, who may exhibit (usually high end collectibles) and arrange to sell and transfer via common carrier, through a dealer in that state. Again, he can't just hand the guns over to that dealer. They must be shipped.  THIS IS EXACTLY THE SAME AS IS REQUIRED OUTSIDE THE SHOW AT HIS PLACE OF BUSINESS.  There is no "gun show loophole."
A C&R holder may buy, and sell to anyone in state with ID, or anyone from out of state with any kind of FFL--dealer or collector.  However, this collector must be able to document his intent to collect.  Let's say he has 15 Mosins on the table, as mentioned above, and has a sign, "Looking for Finnish Mosins and parts," or "Want to Buy SMLEs, Mausers and related militaria."  Or let's say he doesn't have the sign, but an educated observer can look at him and say, "This guy's a C&R looking for deals and selling off the old stuff."  THIS IS EXACTLY THE SAME AS IS REQUIRED OUTSIDE THE SHOW.  There is no "gun show loophole."
A collector, without a C&R, can do what the C&R holder above can, but may not buy anything from out of state without having an FFL DEALER transfer it to him.  A C&R holder may buy and sell, but MAY NOT transfer, because he can't access the National Instant criminal background Check System.  The collector may have a couple of old Colt Special Police revolvers, an old NYPD Glock, a couple of 1960s shotguns and a Mauser.  He also is buying and selling, but he's obviously looking for specific things.  Someone walks by with a 1970s Colt Gold Cup, he might buy it. If they have a .25 Jennings for $30, he ignores it, because it's junk and he's not interested. THIS IS EXACTLY THE SAME AS OUTSIDE THE SHOW.  There is no "gun show loophole."
A private owner walking around, who's looking to unload some old guns for new guns. He has a half dozen older revolvers, and a sign, "Want to Buy Glock 23 or XD .40 cal."  Again, he can only sell to in-state residents, or ship to their FFL out of state.  THIS IS EXACTLY THE SAME AS IS REQUIRED OUTSIDE THE SHOW.  There is no "gun show loophole."
A retired guy who's got a table with a metric crap ton of Mausers, Mosins, 2nd Model Smith & Wesson revolvers, Winchester shotguns...and is selling them because he's retired and needs money.  He's not buying replacements. He's just unloading. THIS IS EXACTLY THE SAME AS WOULD HAPPEN OUTSIDE THE SHOW.  There is no "gun show loophole."
A dealer in antiques and black powder firearms, who has only historical firearms made  before 1899, or black powder originals or reproductions. He does not need an FFL and never did, because under the law, what he is selling are not firearms. THIS IS NOT A LOOPHOLE, THIS IS FEDERAL LAW.
Now we come to the joker.  He has a table with a dozen mixed guns on it.  He sells some. He buys others. He sees the $30 Jennings and buys it, sticks a $40 tag on it, and puts it back on the  table. THIS guy is "engaging in business" without a license. He's not selling many, and likely not actually making a profit after table fees and gas, but his intent is to sell guns for more than he paid for them. That's the "unlicensed dealer." 
Or is he?
He might also have a collection, and be using the funds from that sale to build his collection. So what's the call?
And the call is, "I would know if I looked at his table, and so would an ATF agent."  Much like porn is, "I know it when I see it." If he has a business card, it shows intent. A sign reading, "Always buying and selling guns" MIGHT show intent.  THIS IS EXACTLY THE SAME AS IS THE LAW OUTSIDE THE SHOW.  There is no "gun show loophole."
There isn't a clear way to define a volume for "engaging in business," especially since firearm law is part of the Tax Code, and any change to it will be exploited into other items of trade for purposes of collecting or avoiding tax. 
As part of the Prez's latest push, ATF has reiterated their existing rules, and it's possible they'll follow up with more agents at gun shows (And there are pretty much ALWAYS ATF agents at gun shows.  Most people in ATF like guns and buy for themselves as well) (Our local show has agents on hand to answer dealer inquiries).  Those agents will have to make those calls based on available evidence.
And the unlicensed dealers?
The agents will know them when they see them. Just as we all do.
But as before, exceedingly few criminals walk into a building full of cops, feds, veterans, licensed dealers and hired security looking to buy a Hi Point Fotay to do a drive by with.  There are much easier ways to get a gun.
So, literally nothing has changed.
The emperor has no clothes.

EDIT:  oh, to note--you can sell as many guns as you want, transferred through a dealer, at any profit margin you can get, and it's not "business," because you've involved the dealer...even if he makes $10 on every transfer, and you make a half million selling off a huge estate.
~~~
Edited on 6 Jan with clarifications on antiques and minor style changes.