These are in no particular order. There's just too much stupidity to track.
COVID is not the flu, it's one of several variants of cold. The shrieking idiots that "it's just the flu" didn't help. And they were wrong.
The very initial lockdown made a certain amount of sense. No one knew what the actual threat level was, because not a single report from China regarding anything can be trusted.  It looked to be 200X as lethal as your average flu. It's not. It's on par with a really bad flu, like the 1957 Hong Kong Flu, and 1968 Asian Flu. Bad, but survivable. We also now know we have treatment.
So about that:  The drugs in question are tested and safe, and doctors prescribe variant uses all the time. This should not require the FDA to do any kind of lengthy study, and is proof we need to gut that agency. Between "Will die" and "this isn't entirely tested but will probably save you, maybe with some side effects," the choice is obvious.
I previously touched on how herd immunity works--after enough people develop antibodies, the rate of infection slows and for certain strains may go almost dormant. Viruses of this type are constantly evolving. There may already be 8 variants of this strain.
So, to get herd immunity, PEOPLE HAVE TO GET THE DISEASE. You can't develop immunity by not being exposed. See: First Contact with the New World. (and see my preceding blog post.)  We'll be back to that in a moment.
Since we know the elderly and immune compromised and especially both, and with underlying health issues are at risk, those people should be staying inside. EVERYONE ELSE needs to get outside and get exposed, most with zero symptoms, recover, and be immune, so as to minimize transference later.
YOU CANNOT STOP THIS TYPE OF VIRUS. The shrieking Karens screaming "GOVERNOR, SHUT THIS STATE DOWN!" are complete idiots.  Back to the New World:  63 days across the ocean is long enough for an entire crew to have a viral infection (cold or flu) and get over it, and have antibodies and not get sick again.
So, why did the natives get sick?  Because it was a virgin field with no antibodies and the slightest infection was enough.
If you all come out now, a bunch of you are going to get sick.  If you hold off until May 1, even more of you are going to get sick, and we'll be in the worst economic depression the world has ever known due to a complete lack of engaging in economy.
If you all hide until September, you're STILL going to get sick, and at the worst time of year for it--October-December, just like the flu and other colds. More people will die on top of everyone who's starving to death because we will have literally no economy left. (And I realize idiots don't believe this is true, even though in just two weeks we've gone from 3% unemployment to 10%. It'll be 20% by next week, and likely hit 40% by the end of April, if we don't stop the stupidity right now.)
If you believe you can just hide out long enough for it to go away, you are an idiot. This apparently applies to most state governors.
Closing playgrounds--stupid. Young kids are very resilient to this and will shrug it off, and help develop herd immunity. Just keep them away from Grandma for a few weeks.
Attacking people for daring to gather in small groups--prevents herd immunity. Stupid.
Demanding only one customer at a time put groceries on the checkout belt, but not sterilizing it in between--stupid.  All you did was slow commerce down.
Banning people from numerous activities--stupid. See above. It also leads to more domestic violence, obesity, and suicide.
Closing liquor stores: didn't you idiots already learn your lesson on this?
Cancelling school and promoting/graduating anyway: so, you're either admitting 12 weeks of the school year is irrelevant, or you want kids to be idiots.
Closing the courts: We'll sue you afterward, and sue you for yet another blatant irrelevant and unconstitutional grab.  Stupid.
Insisting we stand 6' apart at the Post Office when the windows are 3' apart. Stupid.
Releasing criminals from jail, a controlled environment where you can actually have good odds of preventing transmission, so they're now outside committing crimes and exposed. Stupid.
Banning fishing, which produces food and keeps people 6' apart. Stupid.
Vermont--declaring VEGETABLE SEEDS AND GARDENING TOOLS that people use to RAISE FOOD so they can AVOID PEOPLE MORE (which they shouldn't be, but you want them to do) is freaking retarded.  You need to recall that governor right now. She's stupid.
Smashing the economy with illegal orders to stay inside and do nothing--stupid, and criminal.
Governors issuing executive orders:  The response to these needs to be "or what?"  Executive orders by definition apply to the executive and the cabinet--work on this project, prosecute more of this, make this available. They have ZERO legal binding on citizens. Claiming so and threatening police violence against people who refuse your illegal order is actually constitutional grounds for someone to exercise an Italian Recall. Though I recommend doing your best to be low key, because given that your average cop is stupid, ignorant, trigger happy, and "just following orders," until they actually start up the box cars (they've already been designating hotels as camps), your survival is better to comply.
A county banning the sale of books as "non-essential." This is such a blatant First Amendment violation the three members of that county board should already be recalled by ropes and lampposts. Ditto with banning church services. Also, what are we supposed to use to teach our kids?
Closing schools, playgrounds, museums, theaters, libraries, literally everything we would use to educate or entertain our kids. Stupid AND criminal and you should be defying those illegal orders.
Shortening store hours--this packs more people into the store in a shorter timeframe, which is actually good for herd immunity, but accomplishes exactly the opposite of what you're trying to do. You're so stupid, you're even doing stupid stupid.
Sending 32 cops to raid a 1 year old's birthday party. Stupid. And proves yet again that cops are mindless thugs with no respect for the Constitution.
The mayor of Knoxville demanding Yet Moar Fascism, and having 9 suicides in 48 hours, far existing the city's death toll from COVID--stupid.
Same mayor admitting she may have to "reconsider" some of the policies, but not immediately removing failed policies that made the situation multiply worse than it was--so stupid you should recall her right now.
Shrieking the ridiculous lie that "The Constitution is not a suicide pact!" Stupid. The Feds LOST both cases where they claimed that, all the way to the Supreme Court. The Constitution does, however, provide for the execution of tyrants. NEWSFLASH: They had epidemics in colonial times, without modern medicine. We've had at least four worse epidemics. We didn't turn into Nazi fucking Germany complete to "papers, please!" to go about your daily business. Further, if "emergency" can suspend the Constitution, there's already some leftist whore demanding it for "Climate emergency."  No, we will not surrender our Constitution because of a cold. If you're scared, stay home. The rest of us have a nation and economy to run.
Allowing governors to GIVE you illegal orders and demanding more--this is your own fault, you are stupid, you should not vote, you should not reproduce, and in fact, I'll buy you a one-way ticket to North Korea where you can live exactly that lifestyle. You are scum. And stupid.
At this point, if you're expecting me to care if a million of you die, you're stupid for the final time. I'm hoping for 10-15 million.
Brad Smith <bradsmith313@gmail.com>
8:05 PM (42 minutes ago)
to me
The only racists are those in the GOP and Libertarian Party who fight to honor a regime whose goals were to uphold white supremacists and oppress blacks.
Fuck off.
Mike Williamson
8:47 PM (0 minutes ago)
to Brad
Um...what is this about, and whom was it intended for? Because I have no idea who you are.

You're also wrong, since no such set of parameters and people exists.  But obviously, deductive reasoning is not your strong suit.

If it was intended at me, I note that you're anti-immigrant, but that's a common issue I deal with from "liberals."

~~~

Let's deconstruct his utter ignorance here:

Republicans and Libertarians are not the same group.  They're vastly different groups. Anyone lumping them together has to be so far from the mainstream that their only discernment is "us" and "them."
The US has never had a "Regime."

No one is "fighting" to "Honor" said regime, even using the loosest definition of same.
I think he may vaguely be referencing the Confederacy (Not a "Regime"), which is long gone, and was run very much by elitist democrats, who can be typified by Mike Bloomberg (D--Wall Street), who believes poor people should have their lives controlled because they're too stupid to manage them themselves, and by Demorrhoids who insist that voter ID is racist because blacks are too stupid to get ID (which almost everyone of every demographic already has, and by omitting the poverty-stricken whites, Hispanics, Asians, and Native Americans make it clear they think ONLY blacks have this problem, thus demonstrating exactly the point that THEY are the racists).
If so, the LP would have nothing to do with the Confederacy due to slavery, et al.  And I've never once heard a Republican insist we need to bring back slavery. But damned if the Demorrhoids don't do everything they can to have an impoverished underclass they can order around, especially if they can keep them without immigration papers and working for a pittance (See: Much of the Hollywood elite and scads of politicians).

So all I'm getting is that this guy is ignorant and angry that his own side's racism and elitism are so blatant.  But rather than try to fix them, he wants to project them onto normal people.
Just caught a bunch of pages and videos on this.
You can buy these from me, too, but Amazon carries them at the same price.
Here's the idiot myth on every single page:
"The back isn't a good saw."

"The primary use of that knife, the reason it was designed, was as a general purpose escape tool from the wreckage of an aircraft. You could punch a hole in the fairly thin skin of the craft and saw your way out. It's a fairly specialised knife that can work as a field knife but it's not the best choice for a general purpose knife."

No, it fucking isn't.  If the plane is that fucked up, you're not getting out. That's a load of bullshit up there with the myth of, "You can't legally use a .50 cal against troops, but you can use it to shoot their web gear," and "Mattel made M-16s." The knife is stowed in a kit under the seat. You're not getting it out in time to do any cutting. If it's a fighter, you're ejecting. If it's a cargo/transport/bomber, there's a half dozen different ways out of the plane-every hatch, ramp, window, port and door is an egress.

"Hey, the guys need a tool to cut through the fuselage."

"How about a metal shear and a springloaded punch?"

"I guess, but I was thinking of giving them a knife."

"A knife?"
"Yeah, to punch a hole in the plane and saw their way out."
"Like you'd do with a spring-loaded punch and a metal shear?"
"Yeah, but a knife!"
No one is going to cut their way out, and 7075T6 aluminum is rather tougher than you think it is--they use it for M-16 receivers.
The saw isn't a very good saw, but it's a combinaton file/rasp (and not a very good one, but better than not having one).  It's for shaping wood, cutting rope, abrading roots, whatever you might need a non-slicing edge for. The knife is used for everything you use a knife for on the ground. You know: Camping and surviving while waiting for Pararescue to recover your butt.

I'm waiting for someone to insist what it really needs is a launchable spring loaded blade "like the Spetznaz used" as a "last ditch weapon."

And the CQC6 "Quartermaster" knife wasn't used for "prying open crates and hammering the lids," either. As dumb as the Army can sometimes be, they DO know what hammers and prybars are.
Jesus Christ, you people are stupid.
There's a an Op-Ed, or maybe a Pre-Op-Ed at the WaPoo about how to address people who refuse to use the gender norms human languages have had literally forever.
I think I was 13 the first time I was called "ma'am" on the phone. I didn't bother correcting the business because I understood as a young male youth my voice could be mistaken. It didn't break my emotional well-being, and I lived through the experience.
The entire article is drivel, and...well, here: https://www.washingtonpost.com/outlook/please-stop-making-jokes-about-gender-pronouns-when-people-tell-you-theirs/2019/12/11/
First of all, fuck you, I'll make any fucking jokes I like about any fucking thing I want, any time I fucking feel like it. Don't like it? Fuck off.
In a serious note, I will address you as you present. If you're at an historical re-enactment wearing 10th Century Norse female garb, I'll assume you are "miss," "damen," "my lady," or "ma'am," accordingly.  If for some reason you want to dress and present as a female, but not be called one...then you need deeper therapy.
If I am not sure (and this applies to status, rank, sex presentation, class, etc), and it's relevant, I may ask, "How should I address you?"
And then we will get on with our lives.
If you have to start with, "My pronouns are she and hers," I'm going to tell you, Our pronoun is "The Shitlord," and We are only addressed in the third person. Also, you will have to do it in this language I just made up that changes every week. Or in my native Gaelic. Or you can just fuck off.
What you don't get to do is dictate how other people talk.  Here's a relevant excerpt:
The backlash was instantaneous. By the end of the night, Cuomo had apologized on Twitter, noting his sorrow as "an ally of the LGBTQ community" — but still not managing to state his pronouns. And I wondered, not for the first time: Why can't cisgender people be semi-normal about this?
~~~
Why does he have to play your game and "State his pronouns"?
Why do you display the bigotry of accusing him and us of being abnormal? "Cisgender" is an external, false euphemism you have assigned to NORMAL PEOPLE, identified as the 99.995% of the population who are male or female (whether or not they accept that is another issue). One can be straight, gay, bi, asexual. One is male, female, or has a chromosome or physiological mismatch (rare). Those latter are the only non-"cis" people. Claiming you're with them actually denigrates them.
Why do you assign us the identity "cisgender" over OUR protests, but expect us to kowtow to your preferences?
This is the fascism of a minority culture, full of hatred, intolerance, and refusal to accept the norms of the majority.
The first big step toward terrorism.
And anyone who doesn't believe it borders on terrorism is invited to "misgender" some high-profile freak on TWITter and wait for the screaming backlash and attempts to dox you.

There was even wailing about someone being called "it," except there IS a high profile freak of some sort who has publicly stated their pronoun is "it."  

You see how this game is played?  Worthless failures who can't get attention any other way are demanding that everyone address them in a clever, unique fashion known only to them, changing at whim, with no set rules.  There was also another article that people who DO use these terms are "patronizing."
So, no, Kat, you're a fucking freak, and an obnoxious one, and you need to grow the fuck up and grow some balls, or boobs, or something, or else take some tequila and sleeping-pill therapy. You not only have issues, you have entire subscriptions that make Publisher's Clearinghouse look sedate. But they are not my subscriptions and I'm not buying any.
As I told her, I have 35 years professional experience with weapons, 25 of it in the military. I don't need pussyplained to.
Let's unpack some of her Shitter bullshit here (assuming she doesn't dump the post from the well-deserved ratio she's getting).
https://mobile.twitter.com/designmom/status/1198580238533439488?
"There are far better ways to protect your family than a gun. Get a life insurance policy."

Do you even understand how life insurance works, bitchtard? You have to fucking DIE. The whole point of self defense is NOT TO DIE.
"Yes, an intruder shot my husband and raped us all, but hey, I got $100K, so there's that. It almost paid for the funeral, the medical treatment, the therapy, the replacement door and jewelry, and my wheelchair and ramp."
"I know you truly believe that you'll need to defend your family at gunpoint. You need to let that go. Statistically it's just not going to happen. I know it's boring, but if you want to protect your family, things like seatbelts, fire alarms, and life insurance are your best bet."

I have those, too.  And I HAVE defended my family at gunpoint, so fuck your "Statistics." Which you must have shit out of your fat, liberal mom ass.  But even if that were true, you'd be making the case that GUNS AREN'T A PROBLEM as far as crime.  Are you retarded? Or just a fucking moron?
The reality is, you're probably going to die of heart disease or diabetes, or just old age and natural causes. I know it's not as cool-sounding as an armed-standoff, but it's still true.

Well, actually, statistically I'm not going to die of any of those, because I carefully chose ancestors with superior genetics. Well, old age, yes. Everyone dies of that if nothing else.  And there's nothing "cool" about an armed standoff, speaking from experience.

I'm probably not going to die in a house fire either. Even though that's really cool-sounding, I guess.  I still have extinguishers.  Which you didn't mention. Just "alarms."  Typical fat liberal bitch expects a man to come rescue her. (Conservative and libertarian women don't seem to have this problem.  My wife is pretty handy with a shotgun and pistol, as several predators who went after livestock can no longer attest).
If the topic of protecting your family comes up, a gun extremist will immediately imagine an armed intruder who has come to murder. That's not going to happen. It's rare enough that it's not something people need to worry about or make decisions based on.
You repeat it, hoping it will catch on.  But if so, then why does it matter if people have guns? You've just stated they're not going to be used for murder.  So what's the problem?
Other than the fact you have no fucking clue what you're talking about, about anything. Including about being a mom. (I was a single parent for several years, have been the primary parent for 22 years, and the solo parent for lots of time the other parent was professionally absent.  I'm a better mom than you, too.)

Also, at least 50% of households have firearms.  If that's "Extremist" to you, you need to take a long, hard, look in a mirror.
If the topic of protecting your family comes up among people who actually interact and care for children each day, they think of things like using car seats, preventing hormones and dangerous chemicals in food, child-proofing the cleaning supplies, and schoolyard bullying.
I actually interact and care for children, and apparently a lot more than you, who's too busy lecturing the internet.  The "Dangerous chemicals in food" suggests you're a GMOtard, which means you're ignorant of yet another subject, and a racist (Which we already knew from your pollyanning that home invasion doesn't happen. You have to be white privileged as fuck to hold that belief).
Hundreds and hundreds of you have explained to me that a life insurance policy won't protect against an armed intruder. I never said it would. The thing you don't understand: There isn't going to be an armed intruder. That's just your paranoia.
Hundreds and hundreds of people are smarter than you, you ignorant cockholster.
There were 2.5 million burglaries in 2017, per DoJ.
A gun in the home is FAR more likely to kill or maim a household member than it is to protect them. Enjoy your daydreams about armed stand-offs. But that's all they are. Daydreams.
That stupid claim has been debunked more often and more thoroughly than "Vaccines cause autism" (which I'm going to assume this bloviating narcissist believes also).  Repeating that one just proves you're a completely ignorant shithead in this subject.
And no one "daydreams" about armed stand-offs. Except, apparently, you.
Update: A shocking number of you are CONVINCED that armed intruders will enter your home at 2 AM. And specially at 2 AM. Is there like an NRA ad about a 2 AM break in? Some meme I missed? Don't answer. I don't actually want to know. Muting this thread now.
You don't actually want any information that will crush your racist white privilege worldview? That was obvious.
Ask any cop when the most calls for burglary are.  Do you even know what number to call for the police?  Or do you have the maid do that, too?
You are a complete fucking waste of a human being, and pretty fucking smug about your ignorance, weakness and privilege.
The current attempt at impeaching President Trump revolves around a claim of a "quid pro quo" of government aid to the Ukraine, in exchange for them pursuing legitimate law enforcement investigations of your typical Demorrhoid corruption.
First, it is the JOB of the Executive Branch, via State and Commerce Departments among others, to quid pro quo other governments. THAT'S WHAT THEY'RE SUPPOSED TO DO.  "You want X? We want Y. Deal?"
Literally. Their fucking. Job.
In 1948, President Truman's administration approved the creation of ARAMCO for the purpose of acquiring oil from Saudi Arabia, while having a means of putting political pressure on them. That's in the actual statements in the authorization.
So the whole trial is a farce to start with. There are legitimate complaints about some of Trump's actions.  This isn't one of them. Of course, most that are questionable were exactly what the Demorrhoids wanted, so they're silent on that.
Second, even worse than ascribing the SNL quote of "I can see Russia from my house" that Sarah Palin never actually said, but is now considered "Fake, but accurate," they're basing this on what some Demorrhoid shithead in Congress paraphrased from hearsay from some source he isn't really sure about.
But, even if we assume this might actually result in any credible, pursuable charges from the Fascist Wing of the DNC, what then?  First they have to prove the charge, which is non-existent.
Then, it goes to the Republican controlled Senate for follow up. I'm sure they'll give it all the attention it deserves.
But even if they do something: you may remember when this happened to Bill Clinton over actual perjury charges.  The result was "Censure."  IOW, a letter saying, "We find you to be quite naughty."  Nothing substantive.
But even if they actually remove the sitting president from their own party (I dunno, maybe they think it'll be useful later for removing a Demorrhoid for the easily provable charge of being anti-American), it means, by the time they get to that, Trump is gone for the last 5 months of his term.
Which would mean PRESIDENT MIKE PENCE. Now, that asshole was my governor. If you do not like Trump, you will not like Pence even more, who demonstrably IS a Christo-fascist, anti-choice, anti-gay crusader. Seriously?  Are you fucking retarded? Apparently.
AND, that still doesn't stop Trump from campaigning to run for office again, and still winning because his followers and most of the mainstream are pretty fucking sick of "liberal" fascist cocksuckers trying to subvert the legal processes for some strange sexual worship and obsession with Trump.  Hell, I might even vote for him to just to watch four more years of complete meltdown.
But worst case, it just means PRESIDENT MIKE PENCE.  Jesus tittyfucking Christ in a pink tutu on a pogo stick, are you...well, yes, obviously you ARE that fucking stupid.
What we really need is to quid pro quo some foreign government's intelligence service into assassinating the entire DNC membership. But Trump is too soft and liberal for that.
Hi Mike Williamson,
Important changes that may impact your monetization and content discoverability are coming.  
HAVE YOU COCKSUCKERS EVER PAID ANYONE ANYTHING?
Starting today, all creators are required to tell us if their content is made for kids in order to comply with the Children's Online Privacy Protection Act (COPPA) and/or other applicable laws. To help you comply, we are introducing a new audience setting in YouTube Studio.  

OR WHAT?
Depending on the amount of made for kids content on your channel, you can set your audience at either the channel level or the video level. For those who are setting at the channel level, it is just one click.

I H

AVE NO FUCKING IDEA WHAT MY LEVEL OR SETTINGS ARE. I UPLOAD SHIT FROM TIME TO TIME. PEOPLE LOOK AT IT FROM TIME TO TIME.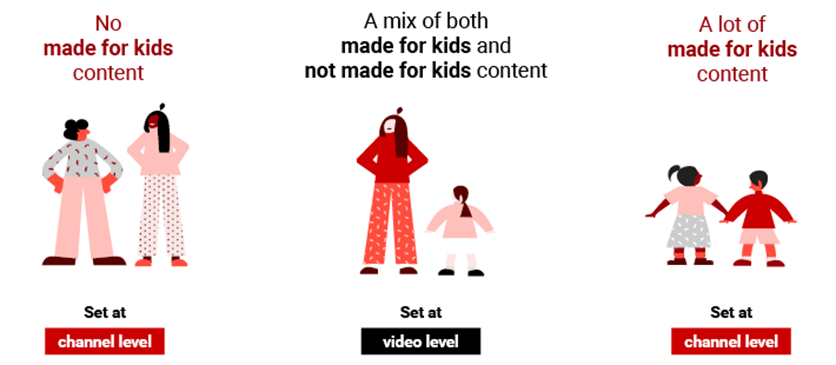 These changes are required as part of a settlement with the US Federal Trade Commission (FTC) and NY Attorney General, and will help you comply with the Children's Online Privacy Protection Act (COPPA) and/or other applicable laws.  

COPPA.  HOW CLEVER. NOT.  YOU'RE THE CHANNEL, YOU HAVE THE LAWYERS.  COMPLY AWAY.  AND FUCK NEW YORK. THEY'RE FASCIST, ANTI-AMERICAN COCKSUCKERS ANYWAY.  VIOLATING THEIR RULES IS A MORAL DUTY. PS: I DON'T LIVE IN NEW YORK.
We know that these changes won't be easy for some creators, and that this required change is going to take some time getting used to. But these are important steps to take to ensure compliance with the law. 

YADDA YADDA GO FUCK YOURSELF.
Please read more below to understand your legal obligations and the impact these choices may have on your channel. 

SURE, IT'S BEEN HILARIOUS SO FAR.
What is changing?
Starting today, all creators are required to mark their content as made for kids or not made for kids in YouTube Studio. 

OR WHAT? BASED ON WHAT?
Starting in January: we will limit the data we collect on made for kids content to comply with the law. This means we will disable personalized ads on this content (which affects revenue for creators making content for kids), as well as certain features like comments, notifications and others. Note: You may see some small changes as we experiment and refine our systems over the next few months.  

SO YOU'RE GOING TO REDUCE INCOME AND FUCK OVER PEOPLE WHO ARE ACTUALLY TRYING TO MAKE STUFF FOR KIDS. GEE, I WONDER WHAT THE OUTCOME OF THAT WILL BE?
For a list of affected features, go here.
Why is this happening? 
BECAUSE THE TRUMP ASSMINISTRATION ARE AS BIG OF CUCKFAGS AS THE PREVIOUS DOZEN ADMINISTRATIONS.
These changes are required as part of a settlement with the US Federal Trade Commission (FTC) and NY Attorney General, and will help you comply with the Children's Online Privacy Protection Act (COPPA) and/or other applicable laws. 

SORRY, I WAS NOT PARTY TO THIS LAWSUIT OR CASE OR WHATEVER. ALSO, FIRST AMENDMENT, BITCHES.  I'LL POST WHAT I WANT. IF YOU DON'T LIKE IT, TAKE IT DOWN.  IT'S YOUR PLATFORM, YOUR PROBLEM.
Regardless of your location, we are required to ask you to set your videos as made for kids if they fall into that category, please make these settings as soon as possible. 

NO. GO FUCK YOURSELF.
We'll also use machine learning systems to help us find content that is clearly made for kids. But do not rely on our systems to set content for you -- like all automated systems, ours are not perfect. 

FINALLY, AN ACCURATE STATEMENT.
If you don't set your content or if we detect error or abuse, we may set your audience for you. If you fail to set your content accurately you may face compliance issues with the FTC or other authorities, and we may take action on your YouTube account. 

THEN THERE'S NO ADVANTAGE FOR ME TO DO ANYTHING, IS THERE? I'LL LET YOU JUMP ON THAT GRENADE.
What is "made for kids" content?
We cannot provide specific legal advice, but according to the FTC's guidance on COPPA, a video is child directed (which we call "made for kids") if:
•
It is directed to children as the primary audience (e.g. videos for preschoolers).  

MY PRESCHOOLERS WATCHED "BLAZING SADDLES," "THE MATRIX" AND "DEADPOOL." SO I MAY HAVE DIFFERENT CRITERIA AND A DIFFERENT BASELINE THAN YOU.

•
It is directed to children but children are a secondary audience (e.g. cartoon video that primarily targets teenagers but is also intended for younger kids).  

UM, HAVE YOU ACTUALLY SEEN WHAT IS ON SOME KIDS' TV SHOWS?  ALSO, IF WE GO BACK TO 1967, "CAPTAIN SCARLET" SHOWED ASSASSINATIONS AND SUICIDE BOMBINGS ON A KIDS SHOW.  BUT THEN, MY GENERATION WEREN'T RAISED AS PUSSYFAGS.
Learn more about the factors that determine if your content is considered as made for kids here.  

NAH.
We know this won't be easy for some creators, and that this required change is going to take some getting used to. While we cannot provide legal advice, we are committed to helping you through this transition.  

IF YOU CAN'T PROVIDE LEGAL ADVICE, YOU'RE JUST SOME HELPFUL FRIEND ON THE INTERNET. THAT NEVER WORKS OUT WELL.
You can learn more about your own obligations under The Children's Online Privacy Protection Act (COPPA) and the tools we are building to support you here. 

GO SUCK START A SHOTGUN.
The YouTube Team
I briefly saw a clickbait headline to the effect of "Cost for Trump's New Air Force One near $2 billion."
Obviously, this was being shared by a "liberal."
I will now explain for liberals and complete morons (but I repeat myself) how just the headline tells us this is complete bullshit.
First: It's not "Trump's" AF1. It's THE OFFICE OF THE PRESIDENT'S AF1, and will be used by other, future presidents. Assuming we have any. The odds look good. Also, it's operated by the USAF.
B] Trump, or any president, has pretty much zero input in the design. That's up to the aircraft designer (probably Boeing), the USAF, the Secret Service for their specific needs, and Congress.
3) So, that's about double the flyaway cost of a fully-loaded deluxe airliner with all the trimmings, BUT, it also serves as a command post for the most powerful man on Earth, all his immediate staff, and any guests and associates along with him.  It's like complaining an armored limo costs more than a top of the line Cadillac. Duh.
But keep that hatred flowing! It's certainly easier than thinking.
From:
Paul Brunton
Howdy,
I picked up "Tide of Battle" at the local library. I normally peruse the new book section and just see what catches my interest, thought I would give your writing a try. OK, here's what happened...1 page into the book, "He and Dad nailed timbers and plywood to make another tree house , in the thick lower limbs of a larch." really?? I cut logs for 20 years and have spent much of my 66 years in and around the woods, and am yet to see "thick lower limbs of a larch" that are even mildly appropriate to support a tree house. Sorry to say, I am such a narrow minded bonehead that I could not keep reading.....
~~~
Dear Narrow Minded Bonehead (as you correctly identify yourself):
Well, I have to say, this is quite amusing.
I could note that the larch is often used to represent the Nordic Pagan World Tree, and is a very popular wood for house building in that part of Europe, and thus the scene is a metaphor for "home" and the world and the character's climb increasingly high until he reaches space.
I could note that "timbers" are referenced, which can imply the structure is supported from the trunk, and is only amongst the limbs, not braced on them, which is a common trick for treehouse building.
But the fact is, if you're that over-sensitive, some other thing would set you off, and if one minor quibble over a single word at the beginning of one story makes the entire collection unreadable, I wonder how you can read, watch, or listen to anything produced.
You must be a blast at parties.
I'm an immigrant, and I'm an anarcho-capitalist, so even most Libertarians are too statist for me, and I'm rather outside of American socio-political groups.
But you know what I'd like to see?
Just once, I'd like a "liberal" to explain what Trump has actually done to hurt them.
It goes like this:
Me: Trump's made some bad choices, like Sessions, but on the whole, he's been no worse than anyone else. What are you so bent out of shape about your need to riot or endorse rioting?
Liberal: RUSSIAN COLLUSION!
Me: No evidence exists of that. Mueller's spent two years and found nothing.  All the leaks were from Hillary's end. What has Trump done to hurt you?
Liberal: RACIST IMMIGRATION POLICIES!
Me: 0bama had a higher deportation rate than Trump.  And you're not an illegal immigrant. What has he done to hurt you?
Liberal: VOTER SUPPRESSION!
Me: Those are state level laws, and have near unanimous SCOTUS endorsement, therefore they're Constitutional.  They started under 0bama.  What has Trump done to hurt you?
NPC: NAZI!
Me: He's the first president to recognize Israel's capital, has 14 Jewish cabinet heads, a Jewish daughter and son in law, and Jewish grandkids.  He is not any kind of socialist. Therefore, he cannot possibly be a Nazi, and has done nothing remotely resembling what the Nazis did.  WHAT HAS HE DONE TO HURT YOU?
NPC: HE'S DESTROYING THE GOVERNMENT!
Me: He's cut back red tape that meant more generic prescription medications became available, cheaper, and your pharmacist is allowed to tell you about those options. Even Sessions is backing off on opposing state level "medical marijuana" statutes.
This is the same government you claim is murdering minorities, and has a SWAT team to collect on arrears student loans.
It's the same government that was trying to demand CDLs for taxi drivers and couriers, threatening your precious gig economy. How has him reducing its scope hurt you?
NPC: BOOOOOOOSH!
Me: You got off script there, dumbass.
NPC: RRRAAAAAACCIIIISSST!
Me: Against whom?
NPC: MUSLIM BAN!
Me: The list of 6 nations with restricted immigration does not include the 6 most populous Muslim nations. It does not include 210 nations Muslims live in. It does not allow anyone--even atheists and Christians--from those 6 nations to enter the US, without additional scrutiny on a case by case basis. It's based on the fact those 6 nations cannot even confirm their own passports are real.  SCOTUS upheld the authority unanimously.  Muslims enter this nation every day, and live here unmolested, even when they make vile anti-semitic comments and file civil cases to be allowed to butcher their female children's genitalia.  And you're not Muslim. Name a single thing Trump has done to hurt you.
NPC: MIGRANT CONVOY!
Me: It's in Mexico.  Further, as you admit, they're migrants, not "refugees" under the definition created by your precious UN. Therefore, they can't even reasonably ask for asylum, and Mexico is under no obligation to take them. Nor are we. Nor is Canada.  By the way, BOTH of those nations have stricter laws of entry than the US. Under what strange logical chain are Central American migrants in Mexico a Trump issue, unless and until they get here, where they will be treated according to the same established laws 0bama treated them according to? WHAT THE FUCK HAS TRUMP ACTUALLY DONE TO HURT YOU?
NPC: RESISSSSSSST!
Comments below. Can a single one of you Demorrhoid NPCs name a single thing Donald Trump has done that hurts you?

(This early referenced "George W. Trump" as a satirical reference to that senile hag Pelosi, who can't seem to remember what his name is.)