So, Dept Ag is relocating some of its operation to Kansas City. You know, that city in Flyover Country, away from the Beltway country clubs and buffets, where real people live and work. And, coincidentally, closer to the people who'd need to talk to a Dept Ag, if the Dept Ag actually did anything for farmers, other than hinder them with regulations dreamed up by leftwing-leaning bunny-fucking ecosimps who don't actually work the land.
So these poor fucking bureaucrats are being treated like (GASP!) normal people!  
This is an example of the comments I'm getting on Fecesbook:
Do you understand that this move has not been discussed with employees in advance? In order to keep their jobs they will have to sell their homes, pull their kids out of school, find a new place to live and if their spouse has a job, that person will have to relocate as well. Most people are not prepared to make that kind of change, on a whim.
OH, BOODY FUCKING HOO!  They may have to relocate for their jobs! That's never happened to ANYONE before!

Dear bleating phaggottes:  Relocation is a fact of life.
Now, let's discuss why what you said there is complete bullshit.
First, it will be months before the move can take place. Offices have to be built or leased, fitted out, set up, other infrastructure transferred. Bitch, they'll have PLENTY of work and plenty of lead time.
If they are tenured civil servants, they have a choice: Relocate to the new office, find another federal job in the DC area and do a lateral transfer, accept some other federal job somewhere else, or quit. So that's two more choices than a normal civilian employee is guaranteed by law. Talk about your fucking privilege. They're like a North Korean missile: They won't work and you can't fire them.
But even if it were true, THAT'S HOW NORMAL PEOPLE ARE TREATED EVERY DAY.  Why do you feel public employees, many of them leeches, are entitled to special treatment?
In fact, my then-wife had her civil service position eliminated back in 2010 or so. She had a few days notice, had to scramble for a contractor position to fill in, before finding another civil service slot.  She wasn't tenured, so she had the same rights as any other human being, and no federal privilege.  Of course, that was under 0bama, so not a single liberal racist POS is going to acknowledge the event, because no one is allowed to question that man's administration.
And it's not a "whim."  It's THE NEEDS OF THE AMERICAN PEOPLE. Are you seriously fucking suggesting the taxpayers serve at the whim of the bureaucrats? Because if so, you're complete fucking sheep of the state, and the best thing you can do is never vote again.
Real case: some retire, some take other positions, some relocate and likely negotiate some money to do so, being far better off than your average employee.  
Worst case: They're being treated like average employees.
Though as someone else noted, I feel sorry for Kansas City. It already has scorching heat, tornados, and urban crime. Now it's going to get bureaucrats as well?
Chalk this up to more Trump Derangement Syndrome. And he probably had nothing to do with it.  It's just the cool thing to do (among a certain set) to shriek, shit pants, and shout, "TRRUUUMMMPP!"

They're more retarded than the fucking Birthers.
At least not for anything "meaningful." That shit is contagious.
Three examples:

First is a fellow immigrant from the UK, a bit older than me. I came here as a teen, he was an adult.  He came here for the same reason my family did--the inflation, the taxes, the national insistence on treating Brave New World, The Wall, 1984 and The Prisoner as handbooks, and the shitty National Health Service.  All Hail the Labour Party.
So then he shacks up and eventually common-laws an American liberal who voted for Bill Clinton because he was "so handsome."  Now he's a registered Demorrhoid, endorses socialized medicine, votes for candidates who promise to raise taxes, and is all in on the Labour Party's poorer cousin. He hasn't fallen for gun control yet, or immigration, but he's got life ahead of him.
The second used to be a major sponsor and moderator of one of the world's largest firearm fora.  Then, you guessed it, he stuck it in a liberal chick. Now he wails about defensive shootings with comments like, "This is not a win for guns. If there were no guns at all, this never would have happened."  Well, true, in a fantasy world where you can make guns go away. Of course then, strong people like me, with bad attitudes unlike me, beat the shit out of pudgy little faggots like him, take their valuables and their women.  Then he went on that there's no reason to ever punish a child. Just explain to them rationally, and if they're too young, spanking them is "torture."  Well, I think in the long term they'll appreciate a spanking over repeatedly playing with a socket until they get zapped. The first is far more controllable than the second, and as you noted, a logical explanation doesn't work at a certain age.  Nice black/white world (oops, is that racist?) you liberals live in.  And he's all in on how AGW can actually make things colder.  BTW, his degree is not STEM, but his liberal wife says so, so he agrees, if he wants that sweet, sweet, liberal pussy. (I've seen her and what she types. It cannot possibly be that sweet, and I've had no trouble finding sexy, STEM-educated conservative and libertarian women).
And the third IS STEM-educated, formerly managed a major tech magazine, and bounced out of a low spot with a "fairly liberal" woman who turns out to be full Trump Derangement Syndrome/Russian Hackers/Show Me The Birth Cert...I mean Taxes!, etc. And now he's all about how Occasional-Cortex is "Brilliant."  And there is no one in either party who thinks that THOT is "brilliant" or they wouldn't have all voted against her Green New Deal (Green on the outside. Red and seedy on the inside).  Seriously, the retarded cockholster was literally unaware that aircraft are utterly necessary for many things, and can't even name the three branches of government. But his socialist wick-wetter likes her, so he damned well better say so if he wants to keep wetting it.
DO NOT STICK YOUR DICK IN LIBERAL.
There's a cure for some forms of cancer. For Demorrhoids, there is only helicopters.
Comments at the end, though I don't think any are really needed.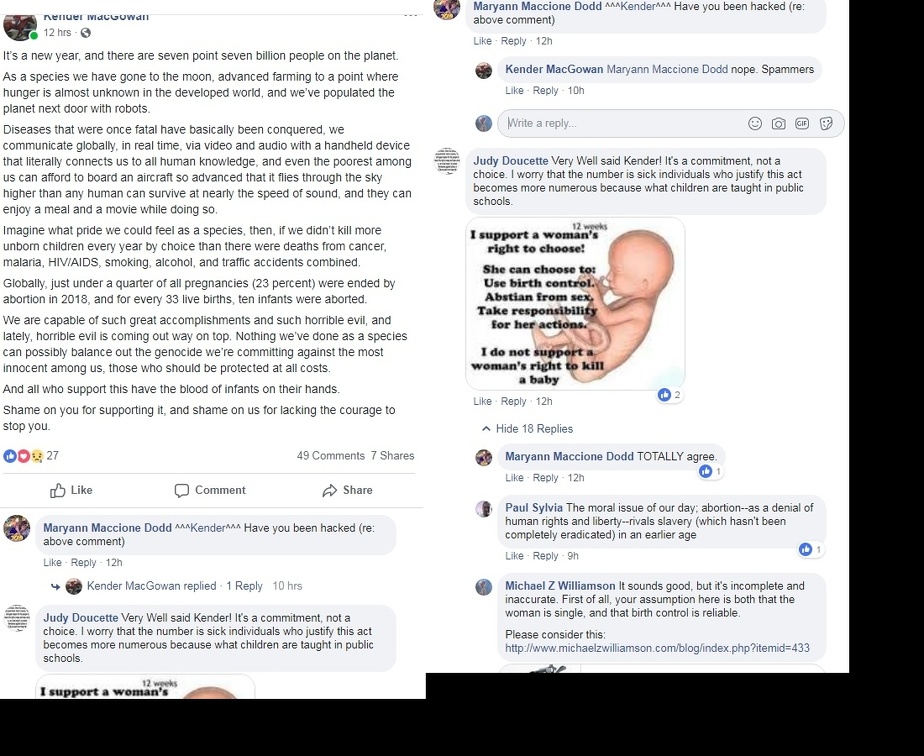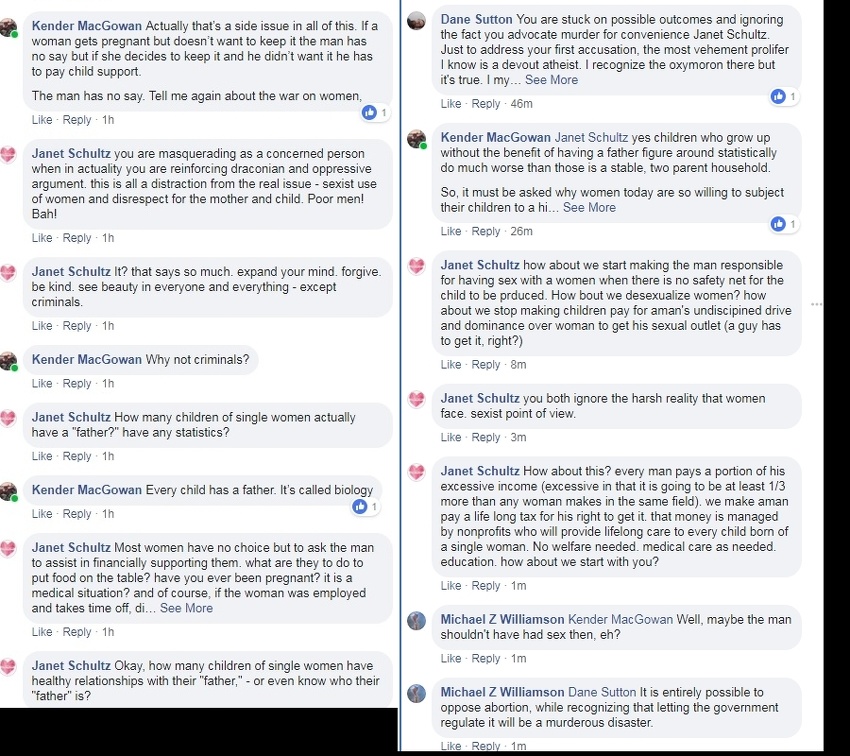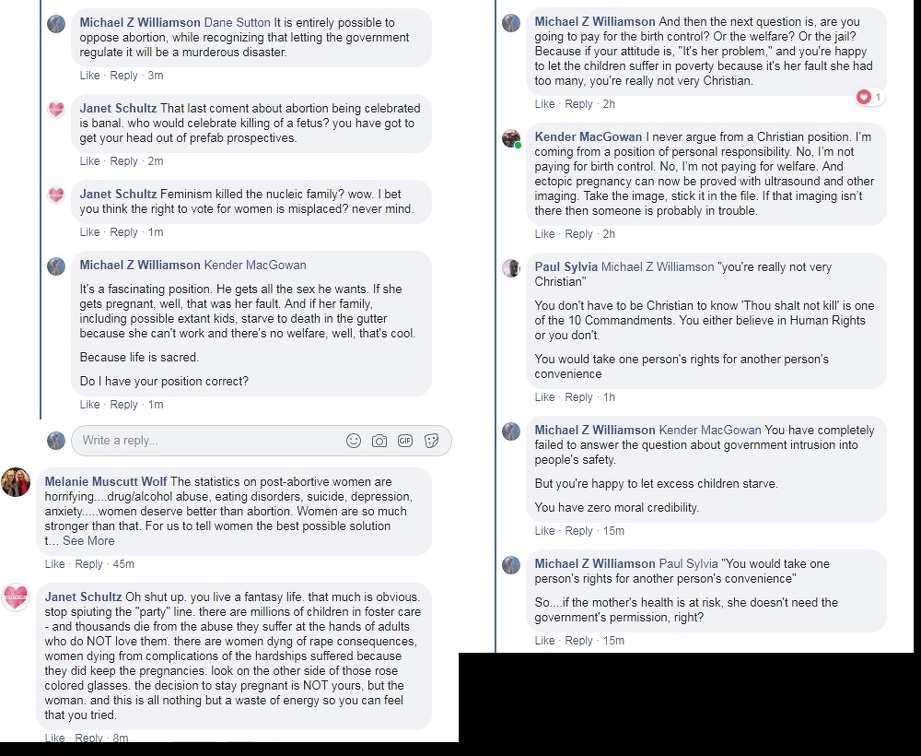 So, to summarize:

He gets to fuck all the women he wants.
She needs to find some magical 100% effective form of birth control, or she's a slut.
Poor him shouldn't be stuck with child support for the crotch fruit he helped create.
Also, he shouldn't have to pay taxes for welfare for said crotch fruit. That slut.
If she and it starve to death in the gutter, well, that's not his problem. She was a careless slut.
Because he respects human life.

And aborting a fetus is murder, but as long as you screenshot the ultrasound, A-OK. No one would ever question it, no need for any kind of investigation, it's magical!

And this is how every fucking one of those retarded pieces of shit I've interacted with thinks.
And if you're thinking that we're friends, and it's awful of me to think of you and call you a retarded piece of shit, well, stop acting like one.

You belong in a logchipper.
Because my respect for human life has specific definitions of "Human."
This one is rather simple.
Just listen for the catchphrase, "Voter ID disenfranchises blacks."
They'll explain to you at length (god, can they generate a lot of CO2 for little traction) that lots of blacks are unable to get ID, something something poverty.
Now, state IDs are very cheap, easy to get, and states that require voter ID will take several types. Anyone receiving public aid of any kind should have a state ID.
And to the point: Lots of whites, Asians and Hispanics also live in poverty. But the "liberals" don't mention them at all. Apparently, they know how to get ID.
Obviously, liberals believe blacks are too stupid to do what everyone else does.
And, they assume a majority of blacks will vote for them.
They're still pining for their plantations and slaves, with the good liberals saving those poor darkies who are too stupid and helpless to do it themselves.
They DO occasionally mention the Indians, but only with the false narrative that tribal ID isn't valid for voting (it is) and reservation Indians are unable to vote because of this (false).
~~~

Rounds Two, Three and Four.
Elizabeth Warren was never Cherokee by genetics, by blood fraction, by upbringing, by involvement. As far as anyone can tell, she knows literally nothing about them. Even her recipe submitted to "Pow Wow Chow" was first, a plagiarized French recipe, and second, had no relation to any native cooking at all, especially the Cherokee.  However, she was more than willing to claim minority status for college and teaching benefits, thus depriving a person of real native ancestry those same jobs.
Further, if you can proudly claim minority status for advantage, it gives lie to any claim you believe they're disadvantaged. (HINT: Actual natives are often disadvantaged, often more so than the descendants of former slaves.)  You just think of them as a convenient checkbox in your greed for power and millions.
That's about as fucking racist as you get. 
By comparison, my older kids ARE Cherokee by blood fraction, but not recognized, because at the time of the Dawes Rolls, the great grandmother claimed to be Greek, because that was a whole lot safer than being Indian.
My youngest is Cherokee AND Choctaw by blood fraction, and may be able to get recognized once some documentation is reconstructed.
But I've met plenty of "liberals" who insist my family are "white," because they "look it" (actually, my wife and the older two don't look European), but support E Warren.  Who is paler than me, and I'm Scottish and English by origin, and an immigrant.
They're vile fucking racists willing to fuck over my actual native relatives for some leftist street cred.
Beta O'Dork claims to be Hispanic because he lived in an Hispanic neighborhood. By that logic, I'm black and Korean.  Once again, he has no blood relation, no genetic relation, no cultural background, doesn't speak Spanish.  All he wants is the imprimatur of association for political benefit.
It doesn't work on most Hispanics.  But all over Twitter, his "liberal" followers were wailing that they had to "vote for Beto" to beat that "Racist Ted Cruz."

So, Rafael Theodore Cruz is half Cuban, half American, speaks fluent Spanish, can be jokingly described as a Person of Swarth, and actually has relevant cultural background.
But if you're a racist "liberal" piece of shit, the white Bostonian with the Irish name is the Hispanic, and the Cuban is the white guy.
Then there was the case where they had to measure the relative skin points of the murderer trying to smash someone's head in, with his victim's, to claim that a man with a Peruvian mother, a black grandfather, and both Jewish and Catholic cultural input, was suddenly a "white Hispanic." Because obviously, to support the false narrative of him being the attacker, he had to be "white." Even though he wouldn't be allowed within 50 miles of a Klan gathering.
Because when a punk who doesn't live in the neighborhood (an uncle's house doesn't count) realizes he's being tracked while he cases the joint, turns on his observer and tries to smash his head in, and gets shot in the process, he's suddenly the victim.  The responses of:

*Photoshopping a picture of him at age 12 to look cleaner and more innocent, when he's almost 18.
*Lying about his criminal background and claiming there wasn't one.
*Insisting he lived in the neighborhood when he didn't.
*Doctoring the 911 audio to suggest the defender was racist, when was ASKED what race the perp was.
*Insisting that at 5'10" athletic man beating someone's head into the ground is "an unarmed boy."
*LIGHTENING the images of the mixed race Hispanic to claim he's "white."
*Insisting the defender "could have just walked away" when he was doing just that, but not that the attacker should have.
*Insisting that somehow the prosecutor, the mixed-race jury, and the FBI are all part of some racist white cabal to murder the "child."
*Stalking the defender for years, harassing him, claiming every reaction to being harassed non-stop proves he's a bad person (and even if he was, irrelevant to the case).
Are just a bingo game of virtue signaling, lies and propaganda to try to distract the world from the fact that modern American "liberals" are VILE FUCKING RACISTS, who cannot judge anything on the merits and facts, but only on the skin color of the parties involved, and that those poor darkies need their help, because they can't handle it alone.

I concede the possibility that a non-racist "liberal" exists.  I've yet to meet one. I HAVE met non-racist socialists, old school Democrats, and even communists who are decent, egalitarian people. But modern "liberals" are literal fucking Nazis, and need reminded of it regularly.

Eventually they're going to get what the previous Nazis got.
I will cheer.  

EDIT: oh, yeah, and then there's "gentrification."  Because apparently, only white people can have a nice neighborhood, and blacks need to know their place, with their stereotype, and they better stick to it.
I always start these by noting that I didn't vote for Trump, and I don't like Trump. He's been lackluster. Like the guy before him, he's done a couple of things I support, several I'm ambivalent about, and a bunch that are very disturbing in their unwarranted expansion of Executive power.

And it's really hard to make that point when self-proclaimed "liberals" are shitting their pants in tantrums daily, for over two years now, about bullshit like Russian birth certificates and mythical impeachments that will never happen.
The latest as everyone knows is some kids at the Right to Life March wearing MAGA hats. Now, any cursory read of this blog will show I support unrestricted access to abortion. I also support the right of people to peacefully protest. So they have the fucking right to peacefully protest. Yeah, I disagree with them. That's the point. Protest is so people are aware you exist, and possibly listen to your point, and possibly take it into consideration.
Into this protest, which has been held every year since 1974, comes Nathan Philips, who claims to be a tribal elder, but as far as I can tell, two major regional nations have disavowed all association with him, so I guess he's Chief Smokablunt of the Stoner Confederation. (He's not hard to find, begging around Ypsilanti. Several people have pics and have reported this.)  He also claims to have been a marine veteran of "The Vietnam Times" which doesn't seem to refer to www.VietnamTimes.info, but seems to be a deceitful way of admitting he never actually went to Vietnam but wants people to think he did. Though at least twice he HAS claimed to be a Vietnam veteran, and to have been "spit on" when he came back.  BTW, the spitting on of vets DID happen...once or twice. Because even pathetic hippies have other things to do than wait around at airports where eventually there was security to get rid of them. But when a vetflake wants attention, damn betcha they're one of the ones that got spit on.  Of course, it would have been other "liberals" doing the spitting, not conservatives.
Oh, yes--a quick study of his DD-214 and understanding of the culture shows that he was told by a judge to go in the military or  to jail. He couldn't possibly qualify for the AF or Navy. The Army just might barely have sent him to Vietnam, but the Marines had already withdrawn and Reserve duty just barely met the judge's order. Of course, he screwed that up by getting arrested for drunk and disorderly and jailed. He also claims to have been a "recon ranger," which doesn't exist in the Marines, and in fact, he was trained as a Basic Electrician.  He missed drill by being in jail, during a time when that mattered, and either due to that or being homeless got put on active duty, where he went AWOL several times, attempted to fix air conditioning equipment badly, and finally got booted ETS. (THIS, BTW is your "Dodging the draft" in the Reserves, not volunteering to fly an aircraft meant for one-way intercepts of Soviet bombers, or actual bombing runs over North Vietnam.)
IOW, he's a worthless sack of shit and trying to milk the vet and Indian angles for a buck, like every other homeless failure you'll ever meet.  At least he does meet them by token, I'll concede. But he pathologically lies about them.  So knowing that, anything he says should be looked at in the context of a scam to score some weed.
He's a Retcon Ranger.  His story changes every time it's convenient for a quarter or a bag of weed.
And if you're some white liberal self-loathing snowflake in a quiver about "Raaaaaacism!" you should be aware my Choctaw and Cherokee wife has far worse to say, and criticizing an individual is not criticizing a group, even though you're mentally incapable of grasping that due to the socialist fallacy. (Those are fancy words that mean your culture is retarded.)
Anyway, Chief Homeless Pothead walked into the middle of their peaceful presence, and started banging the drum really loudly, which confused them. So they smiled, hoping the homeless lunatic would decide they were uninteresting and leave.
Whereupon they got accused of "smirk rape" or whatever else liberal faggots fabricate to be offended by when they have a need to be offended (which is always). So ol' Nathan popped a massive attention boner, went on to tell the tabloid media how he was trying to prevent two groups who were both doing nothing physical from attacking each other.
But then, The Liberal Butthurt Attention Brigade dialed the faggotry up to 11 and insisted the kids were being violent with those smiles, had attacked the Indians, had attacked the black racists behind them (who admitted afterward to being black racists and saying racist things while claiming to be "Israelites," because they believe Jews are fake Israelites, and Israelites were really blacks from West Africa they're descended from.  I can't make this up) and somehow conjured up some Jews to be present, who weren't, and claimed the kids were chanting "Build the Wall" and "much worse things."  None of which happened, but if you expect CNN to be more reliable than the Weekly World News you're a fucking retard and should be institutionalized and not allowed to vote.
Let us note that the Black Israelite group actually manned up and said it was all bullshit, they were the racists, no one mentioned a wall, and the kids were peaceful. Oh, yes, and there's video to support all this, but "liberals" won't watch it because (and some faggot actually said this), "It's gaslighting, because you're trying to persuade me I didn't see what I actually saw," when in fact it shows what you saw, and the CONTEXT to it.
Also, if you think "build the wall" is so horrible you piss your panties, you're just a fucking genetic failure and should probably kill yourself.
So then Twitter got involved. Now let's start with the fact that everyone on Twitter has an IQ under 85 and should likewise be institutionalized.  But the retardation isn't the issue here.  The issue is that "tolerant" "liberals" started literally offering blowjobs, record albums, and cash, for anyone who'd punch, beat the shit out of, shoot or otherwise murder, including feed into a logchipper (That's _MY_ schtick as World Dictator, fuckers), these TEENAGE BOYS for the crime of SMILING AT SOME HOMELESS, SCAMMING PIECE OF SHIT.
Here's my concern.  Not only were none of them arrested for communicating actual incitements to violence, Twitter actually started blocking people complaining about this.
You know why these people fear the myth of a Trump Death Camp™?  Because they know they belong in one. They also know that's their ultimate goal to do to others.
Now let's be clear. This isn't all liberals.  It's at most 95% of liberals.  But the other 5% don't actually call them out on it.
Eventually, one of these incidents is going to cause the virtue signaling to reach a point where they frenzy like sharks, and rather than just playing in traffic, beating on cars, setting shit on fire, faking "racist" attacks against minorities, they're actually going to escalate to killing children.
At that point, I fully expect someone is going to respond in kind.  It's going to be someone who knows how to engage in violence.  And they're going to, in the words of Gunnery Sergeant Hartman, "Keep Heaven filled with fresh souls."  At which point, Liberaldom is going to squawk and start trashing civilization, and a bunch of you are going to be stuck in the middle.
Now, I do not advocate violence, and I cannot pre-judge the circumstances and responses.  But you may be put in a position where you have to kill.  And being civilized, this possibility probably scares and offends you. This is normal. The worry about killing another human being is one of the hallmarks of civilization.
It's not, however, one that "liberals" seem concerned about. They already cheer harassment, violence, vandalism, arson.  It's only a short step to cheering murder. Their only enjoyment comes from destroying civilization and all it stands for.
When you find yourself wondering how much force is necessary,  if it's all a misunderstanding and you just have to explain what was meant, realize it's probably worthless and get ready to run or fight.
They've already said they want it to be them or us.
https://abcnews.go.com/amp/US/boy-changed-trump-honored-anti-bullying-organization/story?id=59868158&__twitter_impression=true&fbclid=IwAR0GwawVdKICPsASWaGG7wgdMYhGi48a6PUa0oVZ_KkaOwuwawLMIeao-io
"The 11-year-old boy who changed his last name from "Trump" after he was bullied at school was recognized over the weekend by an anti-bullying organization for his courage."
Joshua, who lives in Clayton, Delaware, began going by his father's last name, rather than his mother's, due to the relentless bullying he experienced after President Donald Trump began campaigning in the 2016 presidential election."
"The bullying got so bad the school district agreed to change Joshua's name in the system when he began at Talley Middle School in the fall, WPVI reported."

""This little boy has been victim to relentless bullying simply over his last name that is associated with our 45th President of the United States," the organization wrote on Facebook after the ceremony. "Glad we cold [sic] bring a smile back to his wonderful face.""
~~~
You harassed him over his NAME to the point where he wasn't safe.
You rewarded him for GIVING IN to your vile behavior. 
You told him it took "courage" to give in to your cowardly attacks.
"Tolerant" "liberals", you are DISGUSTING, SUBHUMAN NAZIS, and at some point you will be dealt with the same way the original Nazis were.
And I will fucking cheer.
FOOTNOTE:
And I don't want to hear any "We don't endorse that, but!" because the "But" is that you DO fucking endorse it. You've destroyed statues, edited literature, and acted EXACTLY like the Taliban and the Nazis and similar filth. And there's no excuse of, "Well, that's only some of us."
Because if you continue to belong to a group that acts like this, you ENDORSE it.  It's like the "non-violent" members of the Mafia who don't break legs, only run the numbers. No, they're still fucking Mafioso, and you are still fucking Nazis. 
Right now I'm sure some pathetic piece of shit is wailing on Twitter that, "I wouldn't feel SAFE with this person at a convention!"

NO ONE feels safe around YOU.  Because you are a vile, disgusting mob of subhuman Nazi shit. YOU have committed the violence, the harassment, the lies, the fake victimhood "attacks," the erasure of history, the false narratives.

Everything you claim non-liberals are (because you call all of us "right wingers" regardless of our particular philosophies, because we're "not aryan"), is a projection of your own worthlessness and inhumanity.

You are fucking FILTH. 
EDIT:
Apparently, some readers are failing to read for content and ad homineming that I'm a "Sensationalist right winger."

I'm an immigrant. I'm a 25 year veteran of the US military. I supported marriage equality and gays in the military as far back as the mid 1980s. (I was a minor before that.)  I'm an active supporter of the trans community with references to prove it.  I'm pro-free speech, pro-reproductive choice.  I'm anti-big government.  I'm non-religious.

That's actually the EXACT OPPOSITE of a right winger.

Also, I own several real submachine guns and stuff that feeds ammo from belts.  So I have zero interest or need for an inferior bumpfire stock.
Now, please read for content and actually think.
~~~

Some people think they love it. Some people hate it. Some people think it's just a bit of political maneuvering.
I'm here to explain why, regardless of your feelings about firearms, this little item should utterly terrify you.
Here's the official statement:  https://www.justice.gov/opa/press-release/file/1046006/download
First, notice the statement is from Jeff Sessions. Now, if you believe (as all rational people do) that pretty much everything that man did was a disaster, you shouldn't be deluded into thinking this was magically better than anything else he did in his crusade to eliminate pain killers, pot and everything except actual criminals.
I draw your attention to the phrase and the claim that a bumpfire stock, "Harnesses the recoil energy."
It does nothing of the kind.  Put a firearm equipped with a bumpfire stock in a block on a bench, pull the trigger, it will fire a single shot only. One. Then it will do nothing. There is no "Harnessed energy." An ACTUAL machine gun will continue to fire until you release or run out of ammo. The bumpfire stock-equipped rifle will, again, fire one. single. shot. And stop.
An earlier device with a spring (The Akins Accelerator) was in fact ruled to be a machine gun, by ATF, who ruled that removing the spring made it not a machine gun.  There was much outcry from the users that their $1000 (!) accessory was no longer usable.  But I wrote about that elsewhere. It's also referenced in the letter above, and the two are conflated, because Sessions is either stupid or evil or both.
The bumpfire stock is a stock. If you are experienced and well trained, it is possible with CERTAIN weapons to slightly increase the rate at which you pull the trigger, by shoving with the other hand while pulling the trigger.  If you're a guitarist, think of a hammer-pull combination.  It's not something a noob does to any good effect.
Sessions' description is literally as inaccurate as saying "Alcohol is a narcotic."
The second claim is that, just like a machine gun, it allows firing multiple rounds with a single function of the trigger.  This is also provably false.  Again: Place it on a bench, pull the trigger, it fires one shot.  The trigger must be released before it can shoot again.
This cannot possibly be defined as a "machine gun" that fires more than one shot per pull of the trigger.  Yet, that is what Sessions has done, via a false statement--a lie.
The manufacture of machine guns has been illegal since 1986. Real ones command a high price. The finding of the Firearm Technology Branch was not only that these devices were not machine guns, but that in fact, they are not even firearms.
Sessions has falsely declared it to be a machine gun, and therefore contraband ex post facto, with absolutely no compensation for the "contraband," in complete contradiction to the experts' findings.
ATFE estimates the device and related industry are worth $200 million, which is tiny in business terms. However, every owner, seller, maker has money invested that is being stolen from them. No due process.  No legislative process.
This is an EX POST FACTO TAKING of private property via a false declaration.  You should be afraid. You should be VERY VERY afraid.
Look above again. This decision is precedent for ANY Cabinet head to declare anything...or anyone, illegal, and subject to theft or imprisonment with no due process.
And worse, it was put in place by President Trump. If this stands, then President Trump has precedent to overrule any bureau, any law, just by instructing his cabinet to draft a false statement.
"Alcohol is a narcotic. Therefore, all alcoholic beverages are contraband and the selling of them is illegal. Shut all the liquor stores at the end of the month. No one gets compensated."

Didn't we walk that path already?

"Pot is a narcotic." 
Oh, wait. The government already says pretty much that.  Great idea to have more of it, eh?

"This house is a narcotic. Therefore, it is contraband and we will seize it.  No compensation. Also, you're going to jail." 
You thought asset forfeiture was bad before?
What about when the NEXT president takes office?  What if President Mike Pence says, "All fetuses are people"?  And then after talking to someone who knows what they're talking about says, "All embryos and blastocysts are, too."
What if President Bernie Sanders says, "All income belongs to the collective"?

I bet at least one of those gives you nightmares, right?
If the courts don't utterly destroy this "ruling" at once, it is very literally the end of the legislative authority.  President Falwell will be able to order that, "Any non-Christian church is a political entity, not a religion." 
Still think it's a great idea, or even a not-terrible idea?

~~

EDIT: and apparently a lot of so-called "liberals" do think it's a great idea, because "guns are bad m'kay?"

Due process?  Separation of powers? Constitution?  Hey, this is about guns!

That's exactly the attitude that got us the War on (some) Drugs.

The Federalist agrees with me. http://thefederalist.com/2018/12/19/trump-administrations-new-bump-stock-ban-legal-abomination/ 
I got a "Thank you for contacting me regarding poor Mr Khashoggi" letter.
~~~
I actually hadn't contacted you on this matter, or any other matter recently.  I'm not sure how this came about.  However. 
Khashoggi was a paid member of the Muslim Brotherhood, a supporter of ISIS, wrote a tear-jerking eulogy of Usama bin Laden, and was generally a terrorist supporting POS.
He was a blogger, not a journalist.
He wasn't American, he was Saudi.
Since they're actually fighting terrorism now, we shouldn't be hindering them, and certainly not crying tears over a terrorist sympathizer.
In every correspondence, you simply prove you're utterly unfit for your position and completely unelectable. I'd rather vote for a Dem.
~~~

This would also beg the question of why so many allegedly "tolerant" "liberals" support that terrorist cocksucker.
If there was any question as to why liberal cocksuckers would support a terrorist cocksucker.
I'm seven years older than my sister. In between us, when I was five, my mother had an ectopic pregnancy.  Ultrasound wasn't common back then, if it even existed--1971ish.  The first we knew was my mother waking up late at night screaming in obvious agony, pause for a few moments, scream again.  I heard a door slam, then movement, then the door again.  I think I remember my father coming through to tell me things were okay and something about a doctor.
When I woke up, our neighbor Mrs Seton was in the house, told me my mother was in the hospital, made sure I got fed, kept me occupied--it was school break.  I remember my father coming home, and cooking breakfast the next morning, but he didn't say more than three words.  I remember liking his breakfast better than my mother's, and feeling a bit guilty. Then he was gone again. This lasted several days.
Then my mother came home and had daily visits from the nurse.
So, what had happened was the ectopic pregnancy burst the fallopian tube, destroyed an ovary, and left her dead on the table for almost four minutes before being revived.  Part of it was some cultural legal BS at the time that the doctor wouldn't do what he had to without the husband's permission. Part of it was they didn't know what it was and didn't want to start cutting until they did.
Then they screwed up and used non-dissolving sutures internally, leading to abcesses, hence the home nurse visits. On the one hand, the NHS made those visits possible. On the other hand, their screwup made them necessary. This wasn't our first run-in with the incompetence of state-run medicine, either, but that's for elsewhere.
Jumping forward, on Thanksgiving Day this year my wife started complaining of some pressure and pain on her left side, lots of discomfort, and feared a possible miscarriage. She arranged a blood test for Friday morning, which showed things mostly normal.  "Mostly."
The following Tuesday was previously scheduled ultrasound appointment.
And of course, the universe has to kick things around.
Our four year old daughter woke up gagging and threw up, mostly bile. She was fine until she got on the bus for preschool, then threw up again, then again at school.  So we had to pick her up and take her with us to the appointment.
The clinic and doctor are absolutely first rate. They obviously didn't want a four year old, especially sick, in the clinic area, so the clinic manager herself came out to watch her in the waiting room, since they knew Jess needed me along for support.
The senior tech did the probing, and the doctor was present himself.  I knew that wasn't a good sign, after three previous kids.
And yes, that fuzzy sonar image looked wrong. Too small, too stringy.
The doctor was very gentle and diplomatic, but the end result was that it was an ectopic pregnancy, and at 7 weeks along had to be terminated NOW, before I got to see the other side of a woman screaming in agony as her body rips chunks of itself apart.
The process is chemical:
Methotrexate and vaginal misoprostol. Methotrexate (Otrexup, Rasuvo, others) is rarely used for elective, unwanted pregnancies, although it's still used for pregnancies outside of the uterus (ectopic pregnancies). This type of medical abortion must be done within seven weeks of the first day of your last period, and it can take up to a month for methotrexate to complete the abortion. Methotrexate is given as a shot or vaginally and the misoprostol is later used at home.
~~~
Get that?  The medical treatment for an ectopic pregnancy that might kill the mother is a chemically induced abortion. It's not "because she's lazy" or "because she couldn't keep her legs together."  It's because she might die.
So, in the currently civilized US, the discussion was basically,
Doctor: "We have to do this. Very sorry."
Mother:  "This is terrible, but yes."
Doctor: "Come in first thing tomorrow and we'll get the procedure started."
~~~
Now, in quite a few countries with more restrictive laws than the US--much of Europe, some of South America, Canada before abortion was legalized in the late 1980s--the process is much the same, except the doctor has to file an official note as to what and why.
And in quite a few other nations, they have to wait for the screaming agony, and then do more tests, and then surgical work, and a lot of women die.
This related case is a textbook example:
https://en.wikipedia.org/wiki/Death_of_Savita_Halappanavar
THAT is what happens in nations where they obsess over "The life of the unborn." The mother is legally an incubator with no rights.
And as I've referenced here before http://www.michaelzwilliamson.com/blog/index.php?itemid=433 we live in a nation where the Dept of Education has a fucking SWAT TEAM to collect on arrears student loans.  So I'm not taking a bet that if a law here said that "only if the mother's life is in danger," there'd be too few, or too procedural, or too assholish of bureaucrats, and we'd have to wait for my wife to scream in agony and start hemorrhaging before anything was done.
This is one of many reasons I support absolutely unlimited abortion access, discussed between doctor and patient (and pretty much no doctor will perform the largely mythical just-before-birth abortion unless the mother really IS going to die, because doing so is very dangerous and worse than delivery, if delivery is an option at all, and there's no fucking time to have a bureaucrat sign papers).
Because today a late stage embryo, barely a fetus, dies before any brain to speak of exists, and my very much alive little girl will still have a mother, and my very much alive wife will stay that way, and have a lot of emotional anguish, because we really wanted another child and we're both reaching age limits.
And not to put too fine a point on it, it's also one of the many reasons I support the 2nd Amendment, because if it comes down to my wife's life vs dead bureaucrats and politicians, you get one guess how I vote.
Mexico has national health care, just like Canada.
Mexico has even stricter gun control than Canada.
Mexico has easier access to abortion than Canada.
Mexico has readily available pot.
Mexico has a low cost of living.
Mexico has an economy that would benefit from their financial input (Assuming any.  Canada's better if you're a welfare leech, IF you can persuade them to take you. They're not as lenient as the US).
But, no.  Liberals who whine about elections always threaten they'll move to Canada because they're fucking racists.