This tiny knife is a very durable piece of hardware.
Construction is of steel, with a hard phosphate or oxide finish. The pivot is adjustable with a spanner wrench, very smooth and has slick bushings. The lock is of the rotating handle design, with strong pins to hold the blade rigid when open. The handles swing easily open or closed, and remain in place in the hand without slipping.
The finish survived being dropped on a tile floor unmarked. The handle did open a fraction – the detent is fairly light.
As can be seen from the photos, it's very small open and closed, with a blade about an inch long.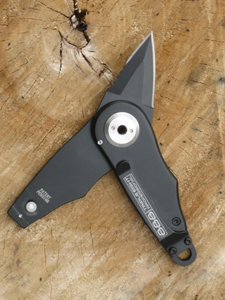 This model has one side serrated and one plain, in AUS8 steel. The serrations are surprisingly fine with good geometry to cut rather than drag.
The serrated side was able to saw through an electrical cord in few strokes, with no damage to the teeth. The plain edge cut a 3/8" bevel all the way around a firewood log and still shaved hair. I jabbed the point in and bent until it popped a small divot of wood out, without damaging the tip at all. This was a fairly brief test, but the knife still looks brand new after it.
The design is similar to the OSS Thumb Dagger, and that is the best and most comfortable grip to use to hold it (See photos). It excels at chores such as opening packages and cutting cord, and easily stabs containers open. A variety of tests were conducted and it was still new looking and sturdy, and still shaving sharp. No tests were conducted on metal containers yet.
The knife also has a lanyard/key ring, and when folded is about the size of most common keys and keychain tools, so is very discreet for carry.
For those who prefer other blade designs, the company offers a flat chisel and hooked cutter "CopTool" for seatbelts and such, the "WrightKnife" that is single edged with a contour for the thumb, the "RhinoKnife" with a caping blade with gut hook, the "TalonKnife" with what appear to be line and cord cutters built in, and the "Kirkidashi Knife" that is a miniature damascus tanto. Chinese manufacture is quite standard in the blade industry anymore, but all are designed by well-known American bladesmiths, built under American license. The workmanship seems quite sound.
These would make great small knives for pocket carry, or as emergency tools for the vehicle. They're small enough to carry in shorts or even a swimsuit pocket, or to keep in a vehicle console with a lanyard for easy access.
Most models retail at $34.95 and will undoubtedly be cheaper through most retailers.