Photo Gallery
Signing autographs for wounded troops and their caregivers at Landstuhl Regional Medical Center, Germany, January 16, 2011, with the lovely Gina Elise of Pinups For Vets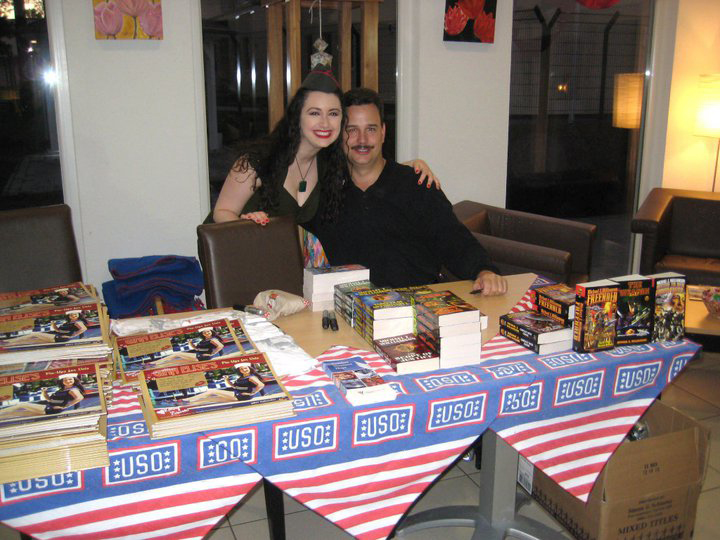 Our crew in Germany for the wounded at Landstuhl, featuring several great people, and me, too. (Video from AFNEurope)
---
Signing books for troops at an airbase in the Middle East.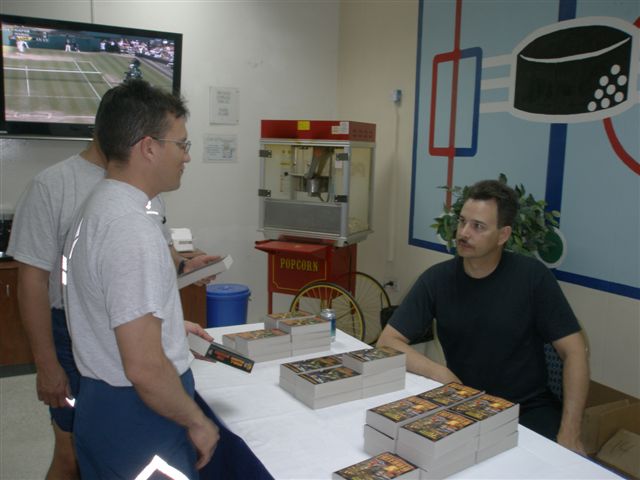 ---
I also signed at the USO at the Army LSA at Ali Al Salem Airbase, Kuwait.
---
Supplemental duty blowing up excess munitions, and posing for a Hollywood fireball. Smile and wait for flash.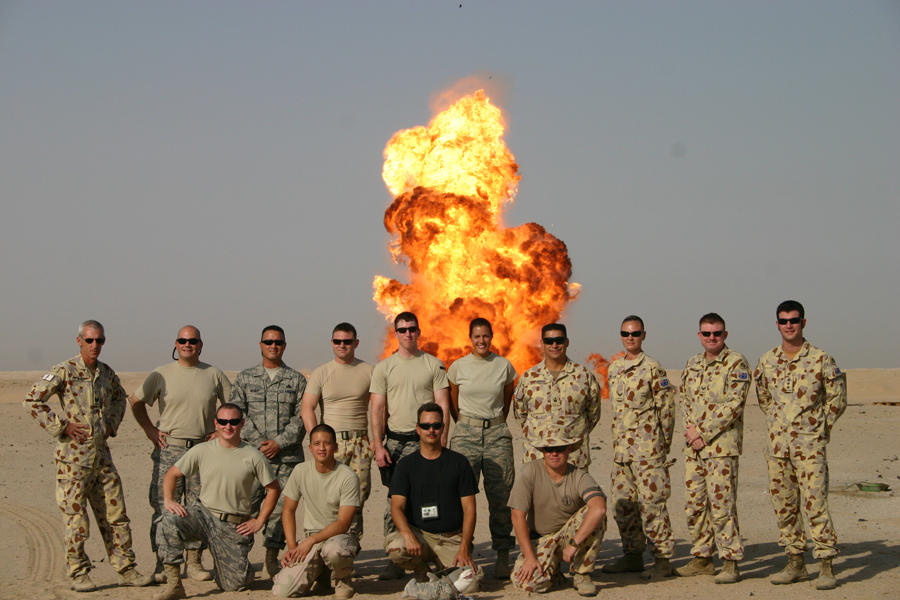 ---
Signing books for fans at Ft. Knox.
---
This picture below, was taken in 1999 in Kuwait. The site was so remote ( How remote was it? ) that to get sunglasses, which I had forgotten to bring, I had to get the "pimp specials" I'm wearing here, as they were all that was available in the Exchange. We could get PLENTY of country CDs and Middle Eastern gold and textiles, but no luxuries like batteries, suntan lotion, or replacement uniform parts or tactical gear.
---
At Def Ears Sound, Illinois, for the 1998 Midwest Rush Tabcon.
That's my custom made 10-string electric (66% more noise than the leading brand 6-string guitar) while we belt through "Something for Nothing" with more amplification than can legally be used without a Destructive Device license.
Rush (the Canadian metal/art/progressive rock trio) can be found online at www.rush.com.
---
The FN P-90 is billed as a "Personal Defense Weapon." I don't think it has any standard military application, though for special operations and police SWAT it should be great. And it's a blast to shoot. Pistol, rifle, call it what you want. 5.7 X 28mm, and holds 50 rounds. Ideal for social calls at midnight.
---
My friends and I brought some toys to use at a local range. Both beds and two walls looked like this.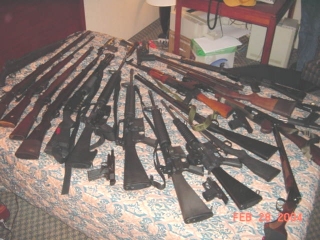 This was the "Evil Black Rifle Check." Can't join the group if you don't have an Evil Black Rifle. Luckily, most of us have spares for friends.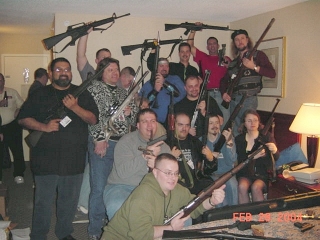 ---
I like my Grendel P11 pistol. 12 rounds of .380 goodness in a package that small. Add a spare mag and spare rounds and it's still smaller than a paperback book.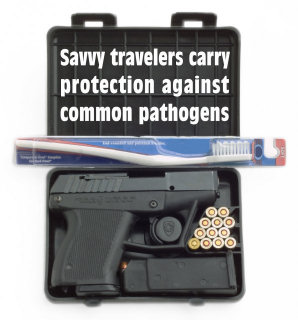 ---
Recent Reviews
Social Media
Mailing List
Other